Video game visualization technology has come to the Warehouse Management Systems (WMS) market.  These new products and modules are not merely "slick" packages that are "nice to have" additions to a WMS solution.  Whenever a software solution's usability improves, new forms of productivity are enabled.  The personal computer revolution, after all, was based as much on improved user interfaces as it was on increased computing power.  These new video game-like graphical user interfaces are apt to lead to improvements in slotting, warehouse congestion detection, and error prevention.
Next View Software was first vendor to introduce visualization technology to the WMS market.  When I first saw this technology demonstrated, it struck me as one of the most innovative solutions I have seen in logistics software industry over the past several years.  Interestingly, Next View was not the only software vendor with this idea.  In recent weeks, I've seen very similar solutions from Consafe Logistics and Accellos.
In fact, the folks at Consafe told me they were upset when they the read the report I wrote last September about Next View (available to ARC clients only).  They had conceived this kind of solution four years ago, but the visualization engine they were attempting to use was not up to the job.  It was not until about a year and a half ago, when Microsoft opened up its gaming technology interfaces, that they could begin serious development.
Similarly, top executives at Accellos told me they started developing their solution about a year ago.  They had to wait for their gaming engine supplier to make substantial enhancements to their engine (which was completed in September) before they could finalize their development work.  Accellos did not actually see Next View's solution until their Visualize product was near completion.
So, three different WMS vendors came up with the same idea independently, and they developed products that are strikingly similar and coming to market within months of each other.  The Next View solution is already available and the company is in discussions with several potential customers (but no deals have been closed yet).  The Accellos product goes into beta testing on March 1st, with general availability beginning on April 3rd.  Consafe's solution will come to market in the second half of 2009.
So, why all the fuss?  Why do I find this type of product so exciting?
As the screen shots below show, these solutions provide you with a three dimensional, virtual tour of your warehouse layout.  By moving the cursor, you can "walk the aisles" or get a bird's eye view of your facility.  And if you double click on a rack location, you can get information on the inventory stored there (e.g., source, SKUs, age of inventory, etc.).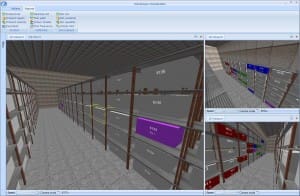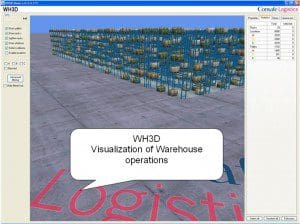 The power of this type of system will come when it is used to detect and act upon current events or problems.  For example, if you have an "aged inventory" alert, the system does not print out tabular data that could cause your eyes to glaze over.  Instead, you execute a query, the warehouse and yard 3D layouts are displayed, and every location with aged inventory lights up and begins to blink.  You can then zoom in on particular pallet locations and look at that inventory.  At this point, you might tell a supervisor to immediately unload the trailers with aged inventory and move them to a priority use location.  Similarly, aged inventory in the warehouse could be re-slotted into forward pick zones to be consumed more quickly.
Other queries that can be "visualized" include partial pallets in full pallet locations, high-velocity product in slots that should contain slow-moving inventory, and consigned inventory by customer.  Of course, some of these queries can be automated with a traditional WMS reporting tool, but reporting tools can be difficult to use.  Slotting is currently an add-on module that several WMS companies offer.  What we may see in the future is that some forms of advanced functionality, like slotting, are not necessary when robust visualization tools exist.
In summary, I love the look and feel of these innovative products, and I believe their intuitiveness and ease of use will increase a manager's productivity.  Also, the fact that three different WMS companies came up with the same idea and developed similar products leads me to believe that visualization technology will ultimately become standard in WMS.