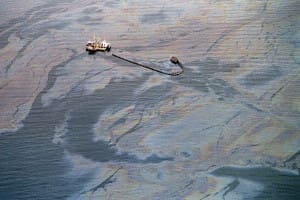 March 24 marked the 25th anniversary of the Exxon Valdez oil spill in Prince William Sound in Alaska. The impact of the oil spill is still being felt today. While the majority of species affected by the spill have recovered to pre-spill levels, and the commercial fishing industry has mostly recovered, federal scientists estimate that between 16,000 and 21,000 gallons of oil remains on beaches in Prince William Sound and up to 450 miles away. That is a not so subtle reminder of the fragility of our environment.
And now,  on to the news.
Houston ship channel partially reopens after oil spill
Williams-Sonoma Focuses $220M CapEx on Supply Chain, Global Expansion
Photos, video: Peterbilt, Great Dane concept truck for Walmart unveiled
Love Mack? How about a free tattoo?
This week's top story comes in the wake of another oil spill, this time off the coast of Texas. The Coast Guard has partially reopened the Houston Ship Channel, just days after a collision between a barge and a ship spilled up to 170,000 gallons of tar-like oil to spill into the waters south of Houston. Cleanup efforts these days tend to be quicker and more thorough, as it is a major planning component of any waterway that allows the transport of oil. This waterway is one of the nation's busiest seaports to ship traffic. The re-opening helps to alleviate shipping concerns, as more than 100 ships on both sides of the channel were awaiting the reopening.
"The cleanup operations progress is to the point that there is minimal danger of contamination to the commercial maritime traffic and allowing limited transit during daylight hours," said Coast Guard Capt. Brian Penoyer. "This is an important accomplishment for every person working this response."
Retailers are looking at how to evolve their omni-channel efforts. Williams-Sonoma is putting the supply chain at the forefront of their efforts. By increasing their supply chain technology spend, this retailer can enable an "anytime, anywhere" retail environment, which is really at the heart of omni-channel.
"We invest in technology to support our multi-channel business," noted Alber. "Our technology investments are fundamental to support our topline momentum and create shareholder value for the long-term. The power of our brands in conjunction with our multi-channel excellence provides us with a competitive advantage."
Walmart's new fleet of trucks could be the Walmart Advanced Vehicle Experience. While this is only a concept truck, the focus is on aerodynamics. The truck's cab has been placed over the engine, shortening its wheelbase and reducing weight. It's also closed up the gap between the trailer and truck. With so much discussion over fuel efficiency and carbon footprints, could Walmart be making a move to be the leader in eco-friendly trucking?
And finally, on a more lighthearted story, Mack  is giving away free tattoos of their new bulldog logo. Miami Ink tattoo artists Ami James and Chris Garver will tattoo the new Mack®Bulldog logo or the American Flag on Friday, March 28, and Saturday, March 29, during the Mid-America Trucking Show. Appointments must be made ahead of time.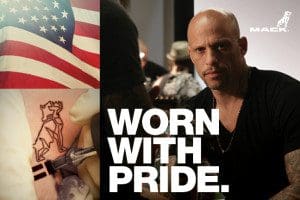 Have a great weekend, and enjoy the song of the week: "Black Gold" by Soul Asylum.