Logistics Viewpoints' owner is ARC Advisory Group. ARC's 19th Annual Industry Forum ended last Thursday February 12th.
Key themes were the Industrial Internet of Things (IIoT) and cybersecurity.  These are interrelated themes because cybersecurity tops the list when it comes to challenges for IIoT. When one thinks of a hacker getting into a system and shutting down a utility, for example, it is obvious that the consequences of an Industrial Internet of Things security breach could be dire.  And the IIoT makes this problem so much greater.  Hackers need only a tiny tear in the security fabric and they can get in and cause harm.  And as those connected devices grow exponentially, so do the entry points.
MIT has active research in the area of cybersecurity.  Michael Siegel, a Principal Research Scientist at the MIT Sloan School of Management shared some alarming statistics:  Over 80 percent of breaches involved systems where security patches had been available for at least one year; 75 percent of breaches go undiscovered for weeks or months; 67 percent of breaches were aided by significant errors from employees of the victimized firm.
But Michael made the point that these statistics represent averages.  "Distributed" software – software that resides on site at a company – is far more vulnerable than "platform" software (public or private clouds).  That is because Cloud software providers can do security patching on an ongoing basis.  And yet, the perception is that Cloud software is less secure than traditional software.
There were several IT folks in charge of security at the conference.  They mostly felt they needed greater resources to improve cybersecurity.  But not all supply chain attendees agreed. One executive in this camp is in charge of implementing supply chain applications for a large company that wants to become demand driven.  At the same time this company is endeavoring to use consumption data to drive production that is better matched to the actual demand, they are asking their key partners to monitor their inventory levels and build and supply raw materials to them on a Just in Time basis.  They don't want to pay for raw materials until they need them.  Some of the systems they want to use to facilitate this VMI collaboration are Cloud based.  This executive feels that his company's cyber security team has put in place measures surrounding these Cloud applications that will make collaboration onerous for their key partners.
I ran a track on the Industrial Internet of Things in the Supply Chain.  One of my speakers was Jeff Tazelaar, the Global Leader for Auto ID, RFID, GPS and Telemetry, from Dow Chemical.  When it comes to end to end supply chain visibility built on an IIoT infrastructure, I have not across anything superior to what Dow is doing.  I've written about this in the past, so all I will say here is that the program continues to advance.

Jeff Tazelaar
My other speaker was James Fairweather – VP of Architecture, Technology and Experience – from Pitney Bowes.  Here my speaker talked about how Pitney Bowes used sensor data, Big Data and analytics to build a cross-border e-commerce service offering.  But I found the what – the service that Pitney Bowes built – more interesting than the how – how this solution was built.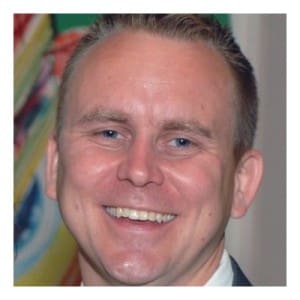 James Fairweather
We've done a lot of writing about omni-channel in Logistics Viewpoints.  Omni-channel represents some novel ways of servicing customers via new delivery paths.  But one path to the customer we have not talked about is cross border e-commerce.  For example, a customer in Brazil buying a product online that is shipped from the U.S.  The Brazilian consumer may feel like they are getting a good price, until they pay the duties and shipping.  When the total landed costs are understood, the retailer may have abandoned shopping carts, or worse a disappointed customer that feels like they were deceived.
What Pitney Bowes is doing is providing an instant landed cost calculation for cross border customers inclusive of shipping costs, duties, taxes, customs, and brokerage fees. There is a lot of complexity here.  For example if shipping to Brazil you need to know what imports are prohibited – pre-owned merchandise, antiques and precious stones.  You need to know what import duties apply – the Industrialized Product Tax, the Merchandise and Service Circulation Tax and other tariffs.  And you need to know how to comply with country-specific forms, product coding, and shipping rules.
What Pitney Bowes does is use fancy machine learning algorithms to calculate the tariffs in real time and provide a quote.  They then later do a full classification to make sure their real time quote was accurate and that import rules will not be violated.  But the kicker is that they guaranty what they quote!