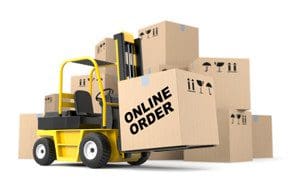 As I mentioned in last week's Friday News Roundup, I spent some time in Atlanta attending the Home Delivery World, Click & Collect Show USA, and ETail Show USA joint conference. I had the pleasure of catching Tom Barone, VP of North America Operations at eBay Enterprise present on the changing nature of commerce. Tom basically outlined three key strategies for omni-channel success: ship from store, in-store pickup, and in-store associate ordering. Each of these strategies has a distinct purpose in today's retail environment, and each one can be aimed at specific groups or types of shoppers. All three strategies have tangible benefits as well as unique challenges. Tom used his time to offer some advice on how to become omni-channel ready. The key is to start with one strategy. Tom's advice – prioritize, and start with ship from store. According to Tom, when analyzing these strategies, ship from store falls right in the sweet spot from a "business impact" and "Ease of implementation" standpoint. Although, I will share a case study in the coming weeks where an Indian retailer opted for click and collect first, as the logistics behind delivery was too big of a challenge.
Providing an omni-channel environment for customers is no longer an option, it's a necessity. According to data from eBay Enterprise's customers, it is also quite lucrative. On average, retailers that are shipping from the store can achieve a 20 – 40% increase in incremental e-commerce revenue and 30%+ margin increase on markdown items. How? By leveraging in-store inventory, retailers have more items available to their e-commerce customers. This puts them in the position to sell more. And when items are reaching end of season, or simply not moving in the store, they can be sold online at full price. These are the benefits of ship from store, but the big question remains – how do you execute on the strategy? Tom outlined four keys to executing ship from store.
Inventory availability
Order routing capability
Store operations and training
Compensation and sales credit
Inventory Availability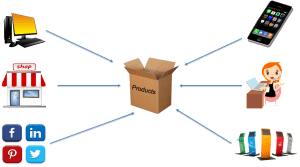 Ship from store will only work if inventory is available. Tom outlined five principles for ensuring inventory availability. First, there has to be a single view of network inventory. This is where distributed order management can help. It gives a single view of all available inventory, and allows all fulfillment channels to access the order information and pull the appropriate inventory. Second, the company must select products and categories for ship from store. The categories need to be those items that make sense to ship, from a convenience and financial standpoint. There has to be accurate store level inventory. This is generally the toughest part of fulfilling e-commerce orders from the store. Misplaced items, especially apparel, can make inventory visibility nearly impossible. If the store associates cannot find the inventory, it cannot be sold or shipped. Fourth, safety stock levels need to be set. Unless it is a dark store, the brick and mortar location is there to serve the physical customer first. Safety stock levels need to be established to make sure that stores are not shipping items that could be sold in the store. And fifth, there need to be automatic adjustments of "available to purchase" inventory levels. This means that items sold in the store, and shipped from the store, need to be applied to the on-hand available to purchase level.
Order Routing Capability
When it comes to order routing, Tom outlined three keys for intelligent routing. First is the proximity to the delivery address. There are a few different ways to fulfill from the store. The store can ship the item through a parcel carrier, or the store can deliver the item using its own employees. The proximity to the store will certainly play a role in which method is chosen. For shipped items, location will affect the delivery timeframe and expectations need to be set with the customer. Second, the retailer needs to minimize split orders. Split orders occur when a location can only fulfill one part of an order. This leads to items arriving at separate times, which some customers are not happy with. It also increases overall shipping costs for the retailer. By using the entire store and warehouse network, retailers should try to fulfill orders in their entirety. And third, retailers need to use inventory optimization and set daily store limits. Setting daily limits is important to make sure that store associates can focus on the other work that they need to get done.
Store operations and training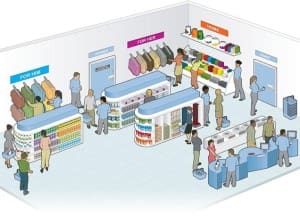 There is a lot that goes into preparing a store to execute ship from store. Tom outlined some of the biggest challenges and requirements to move forward with ship from store. First, there are store set-up, protocols, and procedures that need to be put in place. This includes things like what area of the store is used for ship from store orders, who is responsible for picking orders, how do the orders get packaged and shipped, among others. Having these guidelines in place is the first step. Second, retailers need to have staffing strategies. If there are specific times when ship from store activities pick up, more associates need to be on the floor. Third, the staff needs ongoing training. Training is a key component to keeping employees engaged. Making sure each associate knows the proper procedure for picking, packing, and shipping for ship from store orders is crucial for making sure it is done efficiently. Fourth, the retailer needs to have reporting capabilities. This way the company can see the actual impact of establishing ship from store processes. It also enables the manager to make more informed decisions when it comes to staffing levels, ship from store timeframes, and ship from store inventory availability.
Compensation and sales credit
Tom indicated there are two key components from a compensation and sales credit standpoint for ship from store. The first is goals and incentive plans. Laying out goals for store associates gives them something to aim for, whether that is a dollar amount or a time goal for preparing ship from store orders. Incentive plans, besides paying store associates more money, give them a sense of buy-in, or the feeling that the company is investing in them. This can be a huge bonus when it comes to fulfilling e-commerce orders. The second piece is credit for sales. The fight for attribution has been a long battle between in-store and online teams. The key is to give credit for sales to the store that is fulfilling the order.
In conclusion, Tom Baron outlined three key strategies for doing omni-channel rights: ship from store, in-store pickup, and in-store associate ordering. According to Tom, ship from store is the best place to start on the omni-channel journey. It enables retailers to increase e-commerce revenue exponentially while improving margins on items nearing markdown. To achieve ship from store success, there are four keys to keep in mind: inventory availability, order routing capability, store operations and training, and compensation and sales credit.