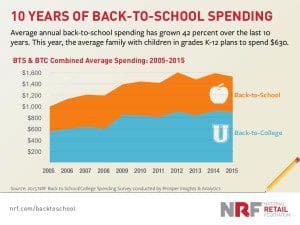 Where has the summer gone? I am having a very difficult time wrapping my head around the fact that summer is basically over. And my oldest child, now 5, will be starting kindergarten in just over two weeks. And I also can't believe that I haven't given a single thought to back to school shopping. Sure, my wife and I decided he probably needs a new backpack, but neither one of us has gotten around to looking for one, let alone buying one. And he probably needs some new shoes, and maybe some new clothes, but it is still summer. My mind will not let me believe that fall is just around the corner.
So while I may be behind the eight ball, many consumers are not. The National Retail Federation (NRF) has released its annual back to school survey, and US consumers are expected to spend $68 billion on back-to-school and back-to-college items this year, down 9.3% from $75 billion last year. This reduction in spending is most likely a result of a dramatic drop in electronics sales, which according to NRF President and CEO Matthew Shay, is not surprising. "As seen over the last 13 years, spending on 'back to school' has consistently fluctuated based on children's needs each year, and it's unlikely most families would need to restock and replenish apparel, electronics and supplies every year." So cue the buses (and the tears) for most people, but I'm not going to think about this until Labor Day. Then I'll let summer be over.
And now, on to the news.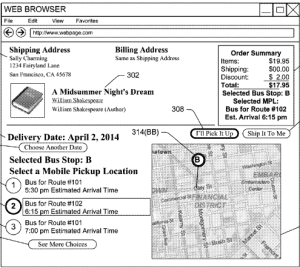 Amazon is always looking for new ways to deliver products to its customers. In a patent application made public this week, Amazon describes a plan for delivering packages via public transportation. The company will turn trains, buses, subways, and other vehicles into roaming pickup locations. One scenario described in the patent is essentially an Amazon Locker on wheels. The locker would be installed inside or attached to the outside of a bus, train or other form of transit. Customers who ride a particular route regularly could opt to have a package delivered to their preferred bus, to retrieve while they're riding. Or those in a specific area could choose to pick up their package at a bus stop, receiving a text message when their item is approaching. While Amazon has experimented with subways as part of Prime deliveries, this would be a whole new method for all customers. Combined with drones, bicycles, and private fleet, Amazon is looking to use every possible means of transportation to deliver packages.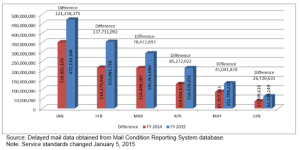 The USPS is making direct mailers and catalogers worried about their business operations. That's because in the first half of 2015, late mail has increased by 494 million pieces of mail, or a 48% rise over the same time period in 2014, according to a management alert from Office of the Inspector General (OIG) of the U.S. Postal Service. Due to changes in service standards implemented in January, a rise in delays was expected. But the volume of late mail has been alarming, to say the least. Winter weather conditions played a role in the delays early in the year, but the last three months still have an average of over 50 million more packages delayed this year than last. This is certainly not going to raise consumer confidence.
At the same time, the USPS is ramping up new services as it tries to compete with FedEx, UPS, and Amazon. In New York City, letter carriers in the early morning hours load boxes of fresh and frozen seafood from Fulton Fish Market onto mail trucks and deliver them to local restaurants by 11 a.m. The new postmaster general, Megan Brennan, is pushing same-day delivery as well. She cites consumer demand for this service as a prime motivator. To keep the postal service more competitive, she is also pushing Congress to green light the shipping of alcoholic beverages, expanding grocery delivery, and wants to offer more Sunday delivery.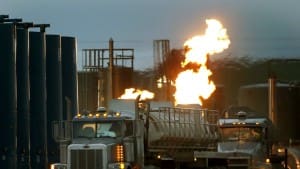 Methane leaks in the natural-gas supply chain are far exceeding estimates, according to a new study. Natural-gas gathering facilities, which collect from multiple wells, lose about 100 billion cubic feet of natural gas a year. That's about eight times as much as estimates used by the Environmental Protection Agency (EPA), according to the study, which appeared in the journal Environmental Science and Technology. The newly discovered leaks, if counted by the EPA, would increase its entire system-wide estimate by about 25 percent. According to the Environmental Defense Fund, methane is the main component of natural gas and has a more potent short-term effect on climate change than carbon dioxide. The effect that the newfound emissions would have on climate change over 20 years, the Environmental Defense Fund said, would be similar to that of 37 coal-fired power plants.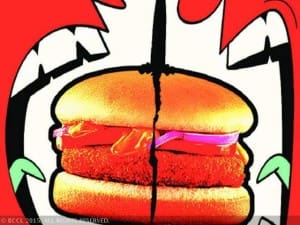 Burger King is rolling out delivery service in India. This marks the fifth country that the fast food chain has rolled out the service, joining the US, Spain, Korea, and China. The move was prompted by the changing habits of Indian consumers, specifically the use of mobile apps for ordering food. Burger King had initially launched a program that allowed customers to order food through an e-commerce engine driven by eBay, which essentially put a Whopper on hold for them. Now, by partnering with three tech firms (LimeTray, FastOx and Grab in India), the company is ready to start its home delivery business.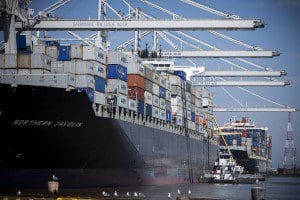 The growth in shipping volumes at some East Coast ports appears to be slowing as West Coast ports continue to rebound. Growth in shipping container volumes at the Port of Savannah, for example, slowed to 10.3% year-over-year in July, compared with 23.2% in June, according the Georgia Ports Authority. This is mainly due to the increase in imports that began with the port delays on the West Coast. Now that import and export traffic is normalizing out West, ports of the East Coast can expect shipping volumes to continue to decrease.
Wal-Mart is holding inventory longer at distribution centers to increase flexibility. This is mainly a response to meet e-commerce demands and expanded competition. Wal-Mart reported that inventory grew 2.2% from a year earlier, slower than its sales, which grew 4.8%, or by $3.4 billion, in line with its goal of shedding excess inventory. The company is keeping smaller amounts of a wider variety of items at distribution centers, allowing it to make more products available to consumers without having to stock them in stores. Less physical inventory in stores can be a growth driver for e-commerce business, as customers will need to have items shipped, rather than purchased in stores.
And finally, while spot load availability increases, rates fall. Van and reefer load availability increased for the third consecutive week but so did the availability of equipment, contributing to lower national average spot market rates for van, refrigerated, and flatbed loads, reported DAT Solutions. The total number of loads posted on DAT load boards rose 2.5% during the week, nearly matching the increase in the number of equipment posts (2.6%).
That's all for this week. Enjoy the weekend, and the song of the week, Cruel Summer by Bananarama.