It's the middle of January so that means it is NRF time. For the eighth straight year I will be attending NRF's Big Show in New York. It is always an interesting trip – meeting with customers and potential customers and learning about new technologies and solutions. Clint Reiser and I will have a recap of our time at the conference in the near future. And if any of our Logistics Viewpoints readers are attending the event, let us know what you are looking forward to seeing as well as any key takeaways you bring back with you. It's been a busy week, and things are about to get busier, so let's move right on to the news.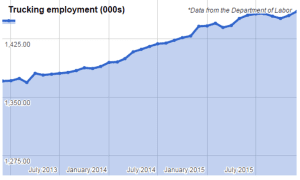 The for-hire trucking industry in December added 5,300 jobs, according to the Labor Department's monthly preliminary employment report. This recent uptick in employment pushes the trucking industry to another all-time employment high and continues a multi-year trend of steady employment growth in the trucking industry. One reason the trucking industry is trending up is with lower fuel prices, many shippers are turning to truck over rail or other modes of transport. Add in the necessary updates needed for the rail industry to remain viable, and it is not surprising that the trucking industry is doing so well. At the same time, however, there is still a major shortage of truckers, with the latest estimates pointing to a shortage of 50,000 drivers. But looking at the positive side, December's total employment figure in the for-hire trucking industry, reported by the DOL as 1.462 million, was just shy of 20,000 jobs higher than December 2014.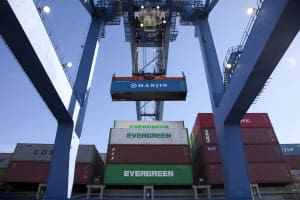 According to the Global Port Tracker report by the National Retail Federation and Hackett Associates LLC., retail imports at US ports are declining. Beginning in November, import volumes at the nation's major seaports fell below 1.5 million 20-foot equivalent units. The declines are in line with the normal post-holiday lull, and are unlikely to grow beyond historic norms. The monthly report said the import volume likely will remain flat from month to month as retailers assess holiday sales before stocking stores for the spring. From November through February, volumes are expected to stay in the range of 1.41 to 1.48 million containers—well below peak monthly import volumes of 1.68 million TEUs the ports handled in August. However, the increased volume in August was partially due to the labor stoppage finally being resolved on West Coast ports, so the comparison is not entirely apples to apples.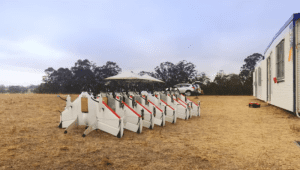 According to an Executive at Google, product delivery-by-drone in urban areas may be possible within a few years. Of course this is all assuming that the US government and the aviation industry agree to work cooperatively on the new technology. The U.S. Federal Aviation Administration, which regulates aviation, expects to finalize rules for commercial drone operations later this year, but those regulations will only allow the simplest operations within sight of the operator. The agency hasn't begun the formal process of drafting rules for how automated deliveries would work.
Amazon is continuing to roll out its college campus pick-up program. The online retailer plans to open a staffed location at the University of Pennsylvania's City campus this spring, where students can retrieve or return items purchased from Amazon. The center, called Amazon@Penn, will be located in the university's 1920 Commons dining hall. This will be the fifth Amazon college location, with two more set to open later this year. It remains unclear whether more college campuses will seek Amazon pick-up locations given the negative impact they are likely to have on their own bookstores and other retail outlets. However, if students are going to order from Amazon anyways, why not make things easier for them?
According to a recent survey, 76% of truckers say they'll avoid Rhode Island if the state enacts a trucks-only toll plan. The state's General Assembly reconvened last week and is considering a proposal to install $43 million worth of toll gantries that would target class 8 trucks. According to Rhode Island Governor Gina Raimondo, these trucks are wrecking the state's roads and bridges. Raimondo's 10-year, $1.1 billion plan to repair the state's worn infrastructure calls for tolls to back about $600 million in bond revenue. The Rhode Island Trucking Associations (RITA), however, is a staunch opponent of the bill. RITA says that in the long run targeting commercial trucks for tolls is bad for business and the state. If trucks bypass the state, it can certainly take a toll (no pun intended) on the financial well-being of businesses that rely on truckers.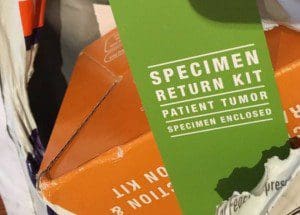 And finally, news from the lighter (?) side of logistics. A Bristol man ordered a Kindle e-reader, but when he opened the package, he did not have his e-reader. Instead, a sample from a California cancer patient's tumor was mistakenly delivered to him. The man opened the FedEx package and saw a box labeled "patient tumor – specimen enclosed." It was supposed to have been sent to London's Royal Free Hospital. The Royal Free Hospital confirmed that a package "intended for one of its institutions … was delivered to an address in Bristol." FedEx, which collected the tumor sample from the recipient on Sunday, told the BBC that it "regretted the error" and "will consider future changes to our processes".
That's all for this week. Enjoy the weekend and the song of the week, in remembrance of the late Davie Bowie, Heroes.