In September 2015 I began the update of ARC Advisory Group's global supply chain planning (SCP) market study. In a Logistics Viewpoints article published at that time, I discussed some of the major changes in SCP over the previous decade.  I am now concluding this SCP market study update. I have spoken with the vast majority of large SCP software suppliers within the market, discussed their companies' SCP product roadmaps, learned about the evolving requirements of their customers, and reviewed recent sales patterns. Two of the widest-reaching and greatest overarching trends within the marketplace are as follows:
The shift from perpetual license to SaaS (cloud) is finally gaining momentum
Practitioners and vendors are "building off the foundation" of SCP. Meaning the greatest user adoption and supplier sales growth is coming from solutions – namely S&OP and analytics – that leverage core SCP functionality in a way that provides practitioners with a more holistic and valuable view of operations.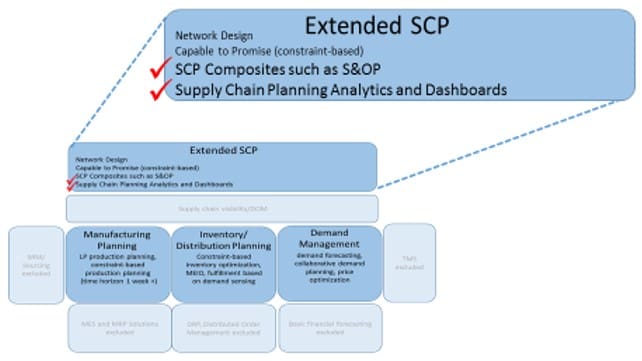 SaaS (Finally) Hits the Main Stage
I believe myself to be one of the more hesitant analysts to jump on the "cloud" bandwagon (see The Cloud Conundrum: Is SaaS Always Best?). I believe that SaaS solutions can be a superior option to perpetual licensing for some customers in some cases. However, I don't believe that SaaS is the panacea to all enterprise software ills. Historically, SCP applications have been one of the slower supply chain software categories to transition from on-premise, perpetual license sales to the Cloud, or SaaS.  However, ARC's current SCP research shows that SaaS adoption of SCP applications has accelerated considerably. SaaS adoption has increased substantially, and a number of suppliers are investing heavily in their SaaS offerings to make SCP through the SaaS model even more appealing. Although I cannot disclose information from private conversations, I can point to public information that serves as example. The most visible example of SaaS growth in SCP is Kinaxis' revenue growth at a 15 percent CAGR over the last three years.  Other SCP software suppliers are experiencing a substantial uptick in SaaS sales as well. In general, vendors see the SaaS model as a strong match for the needs of smaller customers that may be hesitant to put forth the large upfront investment often associated with enterprise-wide perpetual licensing.
S&OP and Analytics Reign Supreme
Three years ago the adoption of S&OP software solutions and supply chain analytics were already on a strong growth path. But today adoption and use of these solutions has reached critical mass. ARC's diagram of the SCP software applications categorizes S&OP and Supply Chain Analytics as Extended SCP (see above). We categorize these solutions as extensions because they leverage the data and capabilities of the "core" SCP applications such as manufacturing, inventory, and demand planning, and provide users with more holistic visibility and the capability to run scenario analyses in an integrated, holistic fashion. As planning practices as companies mature, they are placing greater value on responsiveness and agility, are running analyses more frequently, and are interested in obtaining not just data, but actionable intelligence with an understanding of alternative actions and the likely results of pulling those operations levers.
—
For more information on ARC's forthcoming Supply Chain Planning Global Market Research Study, please view the abstract and table of contents from the 2012 base year study, as the sections and format will be similar.