Over time, large corporations' sustainability efforts usually become broader and deeper. As a variety of companies in an industry tackle sustainability issues, it is natural for them to look for industry trade groups and sustainability associations to help in their efforts.
From a research perspective, these industry groups first foray into sustainability research often involves interviewing a variety of participants in the industry on what they are doing in the area of sustainability as a whole. Or interviewing industry participants on how they are tackling a specific sustainability issue like Conflict Minerals and then producing a report that offers best practice advice.
More recently we have seen industry groups offering industry level materiality assessments. What does that mean?
The concept of materiality in sustainability is analogous to financial materiality. Financial statement items are considered material (large enough to matter) if they could influence the economic decisions of investors. All material matters are to be disclosed. If a public corporation fails to do this, and losses occur, they open themselves to shareholder law suits.
In the context of sustainability, materiality is the notion that resources, strategy and reporting should be focused on the sustainability issues of the most significance to both commercial success (internal stakeholders) and broader set of external, societal stakeholders. The GRI provides the most widely used standards on sustainability reporting and disclosure. The GRI says that companies should use a materiality analysis as the basis for what they focus their sustainable reporting on. Company-level sustainability materiality analysis is now fairly common.
An industry-level materiality sustainability report was put out by the American Cleaning Institute (ACI). ACI members include the formulators of soaps, detergents, and general cleaning products used in household, commercial, industrial and institutional settings; companies that supply ingredients and finished packaging for these products; and oleochemical producers. The group includes well known firms like Procter & Gamble, Clorox, and SC Johnson.
The research was conducted by Framework LLC, a sustainability consulting firm. Alec Lager, a Director of Strategic Services at Framework, believes ACI is only the fourth industry to conduct such an analysis.
These are big efforts. These kinds of reports are not done annually. The Information and Communication Technology (ICT) industry did their first report in 2008 and did not update the report until 2014.
Industry materiality reports take a broader view of the value chain than almost any individual company would in their sustainability reporting. So for example, in ACI's report they talk about a product value chain that spans from raw material production, chemical ingredient production, product formulation, packaging, to product use and disposal. Because of this, materiality reporting helps an industry gain a deeper understanding of the sustainability issues that matter most across the industry value chain. This can be useful in driving the industry association's strategy and industry wide sustainability initiatives.
Secondly, it provides member companies a guidepost to where sustainability reporting is likely to be headed in the industry and thus provides a guidepost for company-level materiality analyses. It can be considered a form of high level sustainability benchmarking showing the sustainability executives in a company what an individual company is not focused on but the broader industry is.
So for example, in ACI's report they identified the top six issues to the cleaning products industry's internal and external stakeholders as including:
Materials: Safety of chemical ingredients
Disclosure and Transparency: Public disclosure of information related to sustainability, governance, and products
Climate Change / Greenhouse Gases
Ecological Impacts: Biodiversity; deforestation; environmental management; responsible agricultural practices
Water: Water use, waste water treatment, and water recycling
Workplace Health and Safety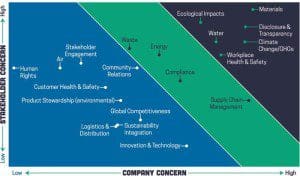 Matrix of material issues to the cleaning products industry
As a supply chain professional these kinds of reports help supply chain and operations professionals understand what may be required of them in the not so distant future. So for example, a vice president of procurement can look at this chart and realize that while their company is only screening business partners on ethics and sustainability issues to a very limited extent, there is a good chance that in a few years his company will require his department to do so much more extensively because this is where this industry is headed.
I'll be giving a keynote speech on this topic at the IQMS Pinnacle User Conference on April 5th. IQMS system combines manufacturing software, MES software and ERP software.  IQMS's customers tend to be small and midsized manufacturers, so a major part of the speech will deal with what small and medium-sized businesses can do to prepare with the increasing sustainability compliance demands their large, global customers will increasingly place upon them. Clearly, one piece of advice is to lobby the industry associations they are members of to produce these kinds of materiality reports.