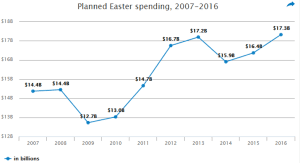 Last week, I mentioned that Americans spent an estimated $4.4 billion on St. Patrick's Day this year. That number blew my mind. Then I read the estimates for this weekend's holiday – Easter. According to the National Retail Federation, spending for the holiday is expected to reach $17.3 billion, up nearly $1 billion from last year. According to the NRF survey, consumers will spend $5.5 billion on food, $3 billion on clothing, $2.7 billion on gifts, $2.4 billion on candy, and $1.2 billion on flowers. To put these numbers in perspective, Americans will spend $300 million more on candy for Easter than they did for Halloween. The stats that keep coming out for every holiday are mind numbing, but are not showing any signs of slowing down.
And now, on to the news.
According to a new report released by real-estate brokerage firm CBRE Inc., rising minimum wages around the country could raise the cost of e-commerce operations. Just how much? The report indicates that a $1 increase in average hourly wages could add more than $1 million in annual costs to a warehouse operation employing 500 people. With global e-commerce on the rise, this is an issue that does not have a simple solution. Federal and state mandates drive minimum wages. Therefore, warehouses cannot bypass the hike. And with the holiday season increasing every year, the demand for short term labor will drive these costs even higher. It is an area that retailers will certainly be watching carefully.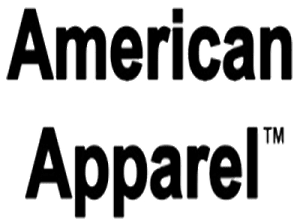 American Apparel has formally partnered with startup Postmates to offer consumers on-demand delivery, which ensure delivery within the hour. The service applies to the company's "Basic Clothing" which includes standard tees, sweatshirts, body suits, pants, leggings, and dresses for all genders. The service will be offered in 79 American Apparel stores throughout the U.S., spanning 31 metropolitan areas. At launch, delivery fees will be $1.99, but Postmates is still determining what the cost for delivery will be after the initial few weeks of the offering.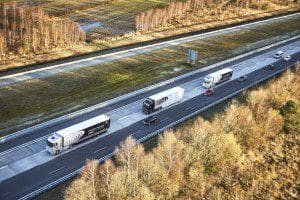 Daimler has added platooning capabilities to its autonomous system. Citing global road freight growth projections of three times their current levels by 2025, Daimler outlined its strategy to create a connected truck environment that provides real-time data exchange, greater efficiency, and transparency throughout the supply chain. As an example of increased connectivity, Daimler debuted its Highway Pilot Connect. In the demonstration, the following distance is reduced from 50 meters to 15 meters when the three trucks link into a single platoon, which Daimler says can decrease emissions and improve the combined fuel efficiency of the three vehicles by as much as 7 percent (2 percent improvement for the lead truck, 11 percent for the second truck and 9 percent for the third truck).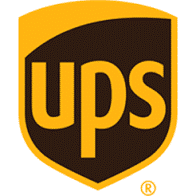 UPS Inc. said that it completed the second phase of a project to expedite next-day air deliveries to more than 30 percent of the nation's 43,000 or so ZIP codes. Under the two-step plan, 12,680 ZIP codes, most of them in areas away from major urban and suburban regions, will receive guaranteed small-package deliveries between noon and 2 p.m. This is a dramatic upgrade from just a few months ago, when those ZIP codes only received next-day air deliveries at the end of the business day. Most of the deliveries will be business-to-business (B2B), although the business-to-consumer, or B2C, market is not excluded.
FedEx is seeking to expand its e-commerce footprint. Bongo International, which FedEx acquired in 2014, is the driver behind the expansion. Bongo International, which is now being re-branded as FedEx CrossBorder, helps shoppers purchase goods from foreign retailers by automatically adjusting currencies, and customs and shipping costs, by location. FedEx's acquisition was a core component to expand its international operations, as well as a response to UPS's acquisition of i-Parcel and Pitney Bowes' acquisition of Borderfree. The services seek to simplify the international shipping process for merchants who can't track varying tariffs, shipping times, and other factors when sending their products to different countries.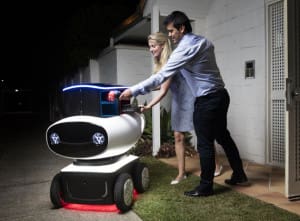 Domino's Pizza has a new deliveryman in Australia, and it doesn't even need tips. The company has developed a prototype model for a self-driving robot that can deliver hot food and cold drinks right to your door. The robotic cart is named DRU (Domino's Robotic Unit), and drives on bike paths and sidewalks to find the most efficient, fastest route to the delivery location. Considering there are still legal hurdles to overcome, and the fact that Domino's only has one DRU at this point, Australian pizza lovers shouldn't expect a robot at their door any time soon.
That's all for this week. Enjoy the weekend, and the song of the week, White Rabbit by Jefferson Airplane.