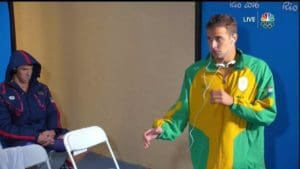 The Olympic Games are in full swing, and have been incredibly entertaining so far. As most of us remember from four years ago, the Olympics are not just about the winners, losers, and magical athletic feats. They are also about the memes that are created. Who could possibly forget "McKayla's not impressed" in London? Well, it didn't take long for this year's first meme to kick off. For some reason, Chad le Clos, after a few years of back and forth trash talking, decided to shadow box right in front of Michael Phelps before their 200m butterfly semifinals. Well, Michael Phelps gave him the "death stare heard round the world" and the rest was internet meme history. And for the record, Phelps went on to win the gold, while le Clos failed to medal.
And now, on to the news.

Amazon is at it again. We have reported here that Amazon has been leasing cargo planes in an effort to grow its freight transportation network. On Friday at Seafair (a summer festival in Seattle, WA), the company unveiled "Prime Air" branded cargo planes that it will use to deliver goods across the country. These deliveries are generally to distribution centers, where orders will then be prepared for delivery. Though the 767 flying at Seafair is the 11th to join the Amazon fleet, it's the first to be painted in the new livery – in letters stenciled under the cockpit window, it's designated "Amazon One." It will certainly be interesting to watch where "Prime Air" goes from here.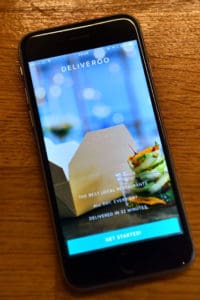 The online food delivery business is heating up. Deliveroo, a food delivery start-up based in London, recently raised another $275 million in funding. This takes the company's overall funding since 2012 to nearly $500 million. Deliveroo is pushing hard to compete against Uber in the food delivery business, as Uber recently launched "UberEats" in a small number of European cities. That pits it directly against Deliveroo, whose operations now extend across 12 countries, mostly in Europe. Deliveroo has focused on logistical and technical support for restaurants to help them take orders and deliver food with a few swipes on a smartphone. It relies on a network of contract drivers to deliver food, many of whom use scooters or bicycles. Average delivery times are within 30 minutes.
The US trade deficit has risen, as American consumers bought foreign goods and imports fell. The trade gap grew 8.7% from a month earlier to a seasonally adjusted $44.5 billion, the widest in 10 months, the Commerce Department said Friday. Imports increased 1.9% while exports rose 0.3%. The rising trade deficit shows a sign of slowing economic growth in the US, as American consumers are spending more money on foreign goods than on American goods. The good news is that even though imports are outpacing exports, exports are still rising. This is a good sign that US factories are stabilizing.
The for-hire trucking industry's total employment gained 1,700 jobs in the month, according to preliminary figures reported Aug. 5 by the Department of Labor's monthly Employment Situation Report. This marks the first increase in jobs since January, which puts an end to five straight months of decline. This increase in for-hire trucking jobs is a positive sign in light of the driver shortage that has been plaguing the industry.
China's imports of beef are surging upward based on high demand. Limited domestic output and rising per-capita incomes are pushing beef-hungry China to import beef in increasing quantities from Brazil. Brazil's vast supply and low prices helped to boost exports to China by 65% in the first half of the year. Per-capita consumption of beef in China will reach a record 8.5 lbs. (3.864 kg) this year, compared with 6.7 lbs. (3.029 kg) a decade ago, according to estimates by the Organization for Economic Co-Operation and Development. Production has not kept pace, which has led Chinese imports this year to jump 22% to 1.23 million tons, according to the US Department of Agriculture.
Last week, I wrote about cargo theft in the US. Well, this week, let's look at cargo theft in EMEA. According to the Transported Asset Protection Association's (TAPA) incident information service, cargo theft and crimes in Europe, the Middle East and Africa (EMEA) reached a five-year high last year. The association says that 1,515 freight thefts were reported during the year, representing a 37.4% increase over 2014's figures. Most crimes involved theft from vehicles, usually at unsecured parking locations, such as motorways services, industrial estates or lay-bys close to major highways, when drivers needed to take mandatory rest breaks.
That's all for this week. Enjoy the weekend, and the song of the week, and the ultimate internet meme inspiration, Never Gonna Give You Up, by Rick Astley.