Demand management solutions have improved on many fronts. One area where some solutions have made particular progress is in the area of providing highly flexible solutions that can evolve as the company's business changes.
Demand management solutions need to be flexible! Over time, companies often go on a journey where their forecast accuracy is improved by using more and more data and by forecasting at a more granular levels (For more on this topic, see this article which describes stages in demand forecasting maturity).
To support this journey demand management solutions need to be flexible. A flexible solution supports the ability to change demand hierarchies, be able to forecast at different forecasting levels, and change forecasting processes. Let me explain these concepts.
First of all, what are the different kinds of hierarchies a demand planning solution should support? Demand solutions model products, ship to locations, and units of measure. At the product level you may want to forecast total product sales by division, by product category (snack products vs. beverage products, for example), brand (Tropicana vs. Pepsi), and stock keeping unit (a distinct product based both on its formulation and how it's packaged). The ship to locations could include region, retail distribution centers, and stores.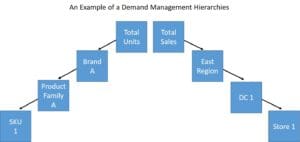 Different units of measure hierarchies also need to be supported. A cement manufacturer, for example, will have a manufacturing team that wants to know how many tons their group will need to manufacture of a particular product, the logistics team will want to know how many bags of cement they should plan on shipping to different customer locations, and the unit of measure that matters to finance and sales are revenues. Each group should be able to view the forecast in a manner that supports their needs.
Different companies will generally have very different hierarchies. As companies formulate new products and retire old ones, change pack sizes, and expand sales of a product to new regions and channels, the demand forecasting solution should be able to support those changes without having to kick off a big IT project.
Forecasting solutions should be capable of supporting both top down and bottom up forecasting. In top down forecasting one might choose to forecast how many products should be sent to a particular distribution center. That distribution center (DC) in turn ships products to stores. The solution could then use rules – often based on historical demand – to apportion product to different stores. Or, in bottom up forecasting, the forecast is made at the store level and demand is automatically aggregated to higher levels.
Finally, the process of forecasting may change. A company may just use a statistical forecast, or get inputs from sales to enhance the base level forecast, or further enhance the forecast based on third party data inputs. The rules on who sees what data, who gets alerted when particular types of issues arise, and who is allowed to change a forecast, therefore, also need to be easy to change.
With some solutions, making some of these changes is so difficult that a company essentially needs to reimplement the demand management application. With newer solutions – built using demand attribute logic rather than data cubes; and flatter, faster databases – making these changes is relatively easy and straight forward. It is better to bend than to break.