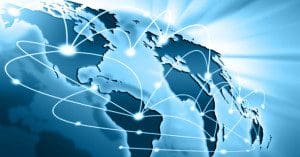 Last year, I wrote extensively about omni-channel fulfillment, including data from both my strategic research and market study. The market study was a labor of love which incorporated total revenues from transportation management, warehouse management, distributed order management, inventory management / store replenishment, and demand planning.
Key Trends
Omni-channel is perhaps the hottest trend in retail supply chain management right now. With e-commerce continuing to grow, there is more focus on Web commerce than brick and mortar. ARC's survey-based research on omni-channel fulfillment practices showed that retailers, on average, expect online revenues to increase by 40 percent over the next five years. In contrast, the same survey's respondents expect brick and mortar revenues to remain flat over that same time horizon.
Consumer packaged goods (CPG) manufacturing is another area of significant growth for omni-channel fulfillment. The line is becoming blurred between B2B and B2C, with more manufacturers looking to sell directly to consumers. With the emergence of more commerce channels, manufacturers can reach customers directly. However, the distribution channels are significantly different and may bring about a new host of complications for manufacturers.
Electronics, and the high tech industry as a whole, continue to be somewhat cautious about supply chain investments. However, with the advancement of consumer electronics, and the evolution of sales channels, more of these manufacturers are also selling direct to consumers. Smart phones and tablets, for example, are a major component of today's omni-channel world. These companies will continue to enhance their fulfillment strategies, even if they are somewhat shy about overall supply chain investments.
The North America market is continuing to grow in the omni-channel space, in part to the continued investment in fulfillment infrastructure. However, with so many areas in this region condemned to urban sprawl, retailers and other B2C companies are becoming more creative in their solutions. The "Uberization" of fulfillment is an area that is ripe to grow, with recent survey results pointing to crowdsourced delivery options as a viable solution.
The Asia market is also primed to grow. With China leading the way to introduce new cutting edge technologies to handle the e-commerce boom, this market is expected to grow rapidly. However, some of the infrastructure impediments will make growth somewhat problematic.
From what I've written, I've focused mainly on the growth factors contributing to omni-channel and the strategies for success for companies looking to implement an omni-channel strategy. However, in a nod to my previous blog on A Sneak Peak into the future of TMS, I wanted to look at the key inhibitors to omni-channel as well.
Technology Complexities
As omni-channel operations have expanded, the technology requirements have also expanded. What was once a simple integration point now requires ten layers of interaction points and a slew of business rules to bridge the gap. There are significant challenges from an integration standpoint, both in terms of technology and business processes, that are slowing the growth and overall expansion of omni-channel operations.
Infrastructure Issues
One area of concern when it comes to omni-channel fulfillment is the infrastructure of certain markets. In China, for example, the growth of e-commerce in remote villages has exploded. However, getting the orders to these villages is not easy, due to warehouse issues and small roads that do not allow trucks to pass, to name a few. As the e-commerce market continues to expand, infrastructure complexities will continue to be a thorn in the side of omni-channel fulfillment.
Fear of Investment
There is a significant technology gap that exists in terms of omni-channel fulfillment. The biggest problem is that retailers, in particular, are hesitant to invest in new technologies without seeing a long, proven ROI from the market. Combine that fear of investment with the knowledge that many legacy IT systems will need a rip and replace, and it's not surprising that the technology gap exists.
Lack of Understanding
There is a general lack of understanding about all the complexities that go into integrating all the appropriate technologies to enable omni-channel fulfillment. It is not as simple as connecting a few devices; there are business rules associated with how applications communicate and share data and information. As a result, many companies are simply hesitant to learn all the required steps and processes to enable true omni-channel fulfillment.