We are moving from the buzzword "Internet of Things" (IoT) to the term "digitization." As a supply chain professional, the digitization I'm most interested in is the "digital supply chain." The concept of the digital supply chain encompasses IoT, but also includes the idea that sensor data needs to be leveraged in applications that take that sensor data, turn it into actionable tasks that are embedded in the right process step that can be executed by the right person.
Using sensor data in real-time is nothing new in logistics. In the logistics space, for example, we've been taking RF scans and using that data to improve warehouse processes since at least 1975 when McHugh Freeman, an early warehouse management system supplier, began business. And the use of GPS in Internet enabled fleet routing and tracking solutions has existed since the turn of the century.
But in a larger sense, we are only scratching the surface of what is possible with a digital supply chain. As is often the case, Bill Gates got there in his thinking some years before the rest of us.
As I was considering these issues … a new concept popped into my head: 'the digital nervous system' … A digital nervous system consists of the digital processes that enable a company to perceive and react to its environment, to sense competitor challenges and customer needs, and to organize timely responses …  Bill Gates, Business at the Speed of Light (2000)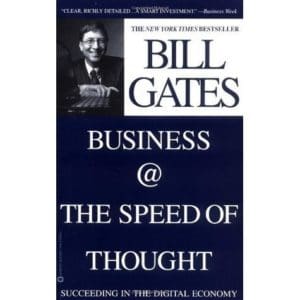 While we've had elements of a digital supply chain for quite some time, in this more holistic sense of a digital nervous system, we are only beginning to scratch the surface. A nervous system can take our sensory inputs – sight, sound, touch, taste, and smell – and a person can react either instantly or more thoughtfully to what is happening around them. While a WMS is a digital supply chain application, it has a limited scope in how it is using sensor data. It certainly does not react in the holistic way that a nervous system does.
There has been an explosion of new sensor data available to be used to create digital supply chains.
We are using, or learning to use, SNEW data – social media, news, event, and weather data – and real-time data to improve our supply chain capabilities in the areas of risk management (see Next Generation Supply Chain Risk Management, A Case Study or General Motors' Approach to Supply Chain Resiliency), supply chain planning (JDA's Exciting New Product Strategy), and supply chain asset management (Predictive Intelligence Comes to the Logistics Industry).
The supply chain has historically relied heavily on EDI messaging, which is far from a real-time messaging mechanism.  Now I am coming across several young companies which provide much more timely supply chain data, across a much larger spectrum of issues, than EDI covers.  A few examples include: 10-4 Systems, FourKites, MacroPoint, Resilinc, riskmethods, StormGeo, and Transvoyant.
Leading logistics service providers are using these technologies and proprietary development to create cutting edge control tower visibility.  C.H. Robinson TMC's Navisphere, DHL's Connected View, and Ryder's RyderShare all have these kinds of real-time control tower visibility platforms in place.
This is a topic that will be covered at ARC's February Forum in Orlando.  The theme this year is "Digitizing and Securing Industry, Infrastructure, and Cities." That is some time out, but I mention it now because I've been tasked with putting together two tracks on the Digital Supply Chain and it is not too early for me to begin searching for panelists. I will be circling back and writing about this topic in a month or two. So, if you have any thoughts on this topic, please feel free to drop me a line at sbanker@arcweb.com.