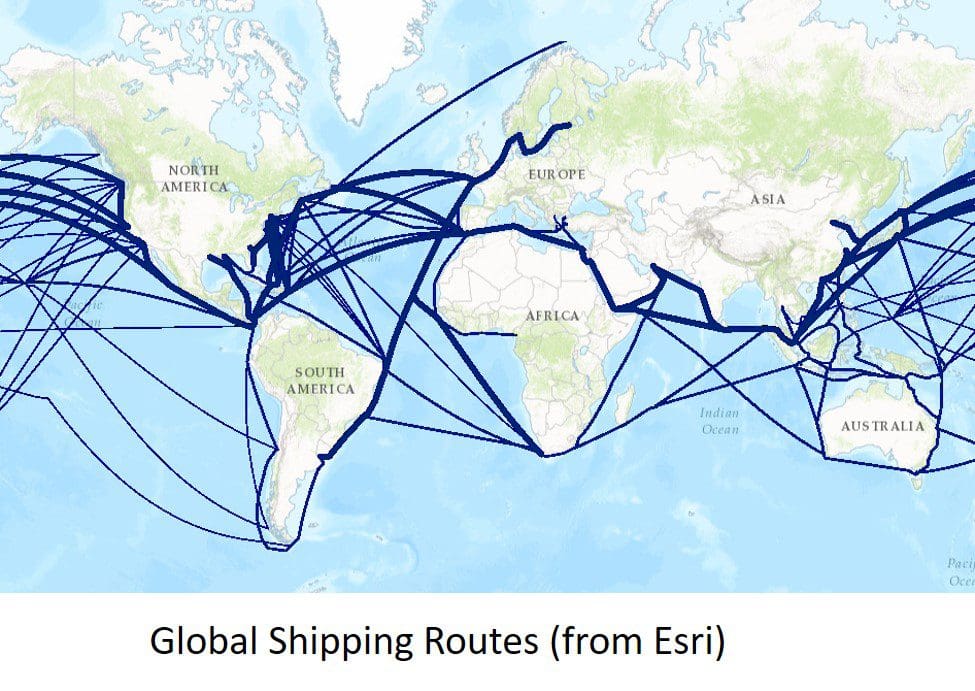 ARC Advisory Group conducts an annual in-depth analysis of the worldwide global trade management (GTM) software market. The research process includes the analysis of large amounts of information and interviews with executives from numerous GTM companies. The process concludes with the publication of ARC's Global Trade Management Market Research Study. I am nearing the end of the study update process and thought I would take this opportunity to discuss some of the GTM market's current characteristics.
ARC's Definition of the GTM Software Market
ARC has a broad definition of the GTM software market and we segment it into two high-level solution categories:  Trade Compliance and International Trade Visibility & Execution. Trade compliance functionality helps companies manage trade compliance costs and processes like duties, tariffs and required filings; and regulations such as restricted party screening that are overhead costs and pose risks for regulatory fines by government entities. International trade visibility & execution functionality provides geographically dispersed trading partners with the ability to collaborate, monitor, and manage the steps within the procurement, production, and delivery processes of the extended supply chain. Some GTM providers, such as MIC Customs Solutions, focus solely on trade compliance. Others such as GT Nexus provide visibility and collaboration functionality for global trading partners. And finally, there are several GTM software providers that offer both trade compliance and international trade visibility and execution functionality. These providers include Descartes, BluJay Solutions, and Amber Road. Even within each of the GTM categories there is great variation in the capabilities offered by suppliers. For example, there are niche compliance solution providers that only manage domestic customs regulations. In addition, international trade solutions may vary by mode. For example, INTTRA provides electronic ocean cargo booking, whereas Champ Cargosystems is dedicated to the air cargo industry.  Because of the functional and regional diversity, there is also a diverse range of factors affecting different vendors' businesses in different ways. In short, the GTM market is very heterogeneous.
GTM Market Characteristics
Many GTM software vendors sell their solutions through the SaaS model. In fact, roughly half of the GTM market's revenues come in the form of SaaS – with the remainder being perpetual software, implementation, and maintenance services. SaaS makes user adoption an easier decision that can be made through an operating budget rather than a capital budgeting process. This has encouraged the adoption of these solutions by shippers. The systems can be implemented more quickly and usage can be expanded incrementally with lower upfront expenses. But many of the applications have historically been adopted as point solutions. More recently, GTM vendors have expanded their solution footprints, allowing them to sell their solutions as a GTM platform. This allows users to purchase a system that is more standardized, offers greater continuity across the enterprise (i.e. compliance for multiple business units across countries on one platform), and provides integration benefits (for example, visibility into both supplier inventory status and compliance status across the supply chain). This maturation of solutions into larger global deals, with solutions sold as platforms, has contributed to the growth in adoption in GTM solutions. In addition, the incentives for adopting GTM is transitioning from what used to be heavily focused on regulatory compliance, toward the management of regulatory programs to the benefit of the organization. In particular, companies are using GTM solutions for item classification and other process steps to take full advantage of the preferential treatment made available through FTAs. They're also leveraging duty deferral programs like free/foreign trade zones and bonded warehouses to reduce inventory holding costs. At the same time, secular trends such as outsourcing and increasingly complex international supply chains is supporting the value proposition for supply chain visibility solutions. All of these factors are stimulating the GTM market to grow faster than the more broadly defined supply chain software market. In general, GTM solutions are of greatest interest to companies in industries that have complex supply chains and are subject to high tariff costs or high compliance risks. Some of these industries include automotive, telecom, pharmaceuticals, and household goods (see GTM Merchandise Trade Analysis). However, companies across numerous industries invest in GTM solutions. Of course, logistics service providers are the most prevalent, but other industries such as banking also use GTM solutions to manage compliance risk. GTM software is of interest to a wide range of businesses, and it is supporting the ongoing secular trend of international trade. And despite some of the recent rhetoric, I don't see this growth trend abating any time soon.