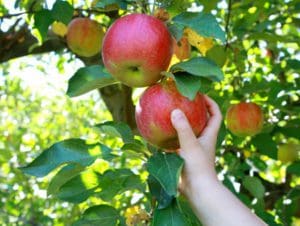 As I mentioned in my post earlier this week, the life of bees is an interesting one. This past weekend, I saw it up close and personal as I took my annual "apple picking" trip with my family. However, this year, we went with friends to make things more interesting for our kids. Due to the warmer temperatures, the bees were not ready to pack it in for the winter. Instead, they were looking for food. As a result, there were signs all over the apple orchard warning to be careful when "sampling apples" as it is somehow still "bee season." Well, as soon as my youngest daughter picked and bit into an apple, she had no less than 20 bees trying to "eat" that same apple. After knocking it out of her hand and running for safety, we realized it would be a tough day. This was basically a theme for our day, as our son's friend had a slight bee PTSD reaction to getting stung, and our kids ran away screaming from the orchard. When we got home, my other daughter looked at me and said, "that was so much fun."
And now, on to the news.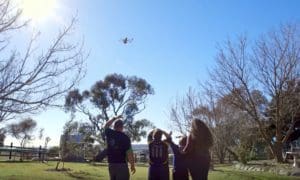 Google's parent company, Alphabet, has begun a new phase in testing its drone capabilities. The hybrid drones, named Project Wing, delivered burritos and medication to customers in rural Australia. This is part of the company's partnership with taqueria Guzman y Gomez and pharmacist Chemist Warehouse. The drones are a combination of fixed wing aircraft and rotary-wing drones, thereby giving them the best of both worlds. This means the drones are able to fly long distances at high speeds while using little power, as well as take off / land without a runway and hover. The purpose of the new round of testing is to focus on scale. This includes learning more about what people want, where and how they want their package delivered, and how they respond when it arrives.
With all the focus on restaurant delivery, it was only a matter of time before Facebook jumped in on the action. However, given the nature of Facebook, it is not surprising that the company has no plans to hire divers and actually deliver the food. Instead, the company's new feature will allow users to order food online through third party delivery services such as DoorDash and Instacart, or directly from a group of restaurants. Facebook has worked on the program for over a year, and ran tests with a number of fast casual restaurant chains. Given the reach that Facebook has, this could be a very good deal for third party delivery services.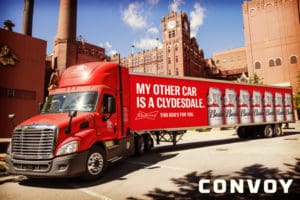 Seattle-based trucking startup Convoy today announced a multi-year strategic partnership deal with Anheuser-Busch. Founded in 2015, Convoy operates an on-demand network that matches truck drivers with available jobs. Under the agreement, Convoy will serve as a key business partner and trucking service provider for Anheuser-Busch. The partnership will help "drive increased wages for truck drivers and reduce empty miles on the road," the companies said in the announcement. Convoy initially worked with smaller shippers doing short routes on the west coast, but with a round of successful funding, the company has been able to move on to bigger deals and larger routes.
In a move to challenge China's e-commerce leader Alibaba, JD.com has joined forces with Tencent and Walmart. Earlier this week, the company announced that it will share customer data with Tencent Holdings and team with Walmart Stores on member benefits and sales fulfillment. Under the partnership, JD.com and Walmart will merge their membership systems in China so members can receive discounts and other benefits from both retailers. They will also introduce a new system that allows JD.com to fulfill customer orders using Walmart inventories. All of this planning is in preparation for Singles Day on November 11, which is the biggest shopping event of the year in China.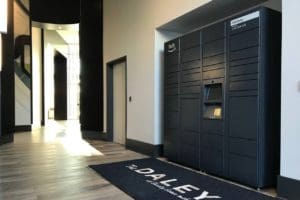 Amazon has signed contracts with some of the largest apartment owners and managers in the US which represent more than 850,000 units to introduce Amazon Hub for package delivery. This is a huge move for Amazon, especially heading in to the holiday season. According to sources, Amazon will begin installing the delivery lockers in these apartment buildings in time for the holiday rush. The locker program, dubbed Hub by Amazon, will accept packages from all carriers and not just for purchases made on Amazon. They will be open only to residents, not the wider community. Residents will receive a notification when they have a package and a code allowing them to open one of the slots. Apartment owners pay about $10,000 to $20,000 to purchase the lockers initially, but do not pay a monthly fee.
The expanded Panama Canal is certainly reaping its rewards. In its fiscal year 2017, which ended on September 30, the Panama Canal Authority (ACP) set record cargo tonnage of 403.8m Panama Canal tons (PC/UMS), the highest cargo tonnage ever transited in its 103-year history. According to the ACP, the 22 percent increase can be directly attributed to the added capacity that the expansion provided. While the US was the primary user (68 percent of total cargo) of the Panama Canal, the countries of China, Chile, Japan, Mexico, and Colombia increased their use of the Panama Canal.
And finally, the port of Los Angeles will explore whether it can block companies from doing business at its port if they use truck drivers classified as independent contractors under a motion introduced Friday by two councilmen. This is significant, as drivers at the port have complained in the past that this is a scheme to deny them just and fair compensation. As a result, there have been 15 labor strikes in the past 4 years. The motion would instruct city staff to review the conditions of the leases of any trucking or warehousing companies operating at the port and report on the feasibility of denying access to companies that are in violation of labor or employment laws.
_________________________________________________________________________________________________________
Want to learn more about Transportation Spend Management success? Register for a free webinar hosted by Transwide and ARC Advisory Group to learn how to achieve optimized transport spend management success. The webinar will be punctuated with a compelling case study as well as contributions and insights from the Transwide team.
That's all for this week. Enjoy the weekend, and the song of the week, Honey Bee by Tom Petty.