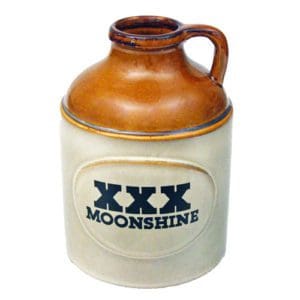 We've all done things that we probably either regret or, at the very least, know we shouldn't have done. This is true in both our personal lives and our work lives. However, I recently saw an article that epitomizes this scenario. A Nevada Department of Transportation employee is under investigation for violating the rules of his job. His main responsibility is to test employees suspected of on-the-job substance abuse. What did he get in trouble for? He was allegedly selling moonshine out of his government vehicle and office. While the details are a bit hazy (you can probably blame the moonshine for that), multiple people have come forward to indicate that they either bought moonshine from this employee or were approached by him in hopes of selling moonshine. Especially given his job description, he had to know that this was a violation of protocol.
And now, on to the news.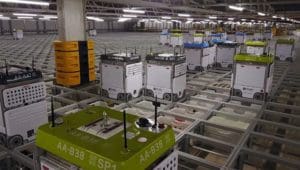 Ocado Group, the UK's biggest online grocer, has hit an impressive milestone with the use of robots. Namely, the company has shown that it can successfully pick and pack a 50-item order, which includes produce, meat, and dairy, in 5 minutes. A similar order, picked and packed at one of the company's older facilities takes, on average, about 2 hours to complete. The secret for Ocado is 1,000 robots that go through the warehouse picking items and bringing them to the human counterparts to pack. The robots are part of the company's new fulfillment center that places an emphasis on automation. The fulfillment center is divided into sections by temperature: ambient, chilled, and frozen. The robots run on a grid at 9 miles per hour, grabbing crates that hold the items that are needed. The robots bring the items to the packer, which allows that person to stay in one place and focus solely on packing. Ocado is looking at other ways to automate the fulfillment process.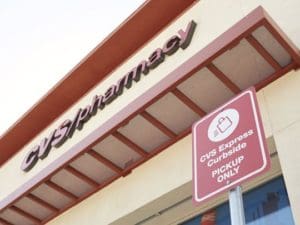 CVS Health Corp., the nation's second largest drugstore chain, is ramping up its delivery service. The drugstore chain, which estimates that nearly 70 percent of the US population, lives within three miles of one of its pharmacies, will start offering free, same-day delivery to a few US cities, and will expand its next-day deliveries nationwide. CVS plans to expand same-day deliveries to San Francisco, Boston, Miami, Philadelphia, and Washington, D.C., by early next year. A company spokeswoman said the delivery service would be a faster alternative and have a wider reach than its mail-order business.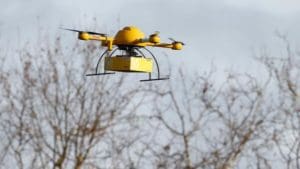 The US Department of Transportation (DOT), has officially launched a pilot program that will allow states to test new types of drone operations. Central to the pilot, and the most anticipated part, is the use of commercial drones for package deliveries. Last month, the FAA began creating a pilot program to allow state and local governments to propose expanded drone operations that can include flights over people, nighttime operations, and flying beyond the visual line of sight — all of which are currently prohibited. Under the pilot program, localities are being encouraged to partner with the private sector to propose a wide range of drone operations. The FAA will determine whether to accept them into the pilot program on a case-by-case basis. Either way, this is good news for the likes of Amazon and Google, and their expanding drone research.
Ten months ago, FedEx and Walgreens announced plans to expand their agreement giving consumers access to package drop-off and pick-up points within the retailer's four walls. Now, FedEx is in more than 92 percent of Walgreens stores in the US. The latest addition of these package points put the total number of stores with a FedEx location at more than 7,500. This is increasingly important as the shipper gears up for the holiday season, as it can help reduce missed deliveries and speed up the returns process for consumers. The expansion has put a FedEx location where packages can be held within nine minutes of 80 percent of the US population; that fact alone shows how convenient the partnership has been.

Last month, my colleague Steve Banker wrote an article looking at the interest, but underlying challenges of, using blockchain technology in the supply chain. Walmart is looking to accelerate the adoption and acceptance of blockchain technology to increase food safety. The company has already successfully piloted blockchain programs to trace pork products from one farm owned by Chinese meat producer Jinluo to a Walmart distribution center in Beijing, as well as to trace mangos in the US from the plants to store shelves. Walmart has promised to invest $25 million by 2020 to encourage technological innovation in Chinese food safety. According to Frank Yiannas, Walmart's vice-president for food safety:
"By tracking how and where the food we sell is produced, blockchain provides new levels of transparency and accountability – responsible systems result in safer food."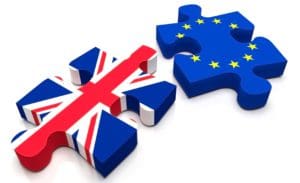 According to an industry group, nearly two-thirds of European Union businesses that work with UK suppliers plan to move some of their supply chain out of Britain because of its withdrawal from the bloc. This was one of the major fears UK-based businesses had when Brexit was passed, and now it is coming to fruition. Back in May, the number of EU businesses that planned to move some of their supply chain out of the UK was below 50 percent. The industry group also found that 40 percent of UK businesses with EU suppliers have begun looking for domestic companies to replace them. While Prime Minister Theresa May sees a "transition" period that will give companies more certainty, the latest numbers must have these businesses wondering about their collective future.
And finally, as the holiday season approaches, US retailers are not stocking up as much as in years past. Foot traffic is on the decline and e-commerce is continuing to grow. As a result, US retailers are keeping less stock in stores, which requires ordering less merchandise as a whole. The strategy is geared towards keeping costs and inventory down to avoid drastic markdowns at the beginning of the year. Macy's, J.C Penney, Kohl's, Nordstrom, Dillard's, and Hudson Bay are among the retailers buying smaller stocks with shorter lead times this year. Instead, these companies are relying on improved demand forecasting processes to grow sales.
That's all for this week. Enjoy the weekend, and the song of the week, Soulshine (it's better than moonshine) by the Allman Brothers.