I recently contributed to the webinar "Product and services innovation, using digital transformation" to increase success and value from new product introductions (NPI).  Elemica covered the supply chain execution aspects to it, and I introduced strategy and long-term planning aspects to product and supply network innovation.
What we generally perceive of a product starts when it is introduced to the market.  By then, the product has been through strategic planning, portfolio management, R&D and product development processes for years and sometimes decades.  During that time period, the design of the product, the process and the supply network can be modified and optimized according to data that become available over time, from the design process and from the evolving markets.
The resource invested in, and the objectives defined for the development should be guided by a business case, that estimates the net present value (NPV) of the product over its lifecycle.  Experience shows that design changes that create more value, that is, those that maximize production, sales price and successful deliveries, are often more effective changes than those focused on reducing costs. But it is true that the earlier in the lifecycle, the larger the opportunities for optimization in both categories.  An improvement project usually impacts both cost and value aspects.  For example, the introduction of a cloud-based market place increases access to the market and can increase total volumes and market shares, while it also reduces the cost of transactions and supply chain execution.
Flexible and modular plants are a recent development that impact both manufacturing and supply chains.  Implementing this concept implies that upscaling to world-size plants is not necessary anymore and replaced by lining up a sufficient number of modular plants that correspond to the market needs.  This decreases time to market and avoids the low utilization rates of large plants during times of market volatility.  Moreover, these plants can easily be modified to make other products or product variants, that creates the agility to react on changing market needs.  And what is very disruptive, these plants are transportable which creates a whole new class of supply network optimization challenges.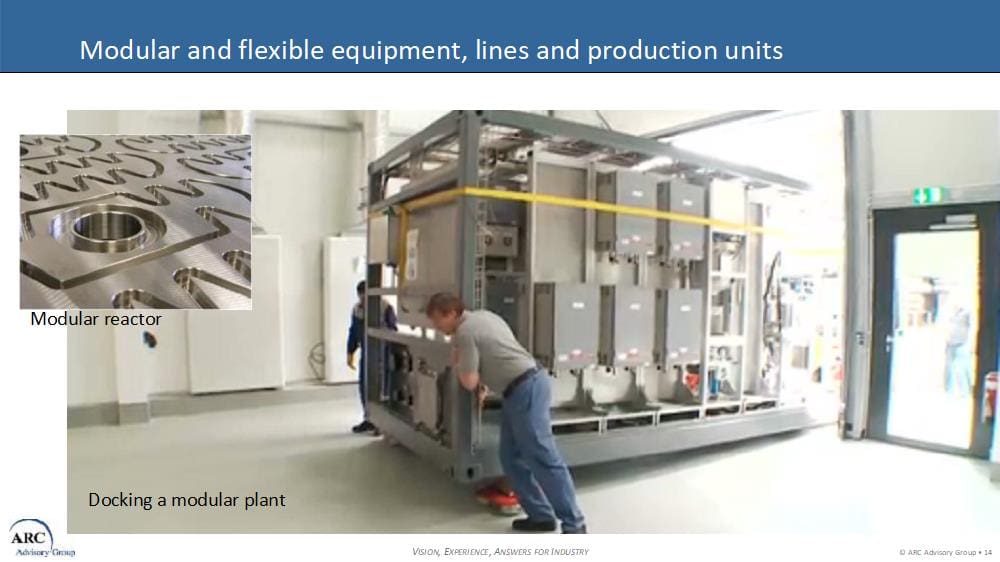 One area of innovation in supply network optimization is to include a wider range of domains and time ranges.  Shell Global Solutions' GMOS/Netsim is an example of such an innovation.  It includes supply, manufacturing and distribution, and includes middle long and long-term time frames.  To find even more global and financially favorable optima, this could be taken further to include also short-term optimization, demand forecasting, supply and demand balancing, and more.
In a project where the Delft University of Technology cooperated with the institute for sustainable process technology. Agent-based simulation was used to study how a global decentralized multi-tier supply network would react on the introduction of modular, flexible plants.  The simulations showed that operating margins for those plants increased by over 25 percent compared to a classical size production plant.  Using the same technique, the university found that companies collaborating in networks, have comparable cost, but increased profitability from network collaboration.
There are many more areas where innovation in supply networks can create additional added value.  Examples are networks related to 3D printing of mechanical spare parts, new flows and processes related to circular economy, new supply networks for hydrogen and ammonia as chemical energy sources and storage, emergency and cold chain networks for epidemics, shelf-life optimization, emergencies and epidemics.  And taking a hard look at your own business you will find more.  Take the long view!
My recommendations are for the short term: optimize planning, scheduling and supply chain execution.  Pay attention to the willingness to collaborate and its relation to team norms and company culture.  For the middle long term, reconsider and improve your supply network design and optimization tools.  Improve anti-counterfeiting and traceability.  Make your operations reliable and reduce interruptions and downtime to scheduled stops only.  For the long term, innovate manufacturing and supply networks, and where possible optimize both simultaneously. Include as many time horizons as your tool will allow you in optimization. Consider agent-based modeling to study the supply network dynamics. When introducing innovation or updating innovation approaches, think of introducing design thinking.
Valentijn is a Vice President at the ARC Advisory Group. His technology focus is on manufacturing operations management, performance management, supply chain management, and the role of the knowledge worker in manufacturing. Valentijn is the focal point for ARC's Benchmarking Consortium in Europe.