Every acquisition has its growing pains, right? Well, Amazon is seeing that now with its acquisition of Whole Foods as a group of Whole Foods employees are seeking to establish a union for the company's 85,000+ workers. The group recently wrote a letter to Whole Foods employees citing that they are concerned about the "direction of Whole Foods in an Amazon era." The letter outlines a few demands, including a $15 minimum wage for all employees, 401k matching, paid maternity leave, lower health insurance deductibles, and more. Specifically, the group took a stand on the impact Amazon has on the overall retail landscape. They wrote: "We cannot let Amazon remake the entire North American retail landscape without embracing the full value of its team members. The success of Amazon and Whole Foods should not come at the cost of exploiting our dedication and threatening our economic stability." This will be a fascinating storyline to watch. And now on to this week's logistics news.

Hurricane Florence has begun its assault on the Carolinas, with Category 2 force winds, but a Category 4 force storm surge. As last year's hurricane season demonstrated, a relatively stable trucking market can see surges with the onset of a natural disaster. These types of storms disrupt supply chains, increase demand for trucking services, and disrupt the spot market. East coast ports continue to play a bigger role in the national freight network, and Florence could severely disrupt operations at these ports. Additionally, mid-September is the beginning of the peak season for the freight market. The fact that Florence looks like it will linger over the Carolinas for 3 days of record breaking rain will only add to the disruption. The relief effort that will be required for clean-up and disaster mitigation will only further tax the already fragile freight network. We will certainly keep an eye on this storm and its impact.
Walmart is making a big push to attract and retain truck drivers this year. The retailer has a private fleet of 6,500 trucks, which is one of the largest in the country. As the driver shortage continues to grow, Walmart is looking at ways to ensure it has adequate coverage. The company is now offering referral bonuses of up to $1,500 to attract new drivers. Additionally, Walmart is looking to shorten the on-boarding process for new hires to get them on the road faster and recently launched a nationwide TV advertising campaign. Walmart has historically been selective about its drivers, generally only hiring those who have at least 30 months experience over the prior three years. According to reports, the driver shortage hit a record 296,000 in the second quarter, and Walmart is trying to fill vacancies while balancing rising wages and fuel prices. On average, new hires can earn about $86,000 a year with as many as 21 paid vacation days, which has kept turnover as low as 7 percent.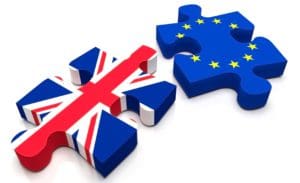 Companies are beginning to make contingency plans in case of a no-deal Brexit. Case in point, Cadbury's owner, Mondelēz International, has said it is stockpiling ingredients, chocolates, and biscuits. This is just the latest example of companies stockpiling before Britain leaves the EU, as concerns grow that the UK may fail to agree to withdrawal terms by the Brexit deadline of March 29. Hubert Weber, President of Mondelēz Europe, had a few interesting things to say about the looming Brexit. First, Weber said that the UK was "not self-sufficient in terms of food ingredients" and confirmed the measure as part of contingency plans for a hard Brexit. Additionally, Weber said "we are preparing for a hard Brexit and, from a buffering perspective for Mondelēz, we are stocking higher levels of ingredients and finished products, although you can only do so much because of the shelf life of our products."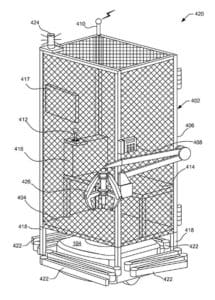 Amazon is at it again. This time, in the company's latest patent, Amazon would pair human workers with machines. However, unlike some of the other goods-to-people or robot assisted technology, this patent would put humans in a cage on top of a robot. While that may sound barbaric, the simple description might be a bit misleading. The illustrations that accompany the patent, which was granted by the U.S. Patent and Trademark office in 2016, show a cage-like enclosure around a small work space sitting atop the kind of robotic trolleys that now drive racks of shelves around Amazon warehouses. And while Amazon never implemented the technology, the patent showed that Amazon is looking at ways to bring humans into the "robots only" zone at various warehouses.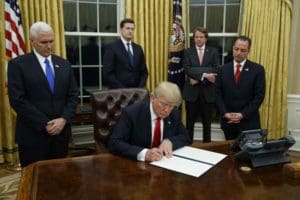 While it feels like I have been writing about a looming (or growing) trade war every week here, tensions and rhetoric continue to grow. Earlier this week, China promised retaliation if President Trump escalates the tariff battle. This comes on the heels of Trumps remarks last week that he was considering extending penalties to an additional $267 billion of Chinese products in their battle over Beijing's technology policy. That would be on top of $50 billion of goods already hit by 25 percent duties and another $200 billion on which Washington is poised to raise tariffs. China matched Washington's first round of tariff hikes on $50 billion of its goods, but their lopsided trade balance means Beijing is running out of imports for retaliation. Not surprisingly, both sides have agreed to a trade talk that could help to smooth out trade policies.
FedEx announced earlier this week that it is upping its ground operations from 5 days a week to 6 in response to the growth of e-commerce and the demand going into the holiday season. FedEx said that while peak demand is a big factor, the growth of e-commerce has actually raised year-round demand toward peak levels. For example, FedEx noted that "the record day for the company in 2009 was 12 million shipments, whereas now it routinely handles more than 14 million shipments on a typical day." With 2018 projected to the be the busiest holiday season ever, with record volume and potentially record temporary hires (which I will cover in a separate article shortly), this certainly seems like the right time to make this move.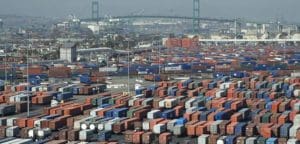 And finally, according to the Global Port Tracker report from the National Retail Federation (NRF) and Hackett Associates, traffic at the nation's container ports continues to grow. Ports covered by the monthly report handled 1.9 million Twenty-Foot Equivalent Units (TEU) in July, up 2.8% from June and up 5.6% year-over-year. A TEU is one 20-foot-long cargo container or its equivalent. According to Jonathan Gold, NRF Vice President Supply Chain and Customs Policy, "more tariffs could come any day, and retailers have been bringing in record amounts of merchandise ahead of that in order to mitigate the impact on their customers. Retail sales are growing stronger than expected this year thanks to tax cuts and job creation, but tariffs are the wild card that threatens to throw away a significant portion of those benefits."
That's all for this week. Enjoy the weekend and the song of the week, Billy Bragg's There is Power in a Union.