Every year Corporate Knights puts out a report ranking the world's most sustainable companies. This year Dassault Systèmes won the award. Dassault Systèmes, is a software company headquartered in France, that produces product lifecycle management (PLM) software. What is PLM software? Dassault's software provides companies with 3D software applications to transform the way products are designed, produced, and maintained.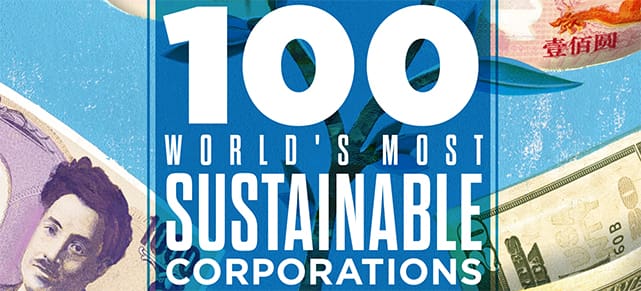 Corporate Knights uses publicly-disclosed data – financial filings, sustainability reports, and related data – to produce their ratings. Key factors in Corporate Knight's analysis include energy use, carbon, waste and clean air production.
Also considered were leadership compensation, suppliers the companies work with, pension fund health, safety ratings, employee turnover, innovation expenditures, taxes paid, the diversity of leadership, and the link between sustainability targets and senior executive pay. This year Corporate Knights added a new category, a focus on the proportion of a company's revenue that comes from services or products that are environmentally beneficial. Without this change in scoring, Dassault Systèmes would not have won.
All forms of supply chain software support sustainability, with transportation management systems and supply chain design solutions being even greener than product lifecycle management. But the companies Corporate Knight looks at have a minimum revenue of $1 billion. Most supply chain software companies don't hit that threshold.
Who is the worst company for sustainability in the world? There are no lists of the worst actors. One reason is that figuring out just how bad a company has performed will usually require that the company prepare a report on their sustainability performance, and the worst companies don't do that.
But my completely subjective vote for the least sustainable company in the world goes to Amazon.
Transportation produces large amounts of greenhouse gases. E-commerce is inherently less green than traditional bricks and mortar retail supply chains; it contributes to larger transportation emissions than traditional retailing. That is because instead of having pallets of goods delivered in truckload size shipments to stores, small parcels are sent directly to consumers. And often one leg of the journey is by Air. Full truckload shipments are greener than van deliveries, and Air is the least sustainable of all transportation modes. Amazon has done more to grow e-commerce than any company in the world.
But one can argue that Amazon can't be blamed for this. It is we the consumers that demand instant gratification and are driving the massive growth in e-fulfillment.
Further, consider companies in the coal, oil and gas, and chemical industries. Don't these industries produce even greater adverse impacts on the environment than transportation?
But intentions matter. Let's take the chemical industry for example. Like the ecommerce industry, that industry is producing goods demanded by global businesses and consumers. However, it is still possible to produce those goods with a supply chain that is designed to minimize adverse impacts to the world. For example, BASF, the world's largest chemical company, has a cleverly constructed supply chain where the byproducts of one operation get converted into starting materials of another operation. They call this Verbund (see One of the World's Most Innovative Supply Chains for more on this topic).
One leading analyst firm produces an annual list of the companies with the best supply chains. Amazon use to be listed Number 1. They don't even make the list anymore. That is because this firm added a sustainability category. Amazon does not even produce a sustainability report.
Amazon has also gotten bad press surrounding how their warehouse workers are treated and the disparity in earnings between CEO Jeff Bezos, one of the richest men in the world, and the armies of workers toiling in their e-fulfillment centers.
Amazon finally did appoint a head of sustainability in 2014. And they have made sustainability advances in the areas of reducing waste from excess packaging and investments in Wind Farms. But it is in transportation where Amazon is creating the biggest adverse impacts on the environment. They have done next to nothing in this area. Amazon recently purchased 20,000 delivery vans for last mile deliveries. All were powered by internal combustion engines; not one electric vehicle in the bunch.
Sustainability is defined in many ways. As a supply chain professional, I look at it through a supply chain lens. I'm proud that a supply chain software company, Dassault, has been listed as the best in the world in sustainability. But I find it inexcusable that Amazon, a company with the most innovative supply chain in the world, puts so little emphasis on working to mitigate greenhouse gas emissions across their supply chain.