Abercrombie & Fitch has struggled. Investments in supply chain agility and omnichannel are a key part of their turnaround strategy. In the most recent quarter (second quarter), Abercrombie & Fitch Co. (NYSE: ANF) reported a net loss of $3.9 million on sales of $842,414 million. The net loss is under half a percent of sales. They are not the only mall-based retailer struggling. Amazon and eCommerce have devastated a wide swath of retail.
But the company is making progress. In the same quarter of last year, the net loss was just under two percent. The company also grew sales eight percent overall compared to the same quarter last year with direct-to-consumer net sales increasing 16 percent.
Transformation Initiatives
The company's transformation initiatives through 2020 include the following:
Continued Global Store Network Optimization which includes shutting poorly performing stores and adapting to the evolving role of the store in the age of eCommerce.
Enhancing Digital and Omnichannel Capabilities by creating best-in-class customer experiences while growing profitably across all channels. To do this, they will invest $50-55 million this year in the continued rollout of omnichannel and CRM capabilities, including their loyalty programs and IT systems.
Investing in Supply Chain Speed and Efficiency. Fashion is hard to forecast. But they seek to improve efficiency by "leveraging data analytics to offer the right product at the right time and the right price." But because fashion is hard to forecast, agility is critical. If in some region a trend hits –- and the inventory is not prepositioned correctly – they need to have the ability to get that product there rapidly and capture the sales.
And finally, the Optimization of Marketing Investments. Here much of the focus is around leveraging data analytics from loyalty data.
Except, perhaps, for the focus on marketing optimization, these initiatives are tightly interwoven. Their omnichannel flows – buy in store, ship from store, purchase on line and pickup in store, order in store, and reserve in store – closely link digital and supply chain capabilities. Their store optimization project involves smaller stores better adapted to omnichannel product flows. Store associates have been equipped with handheld technology that allows them to search for inventory, access loyalty data, and speed checkouts.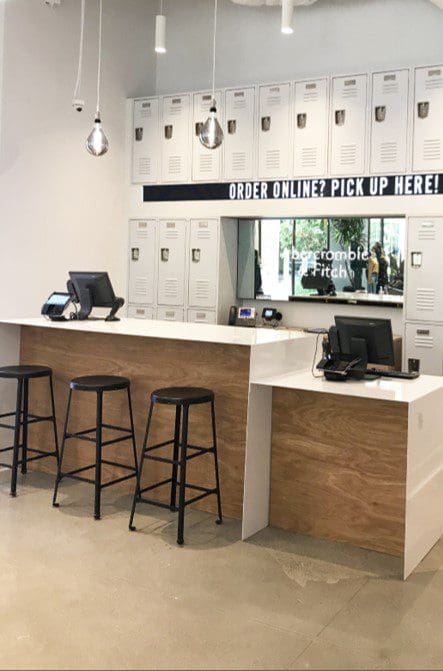 None of this is easy. Upgrading technology, for example, means store associates will need to be trained; the retail chain may need to hire associates for the seasonal rush earlier, and hire associates with a higher comfort level with technology.
Further, ship from store is more profitable when stores are located closer to customers. But international sales – 37 percent of their revenues – has a relatively small number of stores in place to support omnichannel. China, for example, has only 29 locations, and Europe 117. And this is out of 870 total stores.
Success in China is Critical
Going forward, international sales are becoming more and more important for this retailer. And when it comes to eCommerce, no place is more important to be than China. New digital trends occur first in China, and then spread to other parts of the world.
Donnie Franzen, a Director at Abercrombie & Fitch, recently gave a presentation on the importance of China to get in front of ecommerce trends. The speech was at the Council of Supply Chain Management Professionals (CSCMP) annual conference in early October in Nashville.
"China has one of the fastest growing markets. They will have $1.7 in digital sales by 2025. That is three times what the U.S. will have. The last Singles Day in China drove $25 billion in sales in twenty-four hours", 95 percent of which were mobile sales. "The Chinese are willing to buy more and spend more online."  Abercrombie & Fitch learned that for this market, mobile design and experience were key. And mobility needed to be supported by mobile wallet payment options. The Chinese are 60 times more likely to use this payment option than North America or Europe. In China, 80 percent of online sales come from Tmall and JD.com.
Developing these mobile capabilities required that logistics, marketing, IT, tax and treasury, and the returns team closely collaborate. The IT team has an agile deliverables process, where new features are developed in two to three-week sprints.
Every market is distinctive. In China, "they are brand conscious but not brand loyal." When you have a small store footprint to support omnichannel, you need partners. They partnered with a local eFulfillment house to help them get on Alibaba, and they found SF Express had strong parcel capabilities.
Becoming a clicks-and-mortar company is not easy, but the recent quarter's results show Abercrombie & Fitch is making good progress.