On April 1, I saw a very interesting piece of news that I just couldn't believe. Passel, a sharing economy company that has shoppers (dubbed Passers) deliver goods to other shoppers, made a major announcement on how items would be delivered. The company's R&D division announced that Passers would have the option of engaging drones to assist with delivery. According to a press release, "Drone Assisted Delivery is a Jet Optimized Kinetic Engagement System (DAD: JOKES) that allows Passers to skip the necessities of walking, riding, driving, or catching public transportation while they make a delivery on their way home from stores." Basically, a drone would carry the person home along with the item when they are making a delivery. The drone would use "a proprietary VR environment immersed within an AR quantum computing matrix, powered by a hybrid cloud neural network." The company did say that while it is not licensed in any of the markets it serves, it will launch anyways. Unfortunately, due to weight and size limitations, DAD: JOKES will only be able to delivery light items. And now, on to this week's logistics news.
Amazon has built out its logistics network over the last few years, with an aggressive move into the air cargo space to speed up the flow of goods between distribution centers across the country. The company's position in the air cargo market is set to double, as Amazon plans to take up to 40 percent of the shares of both ATSG and Atlas Air, which are providers of Prime Air operations. Amazon is also adding both 737-800 and 767 freighters to the fleet. With the addition of 10 new leases, this puts Amazon's leased fleet at 30 cargo planes. The terms of the leases have also been extended 5 years, meaning they will run through at least March 2026. This move puts Amazon in a good position to be less reliant on UPS and FedEx in its shipping, especially as it builds out its air hub.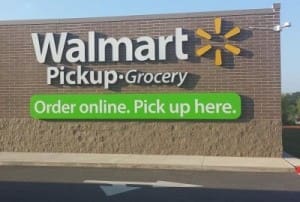 Walmart and Google want to make grocery shopping easier for consumers. Starting earlier this week, the two companies launched a program that allows consumers to order groceries using their voice on any device where Google Assistant is available, such as Google Home Hub, Android phones, and iPhones and watches. The consumer simply has to say "Hey, Google. Talk to Walmart" and then begin placing an order. Using previous order history, the application can check the brand and size when you put orange juice or milk into the cart. The only catch with the new system is that is only available at Walmart stores that offer grocery pick-up (2,100 stores) or delivery (800 stores). For those stores, the process for picking up or having groceries delivered is the same as if it were done via the web or mobile app.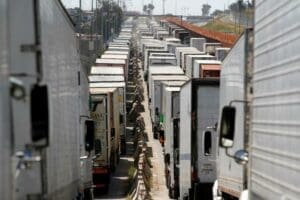 President Trump's threat to close the US-Mexico border has faced a lot of backlash. Most recently, there has been concern over the rising prices of Mexican imports as well as a supply chain shutdown on the nearly $1.7 billion in daily trade. Trump is continuing with his plan of reshuffling border agents to cut down on migrant families entering the US, and this is creating gridlock at the border for trucks. Senior US Department of Homeland Security officials said the recent redeployment of some 750 officers on the border to deal with a surge in migrants has led to the slowing of legal crossings and commerce at ports of entry. Truck drivers have indicated that these delays have been up to 12 hours. Ports of entry have been using less truck lanes for inspection of imports which is causing the long wait times.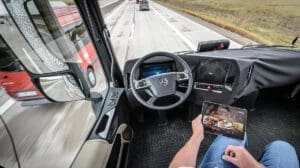 German automaker Daimler announced that it is taking a majority ownership stake in US autonomous vehicle technology firm Torc Robotics. This move is not a surprise as Daimler looks to target the autonomous truck market. Torc Robotics is one of several companies that are developing autonomous truck technology, along with Embark and TuSimple. With investment money pouring in, and trucking companies trying to figure out how to optimize their labor force, autonomous vehicles have been a hot topic. The US will be the primary target for putting self-driving trucks on the road in the near future. While self-driving trucks are still a ways away, the technology will, at the very least, make trucks safer on the highways. Neither company will disclose how much Daimler plans to invest or what percentage of Torc it will own.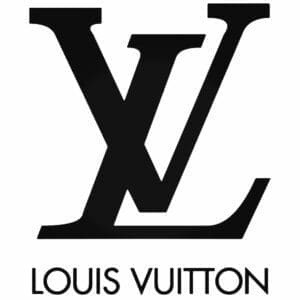 Luxury group LVMH plans to launch a blockchain initiative in May or June of this year. While the luxury group owns 70 brands, the initial venture will focus on two: Louis Vuitton and Dior. The driver for establishing blockchain is to cut down on the number of counterfeit products that flood the market. Right now, the global market for knock-offs is over $450 billion. Blockchain will be able to authenticate that the goods are actually Louis Vuitton or Dior items, and not highly believable fakes. The blockchain will trace the items from the origins of raw materials to the finished item at the point-of-sale and beyond. If more luxury brands jump on the blockchain bandwagon, the counterfeit market could take a hit.
GlobalTranz, a leading technology and third-party logistics solutions company, announced that it has acquired Circle 8 Logistics, a Chicago-based third-party logistics provider brokering truckload, flatbed, intermodal, temperature-controlled, and less-than-truckload (LTL) capacity. The acquisition bolsters GlobalTranz's position in both the Chicago market as well as in the 3PL market. This marks the ninth acquisition by GlobalTranz since January 2017, a strategy that has pushed the company's revenue over the $1.5 billion mark. Financial terms of the deal were not disclosed.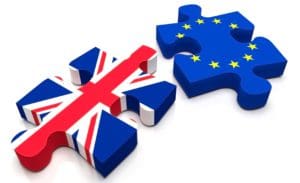 Another day, another failed Brexit vote. Earlier this week MPs again failed to agree on proposals for the next steps in the Brexit process. The Commons voted on four alternatives to Theresa May's withdrawal deal, but once again, none gained a majority. Theresa May has a big decision coming up. The UK has until April 12 to seek another extension or leave without a deal; Mrs. May can either proceed without a deal or come up with another proposal to put to MPs again. Last week, 8 options were put in front of MPs, with none of them getting a majority. They were whittled down to 4 for voting, and all were rejected. The four rejected plans were:
Motion C: Committing the government to negotiating "a permanent and comprehensive UK-wide customs union with the EU" as part of any Brexit deal.
Motion D: Referred to as Common Market 2.0, this option would mean joining the European Free Trade Association and European Economic Area.
Motion E: Calling for a confirmatory referendum, giving the public a vote to approve any Brexit deal passed by Parliament before it can be implemented.
Motion G: Aiming to prevent the UK leaving without a deal, including a vote on whether to revoke Article 50 – stopping Brexit altogether – if the EU does not agree to an extension.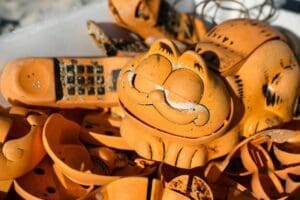 And finally, for over thirty years, beach goers on the French coast have been finding bright orange Garfield phones washing up on shore. While locals always assumed that a lost cargo container was responsible for the orange feline phones to wash ashore, there was never any proof. Until now, that is. A local resident revealed he had discovered the container after a storm in the 1980s, and it has finally been located. The container, or at least what remains of it, sits at the bottom of a 30-meter deep fissure. When divers were able to locate it, they found 23 complete handsets with electronics and wires.  While the container has finally been found, there are still a few mysteries left unsolved. Namely, what ship was carrying the container, were more than one container lost, and how did the container go overboard? But at least part of the mystery has been solved.
That's all for this week. Enjoy the weekend and the song of the week, The Joker by the Steve Miller Band.