In March, Infor had a customer event at their headquarters called "The Journey to an Autonomous Supply Chain."  "Autonomy" is their goal, but right now their GT Nexus product, recently renamed Infor Nexus, supports an orchestrated supply chain. Infor Nexus is a solution some are starting to call a Multienterprise Supply Chain Business Network.  Whew. That is a mouthful. Let's just call it a Supply Chain Network application.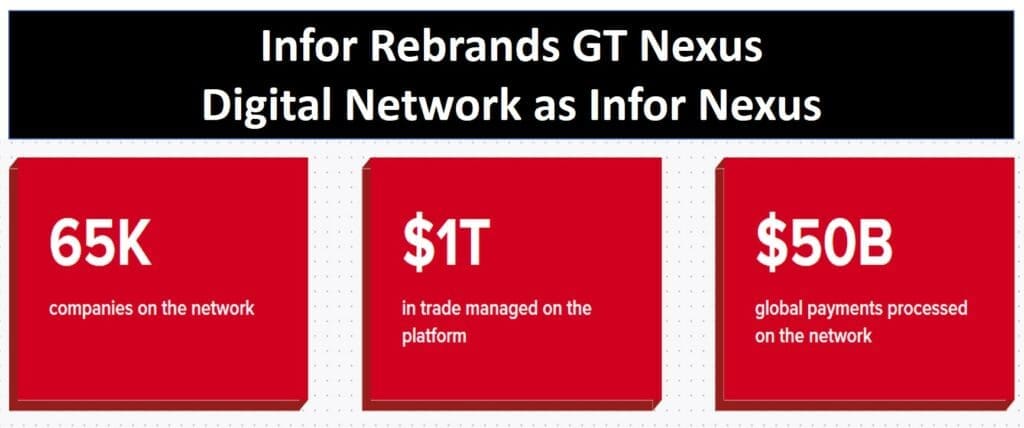 If you look at the definition of orchestrated, you will see the word "arrangement." And when the term orchestrated is applied to a music score, the arrangement is quite intricate. That certainly describes the supply chain operated by Havertys Furniture Companies, Inc. Abir Thakurta, the vice president of supply chain for Havertys, spoke. Havertys is a furniture retailer with over $800 million in revenue that operates in the Southern and Midwestern regions of the US. The company has a global supply chain. They source furniture globally and deliver the furniture to customers' homes in the US. Tight orchestration – the intricate sequencing of work done by their 72 import suppliers shipping from 88 overseas factories, 25 carriers, 7 logistics service providers, and themselves – allows them to flow product through their warehouses with opportunities to optimize inventory.
Havertys believes superior customer service, in terms of being able to accurately tell customers how long they will have to wait before they receive a product, and then meeting those promises, is part of their competitive differentiation. "If a customer walks into our store, we can tell them with a high degree of confidence when they will get it." Mr. Thakurta said.
This multi-party supply chain orchestration is facilitated by internal Havertys systems working in conjunction with the Infor Nexus solution. This is a public cloud solution that serves as the source of truth about all transactions between Havertys and their supply chain partners. So Havertys would use the platform to ask a supplier if they could ship a product from their factory on a certain date, carriers if they could pick goods up on a certain day and deliver them to the port, and so forth right up until the goods are delivered to a Havertys' warehouse. The partners in turn mainly communicate through the Infor Nexus network to confirm orders and bookings and show the status of the goods they are delivering. The Nexus solution pulls all those messages together to provide shipment visibility in the form of ongoing, updated estimated times of arrivals (ETAs). Each partner has visibility to the ETA of incoming goods to their portion of the end-to-end supply chain. Havertys' logistics teams, for example, use the ETAs to schedule receiving at the warehouse. Finally, Havertys pays some of their partners through the platform.
In short, the Infor Nexus platform is used for issuing purchase orders, providing production updates, making carrier bookings, sourcing freight, paying some partners, and end-to-end visibility. Havertys has been using the solution for three years and considers it a key part of their digital transformation journey.
Putting a ROI on a solution that delivers better customer service can be tricky. I asked Mr. Thakurta about their business case for this solution. He said that Havertys does not recognize revenue until they deliver the goods to the customer. This solution allows them to manage their inbound supply chain to set and make more deliveries in a shorter time frame. Further, if Havertys is delivering multiple pieces of furniture to a customer and one piece has not yet arrived, that means making multiple trips to the customers. That is costly. The orchestration delivered by the Infor Nexus product allowing customers to set their home deliveries well in advance of the arrival of merchandise.
While orchestration is what the Nexus product provides for most customers today, their vision is of a solution that supports an autonomous supply chain. What is "autonomy"? Rod Johnson, EVP of Manufacturing and Supply Chain at Infor, explained "When you walk up a set of stairs, you don't tell your heart to speed up." Similarly, when exceptions occur in a supply chain occur, people should not have to have to consciously deal with these events. Or at least, not most of them. The resolution logic and process steps should be baked into the solution.
One early foray into making their solution more autonomous surrounds the ETA logic in the system. Currently, Infor Nexus customers create milestone models. For example, "when we order from this supplier, it will take them 2 days from time of confirmation to being able to stage the goods for delivery. Then it will take the carrier 3 days to deliver to the port," and so on across the end-to-end supply chain. For big companies, this can be thousands of models to maintain. It can end up being the full-time job of two or three people. And even so, it can be difficult for these folks to understand that transit times have changed in some lanes and that models need to be updated.
Infor is using machine learning to create these predictive ETA models. These models are autonomously generated right out of the data. Further, Infor presented data showing the models did a significantly better job of predicting the ETA than humans. This predictive ETA solution has been deployed at a few early customers. Of everything discussed that day, this advance seemed to be what excited Infor's customers more than anything else. It is also a very good example of autonomy in action.