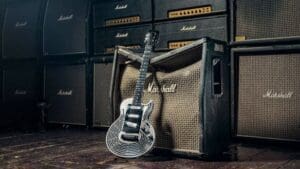 Two of my all-time favorite musicians are Jimi Hendrix and Pete Townshend. Aside from being musical masterminds, these two had something else in common – smashing their guitars on stage. During the 60's, Hendrix would often light his guitar on fire before smashing it to pieces; Townshend would often smash his guitar and amps before Keith Moon joined in on the destruction of this drum kit. This was the beginning of what has become a long line of guitarists who smash their instruments on stage. Although I wasn't aware of it until just recently, a newer entry into the guitar smashing game is Yngwie Malmsteen. In a recent test, Sandvik Machining Solutions brought together experts in materials, machining processes and additive manufacturing to design a titanium and steel guitar. The idea was to build the world's first fully functional, 3-D printed, smash-proof guitar. Malmsteen used the guitar at a recent concert in Florida. While the playability of the guitar was a fit for Malmsteen, as hard as he tried, he was unable to smash it. Said Malmsteen, "I gave everything I had, but it was impossible to smash." However, he was able to use the guitar to destroy the rest of his equipment. At least he can take some solace in that. And now on to this week's logistics news.
More big names are running blockchain traceability programs. In a recent announcement, Nestlé and French retailer Carrefour have partnered to offer customers the chance to trace the origin of Mousline mashed potato products using blockchain technology. Like other programs, the move is designed to provide more transparency into the overall food supply chain. Consumers will be able to access a platform on their smartphone after scanning a QR code on the packaging. This will show the consumer information such as the varieties of potato used, the dates and places of manufacture, information on quality control, and places and dates of storage before the product reaches shelves. The pilot program will over the next few months to allow the two companies to measure the scale and impact of the blockchain technology.
Speaking of blockchain, Volkswagen Group is also beginning a pilot program using blockchain to gain greater transparency into its materials supply chain. VW is collaborating with blockchain specialist Minespider on a pilot designed to trace the supply of the lead it uses in its car batteries from the point of origin to the factory. According to the VW, the pilot will involve suppliers and sub-suppliers that deliver more than two-thirds of VW's total lead starter battery requirements. This is just the latest move into blockchain by an automaker to ensure that their suppliers are meeting contractual obligations on working conditions, human rights, environmental protection, safety, business ethics, and compliance within the supply chain.
Amazon is continuing to evolve how it delivers packages to combat the growing concern of package theft. The latest edition is a free service for Amazon Prime members which enables direct-to-garage delivery. For the new service, customers can purchase one of two Key Smart Garage Kits myQ Smart Garage Hub or a myQ-connected Chamberlain) or a LiftMaster Wi-Fi garage door opener. Customers who already have a myQ-connected garage door opener can link their account in the Amazon Key app. Throughout a delivery, customers can receive notifications and watch packages arrive in real time — from when the delivery person pulls up through when the garage door is closed. Amazon said that this is all about delivery security, convenience, and customer control.
Supply chain sustainability continues to be a hot topic. To that end, Walmart and HSBC have announced a partnership to develop a supply chain finance program which will take into account the sustainability performance of suppliers. This is all part of Walmart's larger supply chain sustainability initiatives. Through Project Gigaton, Walmart has a goal to eliminate 1 billion tons of greenhouse gases from its global value chain by 2030. The program with HSBC will allow suppliers to apply for improved financing from HSBC if they are making progress toward the supermarket chain's sustainability targets. This method will help Walmart to track its supply chain and ensure its suppliers meet sustainability standards.
One way to encourage customers to help with sustainability measures, especially when it comes to packaging, is to offer discounts. Target is doing just that. The company is developing an option that allows customers to consolidate e-commerce orders of multiple products into fewer packages. Let's face it, we'll had the scenario where we order 3 or 4 items from the same retailer and receive them all on different days, with lots of extra packaging. Target is looking to eliminate this practice. The company is giving customers a new option at check-out: consolidate their items into fewer boxes (even if it means an extra day for delivery) and receive a $1 incentive. While $1 may not seem like much, if it takes a dollar off delivery charges (Target requires a $35 order for free delivery), that is great for customers. Especially since those small incentives can add up over time.
About a year and a half ago, I wrote that Kohl's was partnering with Amazon to open some in-store Amazon shops. The stores mostly sold Amazon gadgets like its smart-home products. But for me, the big news was that Kohl's would begin accepting Amazon returns in a limited number of stores in Los Angeles and Chicago. Starting this July, the partnership is expanding, and Kohl's is accepting Amazon returns at all of its stores. With this service, Kohl's says it's accepting "eligible" Amazon items — without a box or label — at no additional cost for the customer. It says it then packages the items and sends them back to one of Amazon's return centers. Kohl's shares surged nearly 10% by afternoon trading on the news.
I mentioned two weeks ago that an unnamed company (but most likely Alphabet's Wing Aviation) was expecting to receive the FAA's first approval for a license to operate a drone airline in the next month. Well, the wait is over after only two weeks. Wing has officially become the first drone operator to receive government approval as an airline, meaning it can begin to drop packages to its customers. The company now has the same certifications that smaller airlines receive from the FAA and the Department of Transportation. According to statements from the company, it plans to begin routine deliveries of small consumer items in two rural communities in Virginia within months.
FedEx is expanding its partnership with Latham-based fuel cell manufacturer Plug Power. Plug Power will begin supplying fuel cell-powered electric cargo tuggers for use by FedEx at the Albany International Airport. The tuggers are bringing FedEx packages from the sorting facility at Albany International Airport to delivery airplanes. They can tow up to 40,000 pounds, without stopping, for up to four hours and require three to four minutes for refueling. For the project, Plug Power is working with Charlatte America, a large manufacturer of battery-powered electric airport ground support equipment.
A 2.9-cent increase in the nation's average diesel fuel price during the week ending April 22 has diesel at its highest point since early December, according to the Department of Energy's weekly update. With the increase, the nation's average for a gallon of on-highway diesel is now $3.147, the highest since the week ending Dec. 10. Prices have climbed for three consecutive weeks, jumping nearly 7 cents since the beginning of April. All regions across the country saw an increase during the most recent week, with the most significant increase being seen in the Rocky Mountain region, where prices climbed by 6.1 cents.
And finally, my colleague Steve Banker will be moderating a webinar on Digital Transformations of Supply Chains – Best Practices to Make it Real. Digital transformation is in everybody's bucket list.  But what exactly does it mean? What factors make it a success for operational backbones of companies? What are some of the traps along the way? How to make it sustainable? I will host the webinar and my guests include Nil Durak of Solvoyo and Harsh Koppula of CGN Global. Mr. Koppula is the CEO of CGN. CGN does supply consulting and implementations. The webinar is on April 30th, at 10:30 am EST.
That's all for this week. For the song of the week, I'm going with the Who's performance of My Generation on the Smothers Brothers Comedy Hour where not only did Pete Townshend destroy his guitar and amp, but Keith Moon loaded a little too much dynamite into his bass drum. Enjoy.