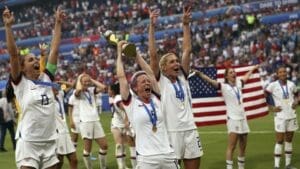 They've done it again! The US Women's National Soccer Team has won a fourth World Cup championship in Lyon, France last Sunday. This victory also marked back-to-back World Cup championships, which is the first time a women's team has accomplished the feat, joining only men's winners Italy (1934, 1938) and Brazil (1958, 1962). To say this team faced a lot of adversity is an understatement. The team, and namely Captain Megan Rapinoe, faced a lot of scrutiny over the last few weeks from their Twitter feud with Donald Trump to an ongoing lawsuit over pay equality. And this is nothing compared to the opposition they faced on the field, including facing France (the other favorite to win the World Cup) in the quarterfinals to marching through five European powerhouses on their way to the Cup. It was a phenomenal win, march through the tournament, and moment that will live in history. Congratulations to the team on a title well deserved. I can honestly say my son and daughters were in awe of how this team not only handled themselves, but how they took care of business. And now, on to this week's logistics new.
E2Open and Amber Road have officially announced the acquisition of Amber Road by E2Open as of last week. The combined company will allow customers to execute an end-to-end supply chain, including sourcing, manufacturing, trade management, logistics and distribution, as well as to omni-channel operations in one cloud-based environment. As a result of the tender offer and the merger, Amber Road will become a privately-held, wholly owned subsidiary of E2open and Amber Road's common stock will cease trading on the New York Stock Exchange.

Amazon, as is the usual, is in the news this week. However, this week, the news is not exactly what the company was hoping for. With Amazon Prime Day on the horizon, workers in Shakopee, Minnesota are set to stage a strike on July 15, the first day of the yearly sales bonanza. Amazon is no stranger to controversy when it comes to Prime, not only because it puts additional pressure on brick and mortar retailers, but because of the working conditions in warehouses to make sure consumers get their purchases as fast as possible. This has provoked worker protests in the past. Last year, over Black Friday, thousands of workers across Europe protested against working conditions. The upcoming strike speaks volumes to the level of dissatisfaction in warehouses, and what many employees deem to be unbearable working conditions. It will be an interesting story to watch.
Additionally, Amazon's Deliveroo investment is under scrutiny. Britain's competition regulator said that it had begun an investigation into a $575 million investment led by Amazon in the London-based food-delivery service Deliveroo. This is the latest effort by a government to potentially check the reach of a technology giant. In an order, the country's Competition and Markets Authority said it had reasonable grounds to suspect that Amazon and Deliveroo had "ceased to be distinct" businesses or that they would essentially merge if the investment were to go through. Work on the investment has since been halted pending the findings from the inquiry.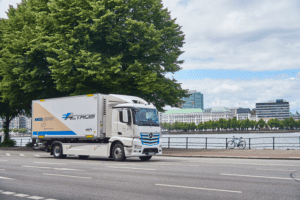 Nagel-Group has begun testing a fully electric Actros truck for distribution in collaboration with Mercedes-Benz. Nagel-Group plans to run this test for approximately one year to prove that a fully electric vehicle can be reliable. The test is part of a series of practical trials by Mercedes Benz for the eActros, with a goal to achieve production maturity for heavy electric trucks for distribution operations starting in 2021. The eActros is equipped with lithium-ion batteries with a capacity of 240 kWh; the specified range stands at 200 kilometers.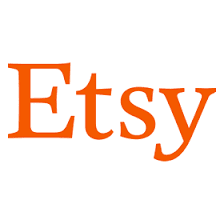 The "free shipping" frenzy continues. Etsy, the e-commerce website focused on handmade and vintage items, has added itself to the growing list of companies providing "free shipping" on orders over $35. The change is scheduled to begin at the end of July, with the company boosting the search results of items that offer free shipping. Starting this fall, the company will market that change to its customers. According to Etsy, a limited-time free shipping test back in May led to higher order values, and that customers are significantly more likely to buy items with free shipping.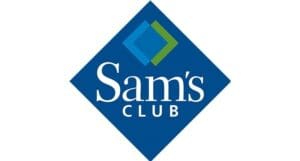 Sam's Club has been an interesting company to follow in the logistics space. Recently, Walmart has started using closed Sam's Club locations for bigger distribution centers. Sam's Club is extending its small-market test of pick-up programs nationwide. The Club Pickup option is free to all Sam's Club members and can be ordered through the wholesaler's website or app. Customers receive a text or email letting them know that their order is ready within four hours. However, there is one catch: the order cannot exceed 15 items to qualify for same-day pickup. According to the retailer, the most popular items ordered for pickup have been fresh foods such as produce and meat.
Speaking of click and collect, Giant Food has begun rolling out click-and-collect online grocery service to its supermarkets across the Mid-Atlantic. Called Giant Pickup, the curbside service launched July 1 and is slated to become available at 100 of the chain's 164 stores in the District of Columbia, Maryland, Virginia and Delaware by the end of the year. The service is ironically powered by the godfather of home delivery, Peapod. To use Giant Pickup, customers go to GiantFood.com and, under the "Shop" tab, choose "Delivery/Pickup," which brings them to the Peapod service. After placing their order, shoppers select a pickup time window, which includes next-day or same-day fulfillment, the latter in as soon as four hours. Giant associates pick and pack the orders and, upon customers' arrival at the store, bring out their groceries and load them into their car.
Blockchain tests have been all the rage over the last year. Nestle is bringing its blockchain tests to a new level. Nestle will now be working with Australia-based startup OpenSC. According to Nestle, the new agreement is "complementary to what we do with IBM with Food Trust, as were looking at a solution to increase a step further than IFT in terms of transparency for our supply chain." The new move is geared towards providing greater transparency. The initiative will begin in the dairy niche, tracking products from their New Zealand origin, to Nestle's Middle Eastern sites, a statement from Nestle said.
And finally, San Antonio will have the opportunity to test a new autonomous delivery program from H-E-B. The San Antonio-based company is inviting select customers near its store in Olmos Park, to sign up to receive deliveries from an autonomous vehicle from Udelv. The Udelv trial is part of the 400-store regional retailer's efforts to integrate more technology-based services into its playbook, which includes its wholly owned subsidiary Favor, an on-demand delivery service; H-E-B Curbside; H-E-B Home Delivery, which is expected to be at more than 200 locations by year's end; and H-E-B Go, a mobile solution that allows people to scan and pay for their items with their phones.
That's all for this week. In a final note, today marks the 215th anniversary of Alexander Hamilton's death following his duel with Aaron Burr in Weehawken, NJ. To honor the anniversary, this week's song of the week is 10 Duel Commandments by Lin-Manuel Miranda. Enjoy.