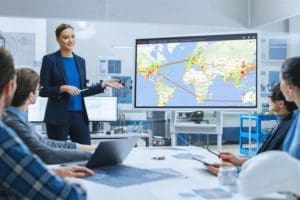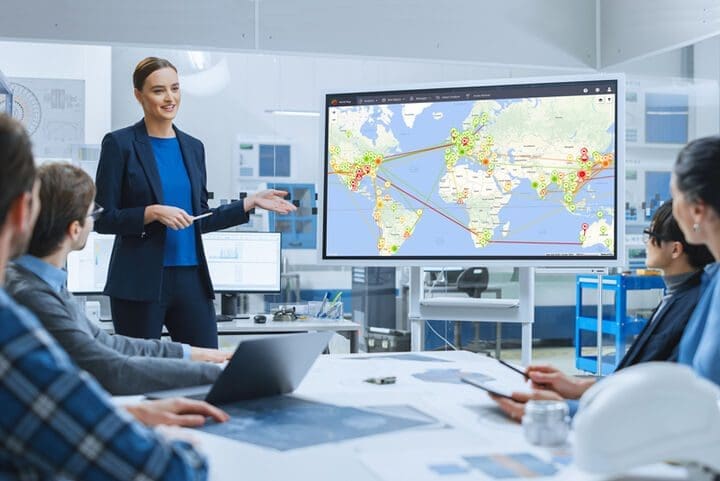 Service companies, where one firm takes over a set of duties that used to be done in-house, is quite common. Companies are outsourcing all sorts of things – call centers, janitorial services, accounting, IT services, and the list goes on. In the supply chain world, contract logistics – where a third-party logistics (3PL) firm runs and manages warehouses on behalf of their clients, is a $200 billion plus market.
In supply chain services, the services company plans and executes on behalf of their clients. The right IT is critical. For example, in contract logistics, the 3PL makes use of a warehouse management system so that they can do the job efficiently. For managed transportation services, a best of breed transportation management system is at the heart of the service. There is also managed planning, where a services firm uses a supply chain system to forecast demand, and plan replenishment and manufacturing. This is much less common than contract logistics or even managed transportation.
But now we are seeing an entirely new type of services firm in the supply chain world – a service provider that does the planning and takes ownership of the inventory. This model comes from a partnership between GEP and Eliant Inventory Solutions. The partners have a couple of customers that are making use of both managed planning and the inventory ownership service.
Managed Services in Supply Chain Management
Usually, service providers s are based upon a best of breed supply chain application that is purchased from a supply chain software firm, but in some cases the application has been developed by the same firm. GEP is one of the relatively rare companies that is simultaneously a software company, a consultant, and a services provider. GEP offers procurement and visibility/fulfillment orchestration applications. Orchestration is based on their GEP NEXXE application.
The GEP NEXXE solution is a Multi-enterprise Supply Chain Collaboration Network (MSCN) application. The MSCN orchestrates the flow of materials across an extended supply chain that includes the enterprise, contract manufacturers, 3PLs, and other trading partners. This platform provides for visibility and collaboration – forecast, purchase order, and capacity collaboration. This collaboration is the foundation of the inventory and transportation synchronization that is provided by the solution.
One critical aspect of a MSCN is its architecture. If the application is not based on a public cloud architecture, it is not a MSCN. Collaboration and visibility are far more effective when based on a many-to-many multitenant architecture. One key advantage of a MSCN is its ability to support supply chain agility. The architecture of a MSCN supports agility in a way that an on-premise application can't match.
I talked to one of GEP's planning customers. This company has a complex supply chain with tens of thousands of products (stock keeping units). It has outsourced manufacturing. This manufacturer uses GEP's technology and GEP's services to synchronize the flow of materials into their partner's factories. The inventory is stored at a few inbound hub warehouses managed by 3PLs. The relationship is young, but this company expects to achieve higher service levels, reduced inventory levels, and lower transportation costs. This company is on track to receive a robust return on investment while improving customer satisfaction. It is also a simpler supply chain which allows their key supply chain managers to focus on higher value activities.
Working Capital Efficiency
Eliant Inventory Solutions is an inventory services company that takes title to inventory and frees up the working capital tied to inventory sitting in warehouses and ports around the world.
For example, in a multi-enterprise supply chain consisting of a company, its suppliers, and its supply chain partners, the company usually has a contract that says they will pay the supplier for their materials 60 or 90 days after receipt of the goods. If inventory levels are high, the company has high inventory carrying costs and less cash on hand.
There are different types of working capital solutions, but one common solution would be that GEP orders materials for their clients using their platform, those materials are shipped to a 3PL warehouse where Eliant purchases and takes ownership of the inventory. The platform provides a time stamp of when the goods are received which starts the clock on inventory ownership. Then goods are shipped from the warehouse to the factory. Eliant stops owning the inventory immediately upon materials leaving the centralized warehouse.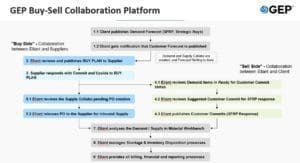 In this example, GEP/Eliant's customer frees up a significant amount of cash from this arrangement. Historically, the company would own the inventory on balance sheet upon receipt of goods, and in turn then borrow money against those assets to increase working capital. But with GEP/Eliant, the OEM does not need to take the inventory on balance sheet at all until a later phase, providing the client with financial flexibility.
Here are some key points to keep in mind:
Eliant can secure financing for holding the inventory at a lower capital cost than the customers they serve.
The visibility provided by the GEP platform can lower the risk of fraud or payment errors for Eliant, allowing them to charge less.
The risk associated with holding inventory is understood and managed by Eliant. Eliant may assume they will be holding inventory for 60 days but then may end up holding it for 120 days. If this were to occur, his obviously would cut into Eliant's margin. However, the GEP MSCN solution and managed services help to ensure that inventory planning is being done at a high level of competence and thus lower the operational risk for Eliant.
One of the foundations for better resilience is better visibility to an end-to-end supply chain. The GEP platform provides this visibility.
There are also advantages for suppliers. When recessions occur, and one is looming, companies often try to free up cash by slowing their payments to suppliers. This can be counterproductive for several reasons. First, because a good supplier may become reluctant to work with the enterprise; secondly because the supplier is forced to charge more for their services; and finally because late payments may even drive a key supplier partner out of business. But with trade services, the suppliers are consistently paid on time.
In short, the combination of GEP plus Eliant makes for a better solution from both an efficiency and a resiliency perspective. This is meaningful innovation. Many partnerships are announced that make for a good press release but don't amount to much. The Eliant/GEP is the real deal because it is born of mutual synergies.
Conclusion
This is a unique form of services arrangement that is new to the market. The benefits are both operational and financial. The partnership at the heart of these services would not be possible without advanced technology.