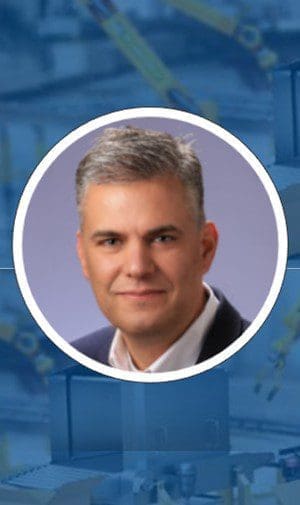 I kicked off a research project on the global warehouse management systems (WMS) integration and consulting market. The research is focused on those organizations that are WMS specialists – meaning that warehouse consulting is a major part of the organization's business. To obtain a better understanding of the market prior to my outreach efforts, I contacted Cal Petty of enVista, a global consulting, managed services, and material handling automation firm. Cal has a wealth of experience from his many years in the warehouse technology market. He provided me with some great context for my research. I asked Cal if I could interview him for an article in Logistics Viewpoints so our readers could benefit from his perspective as well. Thankfully, he accepted my request.
CLINT:   Cal, when we were connected on LinkedIn I was astounded by the breadth and depth of your experience in the warehouse technology market. It looks like we could play a game of six degrees of separation with you and all people logistics in the Atlanta area. Can you tell us a little bit about how you started and what skills and knowledge you have obtained on your career journey?
CAL: In 1992 I earned a B.S. degree in Information and Computer Science from Georgia Tech in Atlanta. My first significant position out of school was at a software company named Cambar Software, where I developed different WMS functionalities that were less common at that time like ASN processing and task optimization. After a couple of years in software design and development, I moved to professional services, managing WMS implementations. WMS products were not nearly as configurable then as they are today, so implementation timelines and teams were often larger. I worked with clients of varying sizes and across several verticals. During my time at Cambar, I was fortunate to manage teams and ultimately a department with both onshore and offshore teammates. At age 30, I moved back to Atlanta to work for a large public consultancy and integrator where I researched WMS companies and explored how the firm could work more closely with them. I have worked for a few privately held consultants and integrators since then, all with focus areas in WMS assessment, selection and implementation. I estimate that I have worked on at least 25 WMS selections for clients that involved over a dozen different software vendors. These projects and the involved vendor interactions certainly impacted my network of contacts over the years. Looking back, I am extremely thankful for those earliest years of my career working on the software side. Experiences like working in product development, implementation consulting, project management and P&L management provided me with unique insight into how software vendors and integrators can work together to provide maximum value for a client.
CLINT: Can you tell us a little bit more about your experience after you moved back to Atlanta and how that helped you with the process of assisting with WMS assessments and selections?
CAL: Starting in 2000, I worked for a large public consultancy in Atlanta for nine years. During that time, I believe two key aspects of the job helped me tremendously. First was the focus on assessment and selection methodology and application of that methodology across a range of technologies. I spent a lot of time working on task lists, a responsibility matrix, deliverable templates and documentation – all tailored to WMS – which shaped the way I approach projects. Second was the freedom I was given to explore relationships with software vendors throughout my time there. It takes repeated experiences talking with vendors, looking at their products and evaluating their organizations to understand some of the more subtle differences between them.
CLINT: What capabilities or knowledge do you believe set the experienced WMS consultants apart from those that are more generalists?
CAL: What really sets the experienced WMS consultants apart is having and maintaining detailed knowledge of the players in the WMS market. It has to be a priority and involves a significant investment of time. I personally meet with many software vendors in the space every year in order to better understand their most recent projects, product changes, personnel changes, and investment direction. I regularly speak with colleagues about what they are seeing from vendors or what trends they are noticing in the space. I think a lot of generalists can talk about the market, but either they are primarily knowledgeable on one or two vendors they have repeatedly worked with, or they provide their clients with a picture of the space as it existed at some point in their past. Very few consultants are taking the time outside of their daily projects or sales responsibilities to understand the market in this detailed way.
CLINT: What is your current role at enVista and how does your experience guide you in your current responsibilities?
CAL: My current role is Strategic Account Manager at enVista. My main objective is to present the value of partnering with enVista to prospective clients and to work with existing clients in addressing their most pressing supply chain challenges. enVista offers end-to-end supply chain services, including and exceeding WMS assessments, selections and implementations. Because a warehouse management system is such a core supply chain technology, enVista spends significant, dedicated time to helping our clients understand WMS in the context of their supply chain changes and the roadmap for their organization's future.
CLINT:   How have the roles and responsibilities of an independent WMS consultant evolved since you began working in this market? Are there any notable dynamics in the current market?
CAL: Some elements of the role have certainly evolved during the last 30 years. Today, most customers are more knowledgeable about the increasingly mature WMS vendor space. Early in my career, inventory and paper-based systems were being replaced by WMS. Today, most clients are replacing their legacy WMS with a more modern warehouse management system because of factors like dated technology, enhanced functionality, and improved methods of integration. Customer personnel almost always have past experience with WMS solutions. Specific to methodology, knowledgeable consultants combined with consolidation in the market has led to the near elimination of RFI processes, which reduces the timeline of system evaluations. Additionally, integration to other systems has become a significant portion of discussions. Enterprise resource planning (ERP) and WMS interfaces have always been a focus, but the explosion of material handling equipment and robotics options in the marketplace and the ways they best interact with WMS is a large portion of what an independent WMS consultant provides for the client.
CLINT: Finally, what advice would you give young professionals just beginning their career in the WMS space?
CAL: Interesting that you ask this question, as I had a former colleague who is early in their career call me in January asking a similar question focused on WMS assessments and selections. I had a couple of simple pieces of advice. First, obtain a role that allows you to go on site in a variety of customer warehouses as much as possible. In this post-COVID world, a lot of work is attempted virtually, but being on site and seeing the customer's warehouse environments, discussing their problems and understanding their direction is critical for early career growth. Second, always be learning outside of your core job. Consider if you can allocate time for conferences and shows where you would have the opportunity to meet software vendors. Are there webinars or product demos you can attend outside of normal work hours to increase your knowledge? Finally, try to identify a mentor in the WMS space who is willing to talk regularly about vendor history and current activity.
CLINT: Cal, these are great insights for those interested in evaluating the WMS services market and for those beginning their careers in the WMS space. Thank you for taking your time to speak with me and allowing our readers to learn from your experiences.