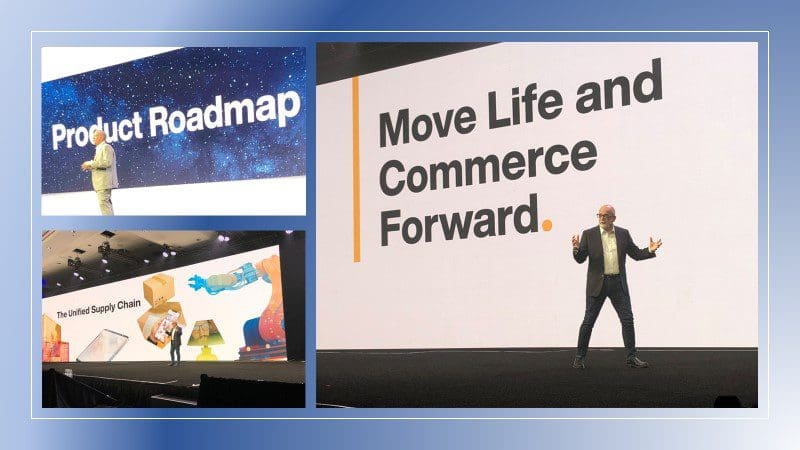 Manhattan Associates hosted its annual user conference, Manhattan Momentum, in Phoenix, AZ this week. "Move Life and Commerce Forward" was the theme of the conference. I believe many of us can relate to this theme on a business and personal level, as the impacts of COVID-19 were felt by virtually all businesses and individuals. But the worst of that appears to be behind us – making forward progress especially appealing. Of course, moving forward also sets the tone for discussions about how Manhattan Associates customers are moving their businesses forward and how Manhattan is moving forward with its product roadmap.
Product Enhancements and Roadmap
The unified supply chain concept was front and center, as it captures how the Manhattan Active platform is delivering the next level of performance improvements to Manhattan customers.  Additionally, there was a strong focus on the company's commitment to APIs, providing customers and partners the opportunity to co-innovate with Manhattan.
A number of unification examples and their benefits were provided. General availability of the next generation of Manhattan Active Yard Management was announced along with new capabilities it provides.
When it is time to choose the next trailer to pull into a dock door, yard and warehouse management work together to select a trailer and door combination that minimizes travel distance for the eventual put away tasks. This is accomplished by yard invoking the put-away API within Manhatan Active WM, determining where the items on the trailer are likely to be put away. Over time, the intelligent dock door selection increases efficiency by reducing put-away travel time and distance.
For live unloads, Manhattan Active Yard Management can leverage real-time inbound shipment visibility data from the TMS mobile app and from shipment visibility providers such as FourKites to match doors to projected inbound shipments. This enables more efficient utilization of trailer unloading resources.
To enhance flow through capabilities, Manhattan Active Yard Management can leverage the WM API to preallocate in-transit inventory to orders as soon as the trailer checks into the yard. Additionally, users can pull trailers from the yard just-in-time to utilize the trailer inventory for outbound shipments.
Dynamic load builder is coming soon to Manhattan Active WM and TM customers.  Beyond just estimating cartons and pallets for transport planning purposes, the load builder will also provide a comprehensive visualization of the optimal trailer layout factoring in considerations such as stop sequencing, stackability, and axel weight balancing. And these instructions will be communicated to the mobile handhelds being used by loaders to follow through with execution of the plan.
Manhattan Active Omni offers customer-controlled fulfillment where customers can control their own fulfillment experience through the Manhattan user interfaces or their API. For direct-to-consumer, between the time customers submit their orders and the time of shipment, they have the ability to change the shipping address, add or remove a line item, update a quantity, or cancel the order. And for store pick-up, customers can extend the pick-up window, add an alternative pick-up person to the order, or even add a ship-to address if they are unable to pick up at the store as they initially intended. These customer-controlled fulfillment flows also work in business-to-business as well, allowing customers to make changes while fulfillment is in-process within the warehouse. Manhattan Active WM then inserts these customer-initiated changes into the existing replenishment and loading tasks.
Finally, Manhattan Associates also provided examples of APIs co-innovated with its partners. I found the integration between Manhattan Active Omni and Google Shopping to be particularly interesting. As soon as a customer searches for a product across a number of Google properties, they'll see an estimated delivery date. Offering a more precise delivery date than a standard 7 -10 day window can better engage shoppers and provide valuable increases in click through rates to merchants on Google Shopping.
Manhattan Active Warehouse Management Update
The Manhattan Active WM track provided updates on adoption of the solution and an overview of feature enhancement releases. Over the last year, Manhattan Active WM has gone from 41 live sites across 24 customers to 113 live sites across 51 customers – growth of over 100 percent if measured by sites or customers. With respect to feature enhancements, I found the ergonomic cubing and yard management enhancements to be the most interesting and likely the most impactful, as well. The ergonomic cubing enhancement allows users an option other than simly cubing a pallet to weight or cubing to volume. This ergonomic option reduces the injury risks associated with high weight cubing while balancing the goals of high volume utilization as well. There were numerous enhancements to yard management. A digital real-time view of the yard now includes status updates such as arrival times, alerting, and detailed insights on inbound and outbound operations. As previously mentioned, yard management offers optimized put-away travel by leveraging trailer content and calling WMS by API to determine the most likely put-away location of trailer content. Detention and demurrage avoidance were also included in recent enhancements. Finally, numerous Manhattan Active WM customers spoke about their journeys to-date with the solution and their roadmaps for expanded roll-outs.