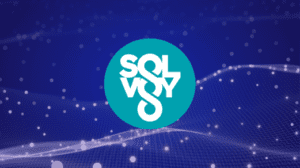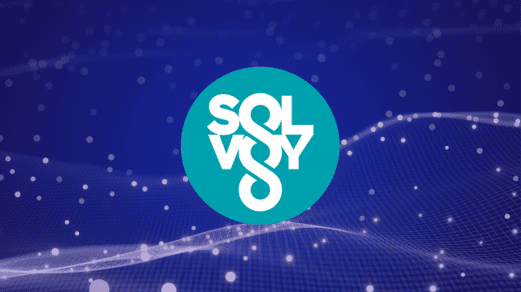 Retailers know firsthand how quickly the market can change. One day, a product is flying off the shelves, and the next, it's gathering dust. That's why staying on top of the latest supply chain planning trends is so important – they can make all the difference when it comes to staying competitive, reducing costs, and meeting your customers' needs.
Here are some highlights from these trends in 2023 and implications on supply chain planning.
Continuing Disruptions in Transportation and Sourcing Materials
After the pandemic, retailers are faced with new challenges and disruptions due to global conflicts, trade restrictions, and now recessions. On a daily basis, supply chain teams are juggling new sustainability requirements, supply disruptions, sudden changes in consumer demand, and labor shortages.
The Russian invasion of Ukraine and the following economic sanctions spiked energy prices and created new sourcing challenges for certain agricultural products and raw materials. Now all retailers are re-assessing their sourcing strategies and looking for local alternatives to reduce risks, lead times and carbon footprint. This means continuously assessing the trade-off between the total cost to serve and meeting customer demand and minimizing lost sales. The increasing need for constantly analyzing these trade-offs across the supply chain networks has highlighted the need for digital twins and what-if capabilities in network design solutions.
Recessionary environments cause disruptions in the manufacturing industry around the globe, leading to long lead times, shortages, rising prices, and complications in transportation lines. With these at play, having agile planning systems which can consume large amounts of internal and external data and provide decision intelligence and decision automation are becoming essential capabilities retailers seek.
It is not easy for companies to cope with customers' sudden changes in demand without agile planning capabilities leveraging advanced technologies such as AI/ML and Optimization. As we've seen over the past few years, businesses will keep automating and integrating supply chain planning capabilities, including demand-sensing, dynamic safety-stock management, inventory optimization, and external collaboration.
End-to-end visibility and ecosystem collaboration across suppliers, retailers, and 3PLs, provide the ability to manage the supply chain ecosystem more effectively in light of uncertainty and disruptions. Planners have been using control towers to spot issues and take action. Over the last year, with the rise of ChatGPT, planners' exception management capabilities have been augmented by chat-based digital assistants.
Changing Trends in Lifestyle and Disposable Income
Many industries, including the tech industry, are experiencing one of the largest layoffs in recent years; job insecurity in an inflation-ridden economy has left consumers with less disposable income, making them more conscious about what they spend their money on.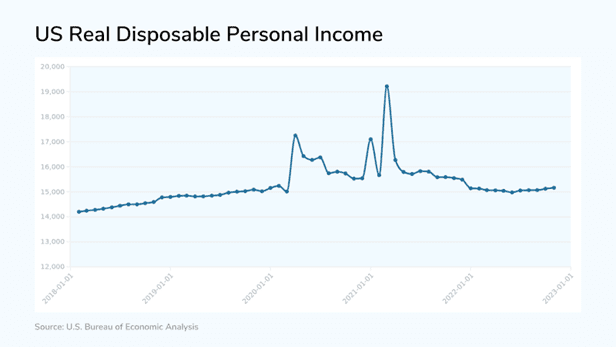 The retailers feel the impacts of the recession fast and deeply. Due to the workforce layoffs, consumers have less disposable income. This means they are more likely to focus on value and affordability and change their priorities and brand preferences when making purchases. They are more likely to shop for discounts and sales and may delay purchases of some items. At the same time, rising prices will change price elasticities and change the way demand shapes in response to promotional offers.
Retailers will also have an inventory surplus because people will buy less overall, meaning they may need to lower prices to clear their excess stock–hurting their profits. These changes influencing customer behavior require advanced demand-sensing capabilities and AI/ML to help retailers make smarter and more targeted promotion decisions through continuing test-and-learn cycles.
With the changing preferences and new ideas being tested, taking a test-read-and-react approach to assortment planning, leveraging advanced analytics and AI/ML technology for promotions planning and markdown optimization, and changing the way they order and interact with their suppliers to minimize risk will continue to be essential for fashion brands. As many retailers will look into sourcing products locally, re-evaluating their supply and logistics networks to optimize their supply chains will be more critical than ever.
Increasing Points of Interaction and Delivering Omnichannel Fulfillment
Since the start of the pandemic, shoppers have been changing their shopping patterns and are now relying more on online shopping and mobile apps and asking for faster deliveries. In March 2022, online shopping was up 27% over the previous year. From the start of the pandemic until March 2022, online shopping went up by 33%. In 2022 overall, U.S. e-commerce online sales accounted for $1034 Billion.
Based on McKinsey research analyzing post-Covid shopping behaviors in 2022,  customers did go back to shopping in stores, and retailers have been increasing the inventory levels accordingly.  This trend is expected to continue in 2023, with omnichannel sales across websites, social media, mobile apps, and brick-and-mortar stores being crucial for businesses.
Managing inventory across all interaction mediums—including online and offline channels—requires real-time inventory tracking, omnichannel order fulfillment, and transportation planning capabilities to optimize service levels while minimizing logistics costs. Increasing availability across all interaction channels with this new complexity to the order fulfillment dynamic is challenging.
With the ease of online shopping, free deliveries, and free returns, retailers are now faced with challenges related to returns management.   Consumers have gotten used to ordering more than what they are planning to keep for trying on different sizes of clothing or shoes or for trying a new brand and shipping the returns for free.  According to National Retail Federation, Returns cost the industry around $816 billion in 2022, and the average return rate for holiday purchases is estimated to be 17.9%. Returns management involving the implications on inventory and reverse logistics is emerging as an integral part of the end-to-end supply chain planning challenge. As retailers seek ways to manage returns processing, logistic flow optimization solutions need to guide the decisions around shipping options and points of consolidation and processing.
Digital Transformation and Autonomous Planning in Supply Chain
In 2023, fast decision-making is crucial. And future supply chains will rely on effective data collection, advanced analytics, automation, and control towers augmented with AI/ML technology.
While brick-and-mortar stores can consider footfall, weather, holidays, and promotions, e-commerce companies factor in click rates, promotions, competitor offers, and customer journeys as they browse across different websites. ML algorithms help uncover insights within vast data landscapes.
Advanced machine learning (ML) technology is needed to reveal hidden patterns and correlations, facilitating accurate predictions and informed decisions.
Now the use of AI/ML is expanding beyond finding insights in data and providing predictions for the future. With the use of advanced technologies, planning decisions can also be automated.  The evolution towards autonomous planning has gained speed over the last two years, and we already see businesses moving from human-in-the-loop decision-making to fully autonomous decisions on daily operational plans such as store replenishment, warehouse procurement, transportation planning, production planning, and order fulfillment.
Sustainability Regulations (Greenhouse Gas Reduction)
Today, retailers are one of the most significant contributors to plastic packaging, representing 40% of global plastic usage. With the rise in online shopping, a factor contributing to plastic usage is e-commerce product returns, with an average of 20% of online purchases being returned.
Returns are indisputably bad for the climate. Shipping items back and forth creates needless greenhouse gas emissions, and only 54% of all packaging gets recycled. That is, AI tools can do a lot of the heavy lifting.
AI can quickly analyze retailers' data and identify the most returned items and the reason behind the returns. If a product is constantly found defective or otherwise disliked by consumers, the brand can pull that product out of circulation to limit the number of returns.
Another area where AI can help retailers increase profitability and reduce their environmental impact is reducing waste in the grocery industry. Food waste produces 7% of the world's greenhouse gas emissions, mainly methane, an extremely potent gas. Not to mention that food waste costs retailers about $18.2 billion a year.
Retailers might be hesitant to adopt sustainability practices because they fear it would hurt their bottom line; however, EY research shows that sustainable supply chain investments can add 12% to 23% to value chain revenue.
Minimizing waste in grocery retailers starts with accurate and robust demand forecasting. The better the forecast and replenishment decisions, the higher the financial benefit and the lower the waste.
All combined, the sustainability requirements will emphasize the need for end-to-end visibility systems that can track sustainability metrics, analyze data on the scale, and check vendor sustainability credentials all across the supply chain.
Cybersecurity Threats
The number of cyber attack incidents and data breaches increased by 15.1% in 2021 compared to the year before. While supply chain compromises accounted for 1% of the intrusions in 2021, they rose to 17% in 2022.
In 2013, Target experienced a data breach that exposed the personal information of 40 million customers. The attack was traced to a third-party vendor responsible for heating and air conditioning services.
As supply chain networks and planning systems become more interconnected, attackers can disrupt operations without breaching a company's servers. They can exploit vulnerabilities through vendors, partners, or clients.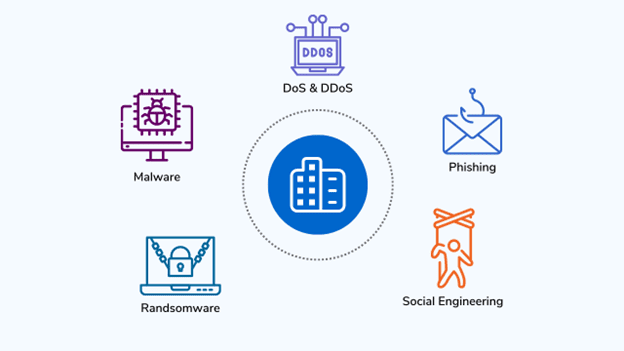 The resulting delays and system outages can lead to empty shelves in retail stores, lost sales, and damage to reputation.
This trend highlights the need for increased cyber security measures, including experts, tools, employee training, and a proactive approach to securing company infrastructures. However, many companies need more resources to protect themselves adequately.
SaaS solutions offer a way for companies to keep their software up-to-date continuously without requiring a significant investment of the IT team's time and resources. This approach saves time, money and preserves the company's reputation.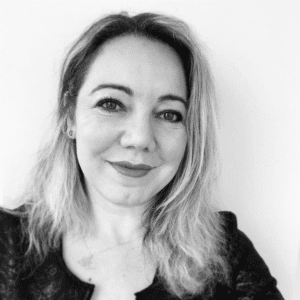 Asena Yosun Denizeri is the Head of Retail Solutions at Solvoyo and has over 20 years of experience in implementing Planning, Pricing, and Optimization solutions in global companies in the U.S. and Europe. She has led cross-functional teams in large-scale digital transformation projects touching Category Planning, Assortment Localization, Demand Planning, Promotion Planning, Allocation and Replenishment, Price Optimization, and S&OP. 
Following her consulting tenure with Silicon-valley based software companies, she brought her Advanced Analytics and Business Process Engineering experience to Apparel Retail where she worked at Gap Inc. and Cache, where she led Merchandise Planning and Distribution teams to advance analytical capabilities in Forecasting, Assortment Planning and Price Optimization to improve sales and profitability.
Asena holds B.S. and Master of Engineering degrees in Operations Research and Industrial Engineering from Cornell University. She is one of the contributing authors in the Oxford Handbook of Price Management and has been a guest lecturer at San Francisco State and Columbia University business school on multiple occasions.