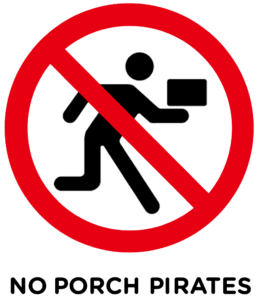 A couple of weeks ago I wrote an article outlining how cargo theft is on the rise. In the United States alone, cargo theft is a $15 to $35 billion industry. The most common type of theft in recent years has been what is called strategic cargo theft, which uses deceptive means to commit theft, including the use of fraud and deceptive information to trick brokers into giving up a load. While cargo theft as a whole has increased 57 percent year-over-year, strategic theft has increased 600 percent from November to March. But while cargo theft has been making a lot of headlines, there is so has theft within last mile deliveries. Package theft is on the rise as "porch pirates" continue to swipe packages from people's doorsteps.
The holiday season is the busiest time for package theft, as more and more items are delivered. For the 2023 holiday season alone, it is anticipated that between 850 million and 950 million packages will be delivered. This makes the season a prime target for package theft. However, it is a problem year round, and one that many people have had to deal with.
Based on data from the FBI and Google Trends, package theft is big business. This is due to the fact that online shopping surged during the pandemic, and continues to be big business. Since 2020, online shopping has hit $1.7 trillion in sales, with 75 percent of Americans receiving at least one package per week. Unfortunately, nearly eight in 10 Americans have had packages stolen from them in the last year. The median value of stolen merchandise was $50, with state-specific averages varying from $30 (Arizona) to $80 (Alaska). New Hampshire tops the list of states with the highest occurrences per 100,000 people at 158 thefts.
As the world's largest online retailer and marketplace, it's not surprising that the most packages stolen are from Amazon. USPS, FedEx and UPS are the most popular mail and package delivery services, but the USPS has the most packages stolen. In all, porch pirates stole 260 million packages estimated at $19.5 billion in 2022.
Fighting Package Theft
There is a collective effort from consumers, retailers, carriers, and the government to help prevent package theft. Eight US states have made package theft a felony: Arkansas, Georgia, Kentucky, Michigan, New Jersey, Oklahoma, Tennessee, and Texas. Unfortunately, this does not always act as a deterrent, as Arkansas, Oklahoma, and Tennessee rank in the top 12 states for larceny per 100,000 resident.
Fortunately, there are a few ways that consumers can fight back against porch piracy. The first is the use of home security technology. More and more houses these days have video doorbells. When someone rings the doorbell, you can see a live video feed and hear what your visitor is saying. And the camera allows for two-way audio, meaning you can talk to whomever is on your porch. These doorbells also come with motion sensors, so if someone walks up your front steps you will be notified. This can help to deter porch pirates in general, or at the very least, allows you to record who took the package and possibly see a make, model, and license plate of their car.
Beyond the use of technology, consumers can reduce the threat of package theft by using tools at their disposal from shippers. The first is package tracking, which enables the consumer to know when the package is out for delivery. For the actual delivery, many shippers allow consumers to schedule a specific date or time for delivery, or to require a signature upon delivery. If these tools still do not eliminate package theft, consumers can have the items shipped to a PO Box or a pick-up locker.
Shippers are also fighting back when it comes to package theft with the use of artificial intelligence. UPS has launched DeliveryDefense, an AI-powered approach to reducing the risk of delivery theft. The UPS tech uses historic data and machine learning algorithms to assign each location a "delivery confidence score," which is rated on a one to 1,000 scale. The technology analyzes address characteristics and generates a 'Delivery Confidence Score' for each address. If the address produced a low score, then a package recipient can recommend in-store collection or a UPS pick-up point. To meet the needs of more merchants, a web-based version is being launched for small- and medium-sized businesses on October