Perhaps no current supply chain trend is currently getting more attention than retailers embrace of omni-channel. And retailers understand the critical role distributed order management systems play in these initiatives. Companies with B2B order flows have been slower to understand the important role a DOM can play in increasing customer satisfaction, sales, and helping to insure orders flow to customers in the most profitable way possible.
Retail supports a Business to Consumer (B2C) business model. In contrast, many companies operate in a Business to Business (B2B) model. These companies are increasingly realizing that traditional ERP order management solutions are too inflexible to fully support different classes of customers across diverse channels.
One example of such a company is Telogis. Telogis, A Verizon Company, is a leading global, cloud-based Mobile Resource Management (MRM) software company based in Aliso Viejo, California. Michael Massimino, Telogis's Director of IT, has spoken publicly about why Telogis selected the Oracle Order Management Cloud solution. He characterized the solution as being both "secure" and "flexible." And the flexibility is key "because our business is doing all kinds of different transactions." Mr. Massimino added "we also needed the ability to utilize the open … APIs and the ability to bring orders/transactions from multiple places into the Order Management Cloud and (then) be able to process them and make a determination of where they need to go." Orders might "need to go to Fulfillment and Shipping to be shipped out, or they need to go straight to AR (accounts receivable), or they need to go to Projects."
Orchestrating B2B orders can be more complex than B2C orders. While there tend to be more flow paths associated with B2C omni-channel initiatives, B2C flows usually are based on preexisting inventory sitting in upstream warehouses. In contrast, B2B often involves make-to-order or engineer-to-order manufacturing. A manufacturer that does not want to be buried in inventory needs to be able to engage in capable to promise. Before making a promise to a customer to fulfill 1000 widgets on a particular date, extensive checks need to be made on whether upstream suppliers either have or can make the components they need, whether a contract manufacturing partner has available manufacturing capacity, and they may need, depending on the flow path, to check the capacity of carriers, 3PL partners, and other partners as well.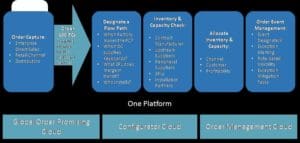 When it comes to synchronizing B2B orders, Oracle's solution, the solution Telogis selected, does have certain advantages. To support B2B order flows, there is a strong argument for having a configurator, an order promising engine, and a distributed order management solution reside on one platform built with a common database and data structures.