The core process in supply chain management is integrated business planning (IBP). This process balances supply and demand. To be effective, companies need to engage in this process even if they have never heard the terms integrated business planning.
It is difficult to do integrated business planning well. Many companies get consulting help, begin to mature their processes, and then when key executives leave and are replaced, find themselves sliding backwards.
What I do not expect to find is a company that doesn't officially use the term "integrated business planning" operating this process at a high level of maturity. But that is exactly what I heard when I recently talked to Jim Sanduski, President of a recently developed division within Sharp known as the Sharp Home Electronics Company of America (SHCA). Also participating in the call was Peter Weedfald, a Senior Vice President of Sales & Marketing for Home Appliances.
Sharp Home Electronics manufactures, sells, and services home appliances including microwaves, air purifiers, and other products. Low margin products are manufactured in Asia and imported. But one of their most important product lines – microwave drawers – was invented by the Sharp team here in the U.S., is assembled in their factory in Memphis, and is sold only in the U.S. and Canada. A microwave drawer does not sit on top of a counter; it is built right into kitchen cabinets and kitchen islands to save space and improve the look of the room.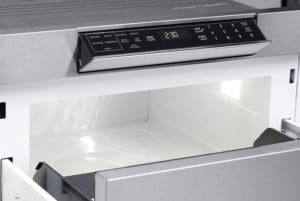 Sharp Microwave Drawer
This is a configure to order supply chain. Sharp brings in 5 microwave drawer kits, and 12 other various style microwave, convection MWO and SuperSteam Oven style kits from their factory in Thailand. They move from a semi-finished product to 61 different styles of finished goods using locally sourced parts as well as components sourced from offshore. US labor contribution accounts for 11-14% in the final assembly in the Memphis facility. Product availability is key to the timing and coordination of any kitchen renovation. This convenience, along with order flexibility afforded by the Memphis plant, is a necessity for all customers.
Sharp microwave drawers are sold to distributors, dealers, and the retail channel. The company sells microwave drawers that carry the Sharp name, but they also sell to six companies that private label the drawers. The company has 11 patents on this product; all microwave drawers are made by Sharp even if they carry another company's brand. Non-Sharp branded products have various control styles, menus, and unique, signature cosmetic design elements, which help differentiate their respective product from the base Sharp product.
Support for a high service supply chain is facilitated by their integrated business planning process. Their process starts by getting a forecast from their customers. This is a rolling weekly forecast that goes out four months. The forecast is locked into a production schedule in the final six weeks. But in the last two months, the customer can adjust their order forecast up or down by 10 to 15%. 97 to 98 percent of their volume is produced using this adjustable, make to forecast process.
Most consumer electronics companies would struggle to use this process; getting good forecasts from partners is something many business-to-consumer companies struggle with. But Mr. Weedfald pointed out, "this is a considered product. People looking at new house construction and renovation don't expect the construction to occur over night. We benefit from offering a type of product that is highly forecastable."
Every single week, Sharp has two meetings. In the first, a broad cross functional team walks through each account and forecasts both the timing and size of that account's orders. The account forecasts are then rolled up to project the division's revenue and profit out four months into the future. Finally, "a tight rope is walked" that balances what sales would like to have produced and what the factory feasibly can produce. This meeting includes the sales, marketing, service, finance, product management, and manufacturing employees.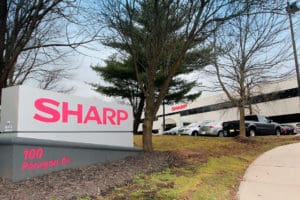 SHCA Headquarters in Montvale, New Jersey
SHCA has just under 200 people, 25 of them are all in a room in their headquarters in Montvale, New Jersey for this weekly meeting. This is a very high percentage of the business unit that are participating in integrated planning. But Mr. Sanduski avers, "We are one team, everyone needs to know what is going on."
At many companies, getting good participation from sales in this process is difficult. In this division, Mr. Weedfald said, "Every sales person understands that their job is not just sales. It is sales, marketing, supply chain management, operations, and 360 degree product knowledge. We tell our sales team, 'you are the president of your business.'" Similarly, according to Mr. Sanduski, "Our supply chain team needs to understand our social networking; they need to know about every customer touch point."
This is a highly collaborative culture. Collaboration has been enhanced by a reorg that occurred in February that combined what were separate manufacturing, sales, and service organizations into one integrated division. Further, the headquarters was transformed three years ago from an office space where senior people had private offices with doors and windows and everyone else worked in cubicles with high walls. They tore the walls down and created an open environment. "No one has offices," Mr. Sanduski said, "not me or Peter. Everyone has a work desk in an open environment. This has facilitated better communication."
"No one reports to anyone, Mr. Weedfald added, "anyone can talk to anyone. This allows a customer issue to be broached with the manufacturing or service organization" and then acted upon quickly.
There is a second weekly meeting that helps to improve their forecasting. Here it is just the sales team that participates. At this meeting, the team looks at what they have sold to customers – sell in – versus what their customers have sold – sell through. "We might have a customer that has 14 weeks of supply," Mr. Weedfald said. "But we expected that they would have higher sales, that they we only have 10 weeks of supply. Do we need to run a promotion?"
If this kind of analysis is not done, there will be slow sales period as a "burn down of inventory" occurs. This in turn, disrupts the supply chain "flow." This again, is a form of analysis that relatively few companies engage in, but which can greatly improve forecast accuracy.
Sell through has been supported with new customer incentive programs. "One of our largest dealers, used to have volume incentives." Mr. Weedfald explained. "In the past, their bonus program was based on quarterly performance as measured by sell in. If they were bought more than 1000 pieces, for example, they would get a bonus. Back in December, we presented them with new program. Now bonuses are based on sell through, not just what they buy. We didn't change the size of the bonus. We showed them the benefits of this program and they agreed to the new program. This helps us achieve prowess in our supply chain."
In summary, Sharp is exhibiting a very mature IBP process. They have high fidelity collaborative forecasting with key customers. Secondly, they are doing weekly forecasts rather than the more normal monthly forecasts. Forecasting more often improves accuracy. Similarly, they are doing a sell through analysis which further improves forecast accuracy. And they support the IBP process with a highly collaborative team culture. You might dub the process in their case "Inclusive Business Planning." Not bad for a company that doesn't formally recognize their process as "integrated business planning," but all the same has arrived at this model through customer-centric transparency and cooperation.