When it comes to getting a good price, there are things that one would reasonably suppose would lead a shipper to get better pricing when dealing with carriers. But do they?
For example, one might reasonably expect that the way a shipper treats drivers when they arrive on site to pick up or drop off a load, could affect price or service levels. For example, is there an onerous driver check in process? Do the drivers have lounges and restrooms they are allowed to use?  The TMC division of C.H. Robinson provided a large data set from their managed transportation operations to researchers at Iowa State University.
In an article entitled Do "Favored Shippers" Really Receive Better Pricing and Service?, the answer turns out to be "no." The way a carriers' full truckload drivers are treated does not affect the prices shippers pay those carriers.
But it turns out that the ability to turn trucks around with less than a two hour dwell time does affect carrier pricing.
I'm a big fan of C.H. Robinson's sponsored research. I'd rather define a "best practice" as something that has been definitively proved to be true, rather than something that just seems like it should be true. For this reason, when ARC conducted its' latest survey on the ROI associated with managed transportation arrangements, when we included questions on transportation best practices, we paid close attention to what C.H. Robinson sponsored research had identified as quantitatively proven practices.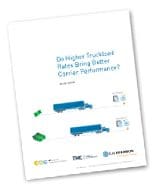 TMC Sponsored Research
So how common is it that our shipper respondents reported that "carrier dwell time at our facilities is consistently less than 2 hours?" 66 percent of respondents reported that they followed this best practice, a number higher than I expected.
If you are one of the shippers not doing this, what can you do to improve? The article above makes several suggestions.
"Leverage Live Load Flexibility. Freight may be ready early for pickup. If a dock door is open and the shipper can proactively communicate this to …. (their yard jockeys), they can obtain a truck before a scheduled appointment. Live loading provides the flexibility to deal with fluctuations in demand."
Pre-stage freight on the shipping dock.
Offer appointments for loading and unloading.
Palletize freight.
Maintain adequate staff for loading and unloading.
For large facilities, provide a good map or directions to the appropriate dock door.
Use drop trailers.
Functionally rich yard management systems (YMS) can facilitate live loading, dock door appointments, and make it easier and quicker for yard jockeys to do their job. A robust dock door scheduling system does not hard schedule a truck for a particular dock door. Rather, the YMS should fill the open time slots in such a way that the dock doors are fully scheduled, but also allows for more flexibility later if trucks arrive early or late.
A robust warehouse management system provides visibility to work on the warehouse floor that allows workers to be moved to high priority tasks – such as not enough people working the receiving and shipping docks.
In conclusion, the vast majority of a truckload rate can be explained by the origin/destination pairings and the distance traveled. Some origin/destination pairings create too much traffic moving in one direction, and not enough in the reverse. That leads to higher prices. But there are things shippers can do to improve their rates at the margin; reducing driver dwell time is one of them. Other best practices include intelligent lane aggregation for low volume lanes and doing strategic procurement with carriers at least annually.