The other day I received a package from Manhattan Associates (an ARC client) via Priority Mail. I had to use a knife to cut through the shipping tape, and when I opened the package there was a pretty little blue box, very Tiffany-like, inside with a white ribbon on it. I had to use scissors to cut the ribbon off, and after all that effort, when I finally opened the box, I found an insert inside that read, "Sorry Steve, OUT OF STOCK".  When I unfolded the insert it asked, "Disappointed?" Damn right I was disappointed!
That was the point of this purposely-irritating marketing campaign. Out-of-stocks disappoint customers and cost retailers money. Manhattan launched a website tied to this "Zero Disappointment Retail" campaign where you can download an ROI calculator to determine what out-of-stocks cost retailers.  
I'm kicking off a market study of Demand Signal Repositories (DSRs), and as part of this effort, I recently spoke with Cedric Guyot, Vice President of Marketing at Retail Solutions. It turns out that Retail Solutions has some interesting data on the root causes shelf out-of-stocks (OOS). The statistics are based on a study Walmart conducted with five of its leading suppliers. Walmart examined the root causes of out-of-stocks for 400 stock keeping units (SKUs), across 25 stores, for 6 months. On a daily basis, observers went into stores to see what was out of stock, and to determine the root cause. Retail Solutions was able to analyze this data because it assisted four of the five suppliers with this study. 
I will tackle the easy-to-explain root causes first.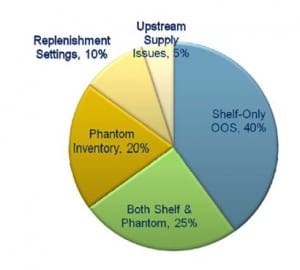 The major reason a SKU was not on the store shelf, occurring 40 percent of the time, is that while there was inventory in the store, the shelf was not replenished or not replenished in a timely manner, the planogram was altered (no more space for the product), or the product was in the wrong location, hidden or not available for sale as intended.
The least likely reason for store OOS, occurring only 5 percent of the time, was an upstream supply chain failure. In this instance, shipments were not sent from the DC to the store in a timely manner, or what was supposed to be sent was not sent in the proper quantities.
Another major reason for OOS is phantom inventory. Phantom inventory occurs when the store system shows inventory when none really exists. It also occurs when the system shows more inventory than what really exists in the store. This is caused by theft, broken products, mis-picks, or checkout issues (among other factors). When a store system shows inventory that doesn't really exists, a store manager could easily assume the product is not selling well and thus decide not to reorder it. This type of phantom inventory can also create additional havoc, which I'll explain in more detail in a future posting. 
The final reason for OOS is incorrect store-level replenishment settings. One way this comes about is when a SKU is supposed to be sold at a store ("traited") but the store's Computer Assisted Ordering System has the SKU flagged as not valid (cannot be ordered). There is a second way this can happen. If a store is not selling as much product as it should, and the problem is attributed to a lack of demand instead of various execution problems, then the system will calculate store-level reorder minimums that are too low.
In conclusion, shelf OOS is not easy problem to solve despite its prevalence. It will require better collaboration between suppliers and retailers, between store operations, merchandising, and supply chain teams, and Demand Signal Repositories with advanced supporting applications.