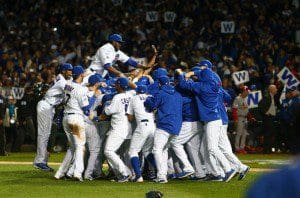 Cubs win! Cub win! And for the first time in the 100 years the Cubs have been playing at Wrigley Field, they clinched a post-season series at home. As Jason Stark pointed out, this was the 7,907th game played at Wrigley – and they finally clinched a series at home. This series also marked the first time since 2003 that the Cubs have won a post-season series at all. As a life-long Red Sox fan, I understand the pain of Cubs fans, and the elation they are feeling now. I remember the 2003 post-season clearly, when it looked as though the Sox and Cubs were destined to meet in the World Series, guaranteeing that one curse or the other would end. The only thing that ended was the hopes and dreams of the Sox and Cubs fans when both lost the Championship Series in devastating fashion in 7 games. The Sox got their revenge the next year with a post-season run for the ages. And even now, after 3 last place finishes in 4 years (of course that 4th year was another World Series win), I can't really complain too much about the Sox. But I think most of us in Boston are jumping on the Cubs bandwagon, and hoping they bring the World Series trophy to Chicago.
And now, on to the news.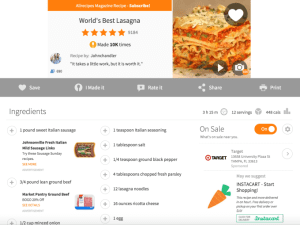 Instacart and Allrecipes have partnered to allow home cooks to add a meal's ingredients to their grocery list with a click of a button. This move pushes Instacart into unchartered waters – ingredient delivery service. Players like Blue Apron and Hello Fresh have become more popular as customers have a box of ingredients with recipes delivered to their door. While these services are a bit on the expensive side, the Instacart – Allrecipes partnership will appeal to more price-conscious shoppers. And given Allrecipe's reach – 1.3 billion visit a year – this is a huge growth opportunity for Instacart.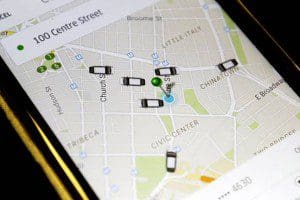 Uber is expanding its UberRush service to Chicago and San Francisco. The service, which has been tested in New York for the last year, is a smartphone enabled courier service. Instead of hailing a ride around town, customers can order a pizza to be delivered. UberRush allows merchants to plug a customer's order into an online order form. At that point, a courier (on foot, bike, or car) will pick up the order and deliver it to the customer. Uber collects a $5 to $7 delivery fee, which is either passed on to the customer or paid by the merchant. In its expansion, Uber is building what chief executive Travis Kalanick has called an "urban logistics network." The network includes Uber, UberRush, and UberEats, which was launched last fall to lunch and dinner items from popular restaurants to Uber users in parts of New York City, Chicago, Los Angeles, Toronto, and Barcelona.
UPS announced that it is expanding its UPS Worldwide Express Service by adding 41,000 additional global postal codes. This service provides customers with guaranteed delivery on the next possible business day by 10:30 a.m., 12 noon, or 2 p.m., based on destination. The company says this will result in earlier guaranteed-delivery options for shippers that only previously had end-of-day guarantees. The service will now be available in 65 countries that make up 91 percent of global GDP, with the bulk of the new codes in the Asia Pacific region. It is the single largest one-time expansion of the service ever.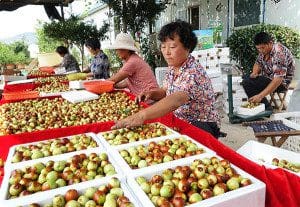 Chinese search engine giant Baidu is entering the e-commerce fresh produce sector. The company is investing $20 million (10% of the latest $200 million in funding) into Womai, a food website owned by China National Cereals, Oils and Foodstuffs Corp (COFCO), a leading supplier of agricultural products. The investment comes as a growing number of Chinese consumers are turning to the Web for fresh produce. The funds will be used to increase the cold-chain logistics infrastructure and for third-party delivery systems.
The American Trucking Associations said that the annualized turnover rate for large truckload carriers, which it defines as truckload fleets with more than $30 million in revenue, increased 3% to an annualized rate of 87% in the second quarter. However, carriers with less than $30 million in revenue saw turnover rates decrease 7%, for an annualized rate of 76%. Even so, that is still a high turnover rate for an industry that is facing a severe driver shortage. Many companies, even with claims of increasing driver training and compensation packages, are having a difficult time figuring out how to fill the empty seats. The lack of drivers has been driving up the cost of rates, and it is showing no signs of slowing.
The price of diesel, which had been trending down for the last few weeks, jumped 8.5 cents across the U.S. to an average price of $2.52 per gallon. The main cause of the price surge is refinery work in the Midwest which caused prices to jump 14.7 cents in that region. Twelve refineries in the Midwest are undergoing work which could last for several more weeks. The most expensive diesel can be found in California at $2.758 per gallon, followed by the Central Atlantic region at $2.652 per gallon. The cheapest diesel in the country can be found in the Gulf Coast region at $2.355 per gallon, followed by the Lower Atlantic region at $2.43 per gallon.
And finally, after a surge to close out September, the number of posted loads on the spot truckload market dropped 11% during the week ending Oct. 10, reports DAT Solutions, which operates the DAT network of load boards. Available capacity increased 3.7% compared to the previous week. The national average truckload van spot market rate slipped 1 cent to $1.73 per mile, with prices lower across the Los Angeles Chicago, Dallas, and Buffalo markets. Van load availability fell 15% while truck capacity jumped 5.6% compared to the previous week. Refrigerated load availability fell 13% while available capacity increased 2.1%. The national reefer load-to-truck ratio fell 15% to 3.9 loads per truck, contributing to a 5-cent drop in the national average reefer rate to $1.96 per mile. Flatbed load availability fell 8.9% and truck posts were down 1.1%, resulting in a 7.9% decline in the flatbed load-to-truck ratio to 10.6 loads per truck. The national average flatbed rate was 2 cents lower at $2.01 per mile.
That's all for this week. Enjoy the weekend, Tom Brady's revenge game on the Colts, and the song of the week, Eddie Vedder's All the Way.