If you live in the US, you are undoubtedly familiar with Hostess bakery treats like Twinkies, Cup Cakes, Ding Dongs, and my favorite, Ho Hos. You may also remember the company ceased doing business for a while. This occurred in November of 2012. When that was announced, there were bidding wars for boxes of Twinkies and other Hostess products on auction sites like EBay.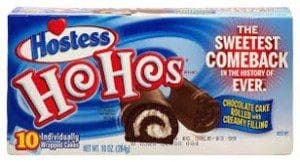 But fans of Hostess know that there was a second act to the story. Hostess products are back in stores. This happened after the brands and certain factories were purchased out of bankruptcy in April of 2013. The brand was then relaunched in July of 2013. That left just a few months to build a new supply chain from scratch. I talked to Matt Kunz, senior vice president of supply chain at Hostess Brands, LLC about this comeback.
In the fresh bakery segment the fulfillment model is based on direct store deliveries (DSD). The way this works is that merchandizers go into the stores, look at the inventory levels on store shelves, and refill the shelves. This is an expensive fulfillment model that requires the manufacturer to use more labor – in the form of merchandisers – and own a significant number of assets. In the case of the former owner of the brands, it meant 8,000 route trucks and 600 depots. But for fast moving, perishable items it was believed that this was the only practical way to keep fresh product on the shelf.
In contrast, in most grocery product segments a warehouse direct model is in place. The retailer orders goods, often in full truckload quantities, that are delivered to the retailer's distribution centers (DCs). When Hostess Brands, LLC started up, the company decided the expensive DSD model would not work. They needed to get their costs down. They made a heretical choice, they would be the first in their segment to use a warehouse direct fulfillment model in order to drive a significantly less expensive supply chain while providing best-in-class service to its valuable customers.
Retailers that wanted to do business with Hostess would now have to forecast demand, order goods, receive goods at their DCs, ship goods from their DCs to their stores, and stock the shelves themselves.
One might think the retailers would balk at this. They did not. The coverage of the death of the Hostess brand, and the social media firestorm that erupted, had made it obvious that Hostess was a powerful brand. Once the company was ready to relaunch the Hostess brand, retailers were clamoring for their goods.
To support this new business model, Hostess needed to forecast further upstream. During the early months, at times, there was more demand than they could meet and difficult allocation decisions had to be made. The paradigm shift was new to Hostess and new to their customers. "We had to figure out what portion of the products' shelf life was in their supply chain versus ours."
But Mr. Kunz admits the early months – when Hostess Brands, their partners, and their customers worked together to launch this new model – "were very challenging."
Quickly launching an asset light supply chain required the use of outsourcing partners. The company has bakeries in Columbus Georgia, Emporia Kansas, and Indianapolis Indiana. They move goods through two distribution centers; one in Shorewood, Illinois, and one in Carthage, Missouri. Transportation was outsourced to common carriers and the transportation was managed by their new partner LeanLogistics.
The supply chain and IT infrastructure was built very quickly, in just three months, so outsource partners also had to be selected quickly as well. Mr. Kunz admitted that if he had more time, his initial preference would probably have been to implement a transportation management system and hire an internal transportation team. But there just was not time to implement a TMS and hire enough professionals. Hostess would need a managed transportation service (MTS) provider to manage their day-to-day transportation.
One factor in selecting LeanLogistics was that the new owners of the business had worked with this company in the past and had a positive experience. LeanLogistics "had credibility with the ownership."
But a prior track record was not enough to seal the deal. Hostess Brands had decided that their enterprise solution was going to be SAP. That solution needed to be brought up in the same three month time window! Once SAP was up, it then needed to be seamlessly integrated to their managed transportation service provider's transportation management system (TMS).
So in their MTS selection process they asked a slew of questions focused on integration and they expected detailed answers to these questions. "How would you do it? What would your approach be? How long would it take?" Mr. Kunz added, "LeanLogistics did the best job of articulating how they would do it. We then executed the project together."
Just as with collaborative forecasting and planning, there was a learning curve associated with the new logistics network. Initially, just finding carriers was a challenge. "We did not know our lanes and volumes yet. We could not predict our volumes or promise stability." Initially, they needed to use the spot market to cover their loads.
Now 2.5 years into the new supply chain, demand is more predictable. With leading customers, a collaborative forecasting process is in place to support limited time offers, new product launches, and other promotions. Lead times have been established so that shelf life for their products has been maximized.
"Our customers have hit their stride," Mr. Kunz said. "They understand their demand and timelines. We understand ours as well. Our inventory turns are way up and much better than many traditional CPG businesses."
Things have also stabilized on the transportation front. The company has moved to working with a smaller group of key asset-based carriers. The billions of dollars of freight under management that LeanLogistics controls combined with their network solution allow LeanLogistics and Hostess to effectively benchmark their carrier's performance in terms of both cost by lane and service levels.
Further, LeanLogistics has proven to have a deep bench. When planners are promoted or leave, the talent is replaced with new talent that is "top notch." Mr. Kunz indicated that a deep bench is difficult to cultivate and maintain within the competitive 3PL industry.
"Lean has been a great partner," Mr. Kunz said. "They treat the dollars spent on transportation and our products as if they were their own. Lean is my transportation team. I don't think of them as a third party."
In conclusion, Mr. Kunz said, "The new model is successful. Through partnership with our third-party partners and wonderful customers, we are uniquely and efficiently operating our supply chain within this sector."