Editor's Note: This posting is a follow up to the posting Steve Banker wrote last week which contained some inaccurate statements about the GS1 Canada Product Recall service.  This posting provides a more accurate and detailed overview of the service.
GS1 Canada Product Recall is a subscription-based service which provides a standards-based communication tool enabling manufacturers to share real-time product recall notifications with retail partners in a direct, secure and trusted manner.
Whew.  What does this mean?  Let me answer by explaining the players involved, the benefits of the service, how it works, and what it costs.
Who are the players?  The lead player is GS1, a not-for-profit, global supply chain standards organization responsible for creating standards for RFID, EDI, UPC bar codes and global data synchronization.  GS1 has a long history of building communities and gaining consensus on standards.  GS1 Canada and GS1 U.S. collaborated to create the product recall program at the behest of the Food Marketing Institute (FMI) and the Grocery Manufacturers Association (GMA), with participation from some of the largest consumer goods manufacturers and retail chains in the U.S.  Participating GS1 U.S. member companies are using the service today. 
This prototype formed the foundation for GS1 Canada Product Recall, which will be launched this fall. GS1 Canada has selected HP and Microsoft as global IT partners to provide the technology for this initiative, including a standardized messaging platform with structured workflows.  Twenty other GS1 national organizations have expressed interest in developing similar recall services, but each national entity will need to adapt the program to fit their nation's regulations, language, and business environment. 
What are the benefits?  The main goal is to speed up and improve the messy recall notification processes between manufacturers (or distributors) and retailers.  Retailers benefit by getting accurate, complete notifications sent to the right contact from one source, as opposed to current systems, which can result in numerous, fragmented notifications sent to multiple parties.
The manufacturer benefits as well.  In a recall situation, a manufacturer needs to notify a multitude of retailers.  But there is no standard protocol on who to contact and how.  One retailer may request that a particular person be contacted via phone, another retailer may ask that a person with a different job title be contacted via email and fax, and other retailers may not specify who should be contacted.  This process often results in unacceptable time delays, particularly in getting feedback from the retailer on whether they have received the recall notification and are proceeding appropriately to remove the products from the shelves.  Further, if a manufacturer can get timely and specific feedback from its retail customers, it can communicate more effectively with the general public.  For example, if only one retailer reports that the product in question actually hit their shelves – and the product only hit stores in California – then the manufacturer's media team will not have to distress consumers outside that region.  
How does this work?  The process starts when an authenticated recall initiator at the manufacturing company (access is restricted to authorized subscribers with valid user IDs and passwords) completes a standardized recall notification form.  This person (the "initiator") submits the form to another approved person in their organization with the role of "approver" and this person needs to sign off on the recall and the completeness of the recall message, and then determine when the recall message will go live. 
When the recall notification is sent, the receivers will have a clear "headline" in the notification where the header says:  ALERT/Company name/Product/Reason.  There is also an audit trail showing when the message was sent, when it was opened, and who opened it.  Each recall has an identification number based on a globally unique GS1 key called a GDTI or Global Document Type Identifier. The GDTI is permanently assigned and all issued recalls, and subsequent updates to the recall, will be linked and stored electronically.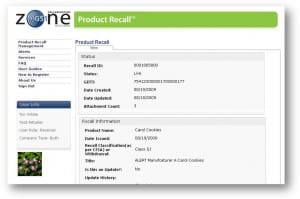 If the intended recipient has not opened the message after a predetermined time, say an hour, the message gets sent to an alternative recipient (perhaps someone higher in the retailer's hierarchy).   
The appropriate and predefined receiver at the retailer receives the recall notification via email or cell phone.  The notification can include detailed product information and product images, and other attachments with disposal instructions.  These instructions also are based on a standard format.
What does it cost?  The service is cost-recovery based and follows the standard model for GS1 Canada members, which is based on a company's annual revenues. Volume will determine the final price of the service, but GS1 Canada currently foresees that the largest manufacturers would pay approximately 1000-1500 dollars (CAD) per year for up to 25 users. 
It is important to also stress what this service is not.  I certainly got confused the first time the service was presented to me.  From a system's perspective, recalls rely heavily on databases that contain genealogical and traceability product data.  This is not a database platform.  It is a messaging and authentication platform. 
Further, this service was never intended to be an end-to-end supply chain traceability solution.  It is aimed at improving one part of the total recall process—i.e., the recall communication process.  It complements existing manufacturer and retailer recall processes, not replace them. 
That said, it does improve the end-to-end, collaborative recall process, and it is inexpensive for current GS1 Canada members.