The Hamburg Port Authority (HPA) has engaged in the most impressive Internet of Things (IoT) project that the logistics industry has seen. And their work is not yet done.
Sascha Westermann, the Head of ITS and Intermodal Traffic Management, spoke at SAPinsider on March 21st about HPA's progress to date and future plans.
The Port of Hamburg is the second busiest container port in Europe, and is a key trade lane connecting Eastern Europe to Germany and the rest of the world. The HPA is in charge of providing efficient infrastructure in the port area: managing the real estate; making sure quay walls, bridges, wharves and other waterfront structures are maintained, maintaining 140 kilometers of roads and 130 bridges within the port area, and managing the traffic – across ocean, barge, rail, and truck – into and out of the port. Other parts of the infrastructure, like the 4 big container terminals, are managed by industrial companies.
Over 9 million twenty-foot equivalent units (TEUs) are transported through the port every year, and this is forecast to double by 2025. But the Hamburg Port is located in an urban area and they cannot increase the size of the port to handle increased traffic. To handle shipments efficiently, the HPA must operate smarter. Better traffic management also helps to minimize pollution. The port and city are impacted by up to 40,000 truck trips daily and no one wants those trucks spending a high amount of time idling.
To help keep traffic flowing smoothly, the HPA worked with big companies like SAP on a series of 20 projects collectively called smartPort Logistics. This work began five years ago. The SAP HANA Cloud Platform was used to enable a real-time connection to the port's various stakeholders through a mobile business cloud. Those stakeholders include: the HPA itself; shippers; trucking, rail, and ocean carriers; customs authorities; terminals; contract warehouses; parking providers; and other businesses across the port. People, processes, and things data is then consolidated and analyzed using the SAP HANA Cloud Platform. The process data is based on an extended supply chain view that begins with a shipment from another port and can extend to inbound truck drivers hundreds of kilometers outside of Hamburg. Based on the analysis, HPA provides various types of schedules, tasks, and insights to the people who need it via their mobile devices.
Under the banner of smartPort logistics they have predictive and preventive maintenance capabilities. Mr. Westermann gave the example of a movable raise bridge that had a malfunction of a push button that raised and lowered the bridge. A maintenance technician got an emergency alert, was able to use his mobile tablet to search for the part in the SAP maintenance application and requisition it, and was then able to drive to the site and replace the part before any of the port's customers even knew there was a problem. In some cases, maintenance can be based on sensor information. The Port Authority has sensors on their most intensely used rail switches, for example, and is experimenting with sensors that measure the structural strain and tension of a bridge.
Another smartPort application is known as the Port Monitor and is used for vessel traffic services (VTS). VTS is a marine traffic monitoring system similar to air traffic control for aircraft. VTS makes use of digitals maps combined with AIS data on the positions of vessels, and data on sea levels, berths, whether bridges are closed or open, and where construction is occurring.
Just as there is a control room for managing waterborne traffic, there are control rooms used to manage traffic on the railways, and roads, as well as for managing the movable infrastructure. About 300 traffic sensors and 270 kilometers of fiber optics feed data into these control rooms. Eventually these separate control rooms will be merged into one virtual control room to increase synergies.
The road traffic control room also pulls various streams of data to predict travel time into terminals and suggests alternative routes when traffic is heavy. In addition to traffic sensors, data sources include the schedule for bridges being raised and lowered, the situation at the container terminals, and other sources as well. Truckers can view this data on their telematics devices.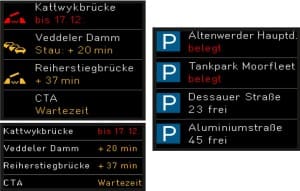 Telematics Screen Shots
Trucks are not allowed to enter the container terminals unless they have an appointment for a slot. If they will be late for their appointment, they must see if they can get a new slot or whether they must exit the port and wait until a new slot can be booked. Once entering the yard, very often a truck will be directed to a marshalling area to park bumper to bumper until traffic eases. This prevents idling. Smart parking capabilities direct trucks to lots with available space.
Smart traffic lights make sure a platoon of trucks get an extended green light through an intersection, while the smaller number of trucks on the cross street must wait. If pedestrians are crossing an intersection when the light is red, a safety warning message is sent to the vehicle to let them know of the danger associated with trying to beat the light. HPA is experimenting with functionality that will automatically increase street lighting if pedestrians or cyclists are present; and video streams that help to predict potential traffic accidents, for example, if a vehicle is stopped even though there is no traffic jam.
In concluding the presentation, Mr. Westermann made a variety of points. Slot management is key to increasing efficiencies and reducing pollution, but it even works better with the ability to pull the wide variety of data sources together. These data sources have included information from competing stakeholders, and role-based visibility had to be constructed in a way that preserved privacy and competitive information while providing useful information to all stakeholders. Much work went into creating a simple user interface, but nevertheless there have still been issues associated with getting truck drivers and other stakeholders to efficiently use the information that is available. And finally, the worse the traffic conditions, the higher the value this system provides.
Is this really the logistics industry's most impressive IoT project? Probably. It is certainly the most holistic use of data sources fed to a single platform for the purpose of increasing logistics efficiencies that ARC has ever come across.