Jenni Stamps and Melanie Payne, the Domestic and International Pricing Managers respectively at the Kimberly-Clark Corporation (KCC), spoke at this year's JDA Focus.  Kimberly-Clark, the $21 billion consumer goods company with brands like Huggies and Kleenex, is a major user of JDA's TMS solution.
The company is also one of the larger shippers in North America.  Domestically, they have 882,000 shipments per year from 800 origins through 140 Kimberly-Clark facilities, and out to 27,000 destinations.  On the international front, they are one of the U.S.'s top 50 exporters, shipping 47,000 twenty-foot equivalent units (TEUs) out of the U.S.  The company has an annual freight spend of $650-700 million.
The company uses JDA TMS to do their daily load optimization.  The freight procurement team is part of the TMS team, not in the procurement organization, and are centrally located in a shared service environment.  In addition to themselves, the team consists of planners, the folks who schedule delivery appointments, and the freight payment personnel.  This means if a carrier is not working out, Jenni and Melanie hear about it pretty quickly.
Jenni and Melanie's procurement objectives include securing scarce carrier capacity, leveraging their freight spend to procure at below market rates, and insuring on-time deliveries.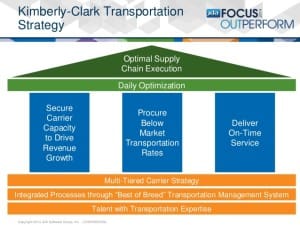 This is a multi-tier carrier network consisting of seven core carriers, regional, and niche carriers.  The core carriers handle the great majority of their volume.
They benchmark their rates using the Chainalytics' Freight Market Intelligence Consortium data with a goal of securing lane rates that are two percent below prevailing market rates.  Jenni said that trying to get a rate lower than that would just end up being a "paper rate, the capacity wouldn't be there."
In the presentation, Jenni and Melanie described the company's first-year experience utilizing the JDA Logistics Procurement tool for three pilot procurement events.  They've completed one ocean, one truckload/intermodal, and one less-than-truckload event.
Before using this tool, they used spreadsheets.  This was a manual process, they had concerns about data accuracy (88 percent of the spreadsheets had errors), and they never left themselves enough time to load the rates into their TMS.  KCC's events are based on a multi-round, by invitation only, bidding process.
In the old procurement process, there were also delays associated with analyzing the data.  It often took two weeks to complete a procurement analysis.  Because the JDA procurement solution is integrated to their core TMS solution and thus relies on the TMS master data, the quality of that data is much better, and analysis can proceed more quickly.
JDA's Logistics Procurement solution allows for user defined procurement fields, some of which are made visible to carriers, some of which are not.  KCC included Chainalytics' target rates as one of their lane fields.  In the Ocean event, these target rates were made visible to carriers.  However, they did not show carriers where they stood in comparison to other carriers in the second and third bidding rounds.
The solution also enforces the shipper's rules. If the carrier has not filled in required fields, they cannot upload their bid package.  One of Kimberly-Clark's rules was that carriers were not allowed to raise rates from one round to the next.  The JDA procurement tool gave them visibility into this; "it was an eye opener how often this happened."
The tool also has process flow logic; this allows carriers to see what step of the process they are in, and KCC to have visibility to a carrier's progress as a bidding round's deadline approaches.
Finally, the procurement tool allows for shippers to run scenarios using historical and forecast data.  Questions like, "if we limit carrier A to 15 percent of total volume, what will that do to our freight spend and on-time deliveries?" can be simulated.
In the first year, running these scenarios was very time consuming.  In fact, they hired a Chainalytics consultant to help with this.  Jenni said they probably developed twice as many scenarios as were needed.  Going into the second year, this will become more streamlined.  Jenni said they are now focusing on scenarios that they are really apt to execute.  "Limiting carrier A to 10 percent, and B to 15 percent, is that real?"
How did KCC do using the JDA procurement tool?  They did free up one full time employee.  Unfortunately, it can be difficult to fairly measure the ROI of transportation procurement events.  Freight logistics is not a commodity, and nothing is contractually binding at the end of a procurement event; further, this has been a tight market and an inflationary environment for freight.  KCC's goals are to achieve 95 utilization of their primary carriers while continuing to achieve savings in comparison to the Chainalytics' target rates.