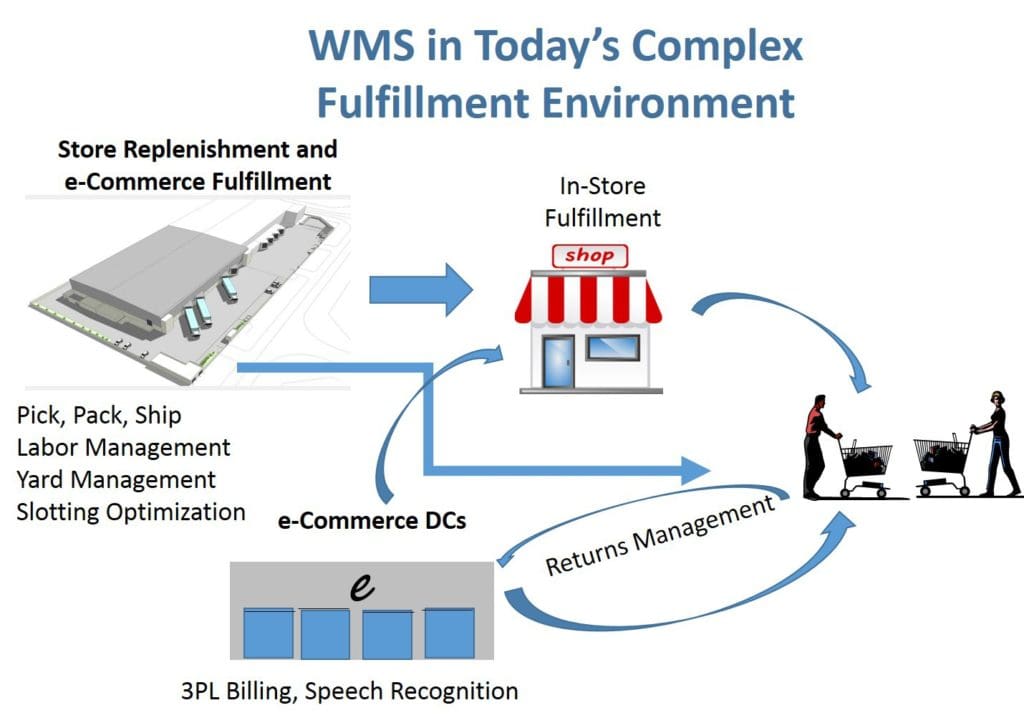 ARC Advisory Group has been conducting an annual analysis of the warehouse management systems (WMS) market for the last 20 years. The process involves an analysis of large amounts of information and interviews with executives from numerous WMS software companies; and concludes with the publication of ARC's WMS Global Market Research Study. ARC's long-term history of market analysis and data trends provide valuable context for analyzing the current state and producing our five-year forecasts for the market. A brief review of this WMS market history data prompted me to refer to the current state as a resurgence.
On Friday, August 12, the US Commerce Department released its estimate of July retail sales. The numbers were not great overall, but a bright spot was the 10.5 percent year-to-date growth in sales by non-store retailers (essentially e-commerce). This is one recent data point in an ongoing, pervasive, global trend in retail. Last month I wrote about the recent acquisitions of Dematic and Intelligrated and stated that these companies were attractive acquisition targets due to their growth from the ongoing increase in global investment spending in support of e-commerce fulfillment. I also stated that software capabilities are becoming increasingly valuable to warehouse automation providers' overall value proposition. Similarly, the global WMS software market is also benefiting from this shift in the retail landscape as retailers, upstream channel partners, and logistics providers make comprehensive changes to their fulfillment capabilities. The long-term shift in retail and its effects on fulfillment processes have provided an increase in WMS sales growth over the last five years – a resurgence that shows no signs of letting up.
WMS Functionality in High Demand
Retailers and other partners affected by the growth in e-commerce are shifting their fulfillment networks and reconfiguring facilities and processes to meet the evolving mix of store replenishment and direct-to-consumer delivery. Many companies are using traditional replenishment facilities to fulfill e-commerce orders as well. These companies are deploying WMS to handle traditional pallet movements as well as high volumes of individual piece picking, packing, and parcel shipping within the same facility. They're also adjusting waving schedules to meet shorter order cycles, changing facility layouts to support new processes, and struggling to keep fulfillment costs in check. In fact, separate ARC survey research of fulfillment practitioners showed WMS, warehouse labor management, and parcel shipping functionality as leading investment priorities for the next three years. Finally, companies with a brick and mortar presence are looking to integrate processes and information flows across e-commerce and physical stores to provide a cost-effective, seamless experience to the customer.
How WMS Suppliers are Supporting Changing Requirements  
WMS software suppliers are continually expanding their functionality to meet evolving customer requirements. Most functionality enhancements focus on supporting new operational processes, improving and extending software usability, breaking down operational silos, and/or providing data visibility improvements.
WMS vendors are particularly focused on enhancing functionality that supports processes commonly used in direct-to-consumer fulfillment. For example, Manhattan Associates recently added item sorting, put-wall functionality, and a pack station user interface to assist with marrying disparate order items for packing and shipping. Also recently released is order streaming functionality geared toward e-commerce that offers more adaptable and timely approaches to order release than a traditional waving process.
JDA Software has focused product development efforts on the integration of its WMS with other solutions in its Intelligent Fulfillment Suite designed to break down operational silos and allow companies to reach the next level of interoperability. For example, JDA WMS and TMS integration provides users with constraint-based dock door scheduling that leverages labor resource scheduling within the warehouse. JDA WMS also offers new out-of-the-box integrations with IBM's distributed order management supporting processes such as item returns, click and collect orders, and parcel shipping updates.
HighJump has been focusing its WMS development efforts on its new HighJump One platform, a set of modern user facing technologies; and the addition of functional enhancements from the Accellos merger, including a new BI tool and parcel shipping capabilities.
Finally, investment by WMS suppliers into mobile solutions appears to have reached an inflection point. ARC's research into the WMS market shows that mobile apps are receiving substantial R&D dollars from a number of WMS vendors. There is widespread development of new mobile warehousing applications designed for Android operating systems for use on cost-effective, consumer-like hardware. These applications are also being developed by third-party consultants and large WMS end-users to cost-effectively equip their staff with real time devices that deliver productivity improvements.
Final Word
Retailers are adapting to the rapid increase in e-commerce by investing in WMS solutions to support the increased demands of direct to consumer fulfillment. WMS suppliers are benefiting from the technology demanded by retailers and manufacturers with direct-to-consumer operations. As a result, WMS and other distribution technology providers are being evaluated as acquisition candidates by investors.
For more information on ARC's WMS Market Research Study, check out the brochure.