A couple of weeks ago, I participated in the MercuryGate 2012 User Conference in New Orleans (MercuryGate is a Logistics Viewpoints sponsor). There were more 40 presentations throughout the three days, with the first half of the event focused on logistics service providers and the other half on shippers. Many of the company's 200+ customers were in attendance. While MercuryGate has historically had a strong presence in the 3PL market, its shipper customer base continues to grow, with close to 50 clients in manufacturing, retail, and distribution.
On the first day of the conference, which was focused on logistics service providers, I moderated a panel session on "Delivering Customer Value Beyond Operational Excellence," with Jeff McDermott, VP of Transportation Management at OHL, and Brad Young, Vice President at Mode Transportation. I kicked off the conversation with a question I raised in a recent posting: If operational excellence is not enough for 3PLs to differentiate themselves in the market, then what else matters?
The ability to respond quickly and cost effectively to new customer requests and requirements was viewed as a differentiator by the panelists. Of course, as they noted, technology plays an important role here — specifically, having the ability to deploy and configure new functionality quickly, easily, and inexpensively. The panelists also talked about some other important technology capabilities, including business intelligence, mobile applications, and modeling capabilities.
But technology alone is not enough; a 3PL also needs to position its people as a competitive differentiator. As one 3PL in the audience said, "A shipper can deploy a TMS themselves, but many of them don't have the resources internally to effectively use and manage it, so they don't get the full value from the application or stop using it. What a 3PL brings is not only the technology, but also the experts that know how to use it to continuously deliver value."
As for the rest of the conference, I was only able to attend a few of the presentations, but here are some of the new capabilities that caught my attention:
Freight Forwarding: Many of MercuryGate's 3PL customers have freight forwarding operations, and the overall freight forwarding market is still highly fragmented and underserved, so this is an important extension of the company's TMS. MercuryGate has developed a multi-phase roadmap, with Phase 1 completing this year, and Phases 2 and 3 by the end of 2013. Phase 1 capabilities include:
Quotations (the ability for LSP clients to obtain quotes online via branded portals)
Order Management (portals for vendors to create shipments and request routing)
Shipment Planning (multi-mode, multi-leg, including air and ocean)
Carrier Booking (includes integration with INTTRA)
Automated Air/Ocean Schedule Update (via Linescape and Flightstats)
Customs (AES, 10+2, via partnership with Integration Point)
Visibility and Financial Settlement
Many of the capabilities MercuryGate plans to add in Phases 2 and 3 are customs related, such as restricted party screening, harmonized tariff schedules, and integration with Canadian and Mexican customs. The speed and success of these phases will depend on how well MercuryGate and Integration Point can work together to integrate their solutions.
RateFriend: One of the biggest trends in the TMS market is embedding benchmark data within the application (see here and here for related commentary). RateFriend uses data from the MercuryGate customer network to calculate monthly benchmarks by lane. The data is batch updated nightly and scrubbed to preserve anonymity. Customer rates are maintained separately from carrier rates, as are contract rates from spot rates. Below is one of the screenshots.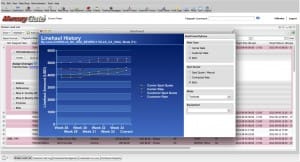 I haven't seen a demo of the solution or spoken to a customer using it, but based on the information presented and planned enhancements, RateFriend seems like a good start for users looking to compare their rates with a reference point, but it lacks some important features found in competitive offerings (such as integration with their procurement solution, which is in the works, and using more sophisticated data modeling and analysis techniques, which is also in the works).
Mobile and MercuryTouch: MercuryGate was among the first TMS vendors to provide mobile access to its application (see "TMS for iPhone: There's an App for That!"), and the company continues to enhance the capabilities of its mobile interface, which works on any smartphone with a browser (it's delivered via a URL, so you don't need to install an app). The screenshot below provides a high-level overview of the mobile features.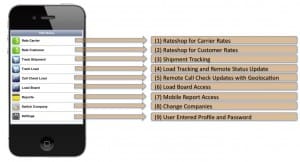 For the executive team, MercuryGate has introduced MercuryTouch, which is basically a business intelligence dashboard formatted for tablet computers like the iPad (see screenshot below). Users can track shipments on demand and plot shipment reports to a Google map, and they can access reports created within the TMS that are formatted specifically for the tablet platform.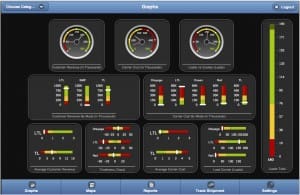 Control Tower Visibility: Many shippers and 3PLs with operations across multiple geographic regions (and sometimes with multiple operations within each region) are looking to take a "control tower" approach to managing their freight. The main objective is to have global visibility to what's happening across the network, particularly from a business intelligence and reporting standpoint, while enabling each region and operation to set up their processes based on local requirements (see here for related commentary). MercuryGate walked through the process of how to set up control towers with its TMS, using various templates and configuration settings, including creating reusable workflows ("ezClick") that guide users through a set of defined process steps.
This was the seventh consecutive year that I've participated in this conference, so I have some perspective on how far the company has come. Over the years, MercuryGate has diversified its customer base, has expanded into new geographic regions, and has increased its solution footprint. Simply put, MercuryGate has achieved critical mass in the TMS market. The question now is where does the company go from here? Every year I wonder if this will be the year that MercuryGate gets acquired by a bigger fish in the market, one that offers a broader logistics solution footprint, but so far it hasn't happened. If anything, maybe it's the smaller fish entering the pond — coming to market with new architectures and rapid and inexpensive deployment models — that MercuryGate needs to pay more attention to moving forward, because in the software industry today, "big eats small" is giving way to "fast eats slow."