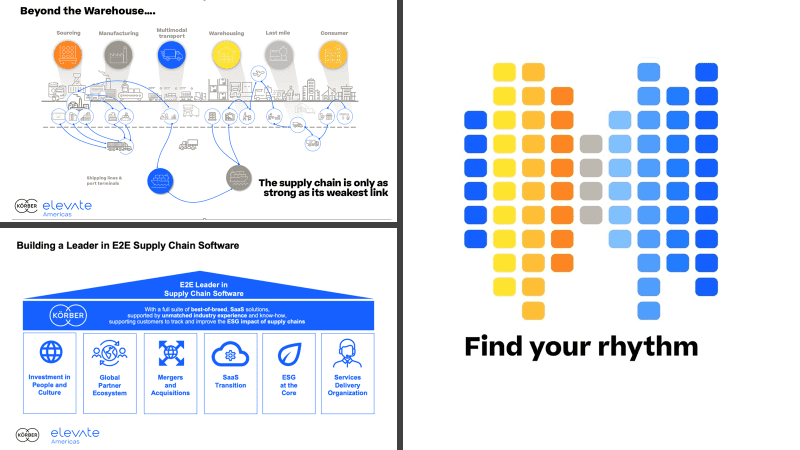 Körber Supply Chain Software (Körber SCS) hosted its 2023 Elevate User Conference in Orlando this week. The conference theme was finding your rhythm – a fitting metaphor for supply chains across the globe as they return to more predictable patterns after experiencing disruptive fits and starts over the last couple years.
Körber acquired enVista's Enspire Commerce platform and its Freight Audit and Payment (FAP) service in 2022. The conference content included both the vision for these capabilities in the broader Körber offering, as well as presentations by companies that utilize this platform in conjunction with other Körber products, such as one of its warehouse management systems. About a year ago, private equity firm KKR invested in Körber SCS, providing capital for the company's strategy to build out an end-to-end platform of supply chain software. Acquisitions, such as that of enVista's Commerce platform, are one tenet of the strategy that will be utilized in circumstances when time to market is an important factor. And I suspect there will be more acquisitions in the future. At the same time, Körber SCS is building out other capabilities organically. Three of the notable product investment areas include the Körber One Platform, the Unified Control System (UCS), and gamification functionality to better engage warehouse workers.
Körber Product Direction
Körber recently completed its first microservices technology foundation – for the CLASS warehouse design and simulation application. Like CLASS, the Unified Control System will also be based entirely on Körber One microservices.   The UCS is a single, vendor-neutral solution designed to unify the different technologies across a warehouse, such as a heterogeneous fleet of AMRs, voice solutions, and traditional warehouse automation. Boxy, a 3PL in Hungary providing fulfilment services for e-commerce, is the first user of Körber's UCS. At Boxy, the UCS will unify a Geek+ goods-to-person system and a robotics sortation solution. Körber's UCS is expected to move into general availability in Q2 2023. It's worth noting that Körber's robotics business appears to have grown significantly, with numerous customers participating at the conference – including Ariat, Verst Logistics, and ISN (Integrated Supply Network). Working with Vaibe, Körber is bringing gamification to the warehouse. Vaibe is built to work with their own technology and third-party technology as well, with the focus on providing supply chain workers with a more engaging work experience.
The Commerce Platform in Action
A number of companies that utilize Körber's order management software (Enspire Commerce) in conjunction with other Körber applications. Children's Hospital of Philadelphia and Spirit Halloween are two of those companies that participated in the conference sessions. Peter Schemm of Children's Hospital shared an emotional story about a hospital patient and the criticality of having the right products and instruments available and the ability to search and pull from dispersed inventory across locations. Spirit Halloween has the unique challenge of establishing approximately 1500 pop-up stores across the US for the Halloween season. This annual and agile business model makes it extremely important that the company has visibility of its inventory across locations. Körber's order management system allows the company to use the 1500 stores and warehouses to dynamically satisfy the needs of its customers by filling orders in situations where the customer and product are at different locations.
Final Word
Körber's strategy to build out an end-to-end platform of supply chain software is likely to bear additional fruit in the near future. Management noted that the company increased resaerch and development spending by 71 percent in the last two years. And future investment spending includes 14.4 million euros over the next three years in the partner ecosystem, including enablement; and 12.8 million euros over the next three years in support, delivery, and operational capabilities.