Last week, I attended my first ARC Industry Forum in Orlando, FL. There were a lot of fascinating sessions that examined 3D printing, cyber security, the Internet of Things (IoT), predictive analytics, and a host of challenges and changing conditions in the discreet and process manufacturing industries. However, the session that stood out most to me was an early afternoon session on Tuesday Feb 11: Robotic Mobility and Human Assist Push the Outer Limits of Manufacturing.
This session did not speak to me so much from a pure manufacturing standpoint. Instead, the presentation by Bruce Welty, CEO of Quiet Logistics, looked at how robots are helping to transform e-commerce fulfillment. A few weeks ago, I wrote a column titled The Truth about the Omni-Channel Customer Experience. The article discussed how there were significant technology and customer empowerment gaps that are derailing the customer experience. At the heart of the customer experience is order fulfillment. If customers are unable to get the product they want, when they want it, they will simply go someplace else. Quiet Logistics is helping e-commerce retailers ensure they can fulfill orders accurately and on-time to improve the customer experience.
To give you some background, Quiet Logistics uses proprietary technology and Kiva Systems material handling robots in warehouses to drive order fulfillment accuracy and speed. The key to this system is not to use robots to replace workers. Instead, according to Welty "robots are enhancing humans, not replacing them. We use the robots to do the things humans are bad at." So what does this mean for order fulfillment?
There has been a lot of talk about moving towards more automated processes to reduce labor costs. And for some aspects (OK, lots) of the business makes sense. As Sandy Vasser, Facilities Electrical and Instrumentation Manager, ExxonMobile indicated in his keynote, "You can't do it wrong if you don't have to do it." This speaks loudly to the virtues of automation. But not everything can be automated. The Robotic Mobility track looked at this from both sides: robots replacing humans and automating processes as well as robots and humans acting as complementary pieces of the puzzle. Order fulfillment is one of these areas that cannot be fully automated.
Welty stated that "Fulfillment is crucial for e-commerce." In the changing retail landscape, there are myriad shopping options for customers, and expectations have grown. E-commerce sales are up and continuing to grow. Many retailers are downsizing physical store footprints to expand e-commerce operations. But at the end of the day, if the order cannot be fulfilled on-time and accurately, it is a moot point. The consumer will go elsewhere that can fulfill the order. So how does Quiet Logistics provide fulfillment services for retailers?
The Kiva Systems robots do not bring individual items to be packed. Instead, these robots quickly bring the entire shelf to their human counterparts. This allows the human to pick the items that are needed for an order. If there are multiple items that need to be picked, and they are in separate shelves or bins, another robot can retrieve the next shelf while the human is picking the first part of an order. This combination allows the human to make sure they are picking the right components (in case the products are not in the right order on the shelf) while eliminating wasted time and movement of searching the warehouse floor.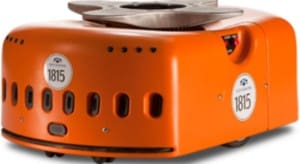 From a fulfillment standpoint, Quiet Logistics' services include inbound processing, inventory control, outbound processing, and returns processing. E-commerce fulfillment customers include Bonobos, Zara, Gilt Groupe, and Topps. Kiva Systems LLC is a wholly owned subsidiary of Amazon.com.
For more information on the presentation, please look for ARC Advisory Group's post Forum review.