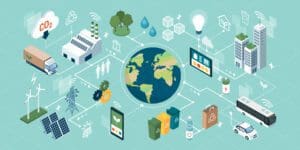 Is your supply chain immature? Does it resemble a 14-year-old boy, as a planner I met at an Institute of Business Forecasting and Planning event described his company's supply chain? Grown up beyond diapers but not yet making good decisions consistently. In an immature, disconnected supply chain, planners operate inefficiently and in reactive mode. Not only does this mode make the daily life of a planner difficult, but it does not position the company toward a sustainable supply chain capable of making decisions that are better for profits, people, and the earth. But the opportunity to make an impact for everyone working in supply chain – including Jeff Bezos – is enormous, and it starts with maturing the supply chain's capability.
Because in spite of advancements in supply chain as a profession, the majority of companies feel their supply chains are immature. In a McKinsey report, Digital transformation: Raising supply-chain performance to new levels, the consulting firm found that the level of digitization among supply chains was only 43%, the lowest of the sectors analyzed. An immature supply chain incurs waste, from excess inventory to lost time due to latency of decision-making. This waste makes living in the land of immaturity stressful for a supply chain planner. When things go well planners get no credit, but when things go wrong, as they do more often with inefficient processes, planners receive angry phone calls or emails.
An immature supply chain is not a sustainable supply chain
An immature supply chain is inefficient but also rarely good for the earth or its people. The supply chain components of plan, source, make, deliver and return can be fraught with environmental consequences. Poor planning can lead to excess scrap or inventory that gets burned or sent to landfills. Sourcing can deplete scarce natural resources. Making goods can cause harm ranging from factory emissions to excess packaging. Delivery is difficult without a carbon impact. And returns logistics provider Optoro estimated that only 10% of returns from the holiday season ended back on the shelves, with much of the remaining 90% destined for landfills.
For an environmentally-conscious supply chain planner, already beleaguered working in an immature supply chain, these realities render a tough job even harder. And environmental concerns belong not just to planners: they're increasingly top-of-mind for consumers. For example, environmental non-profit and investment research provider CDP, in research on fast-moving consumer goods, reports leading firms like Coca-Cola, Nestlé, and Danone are all racing to compete in the face of rising consumer demand for sustainable products.
Avoiding paralysis
My point is not finger-wagging or blame: according to CDP, 90% of the greenhouse gases in this sector are in their supply chain, which means supply chains have a tremendous opportunity to make a difference. But to make any kind of impact on sustainability initiatives, supply chains must be transformed. Sounds great in theory, but if you are in leadership at a company with an immature supply chain, how do you even get started?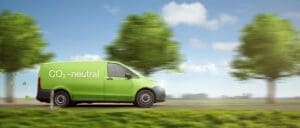 In spite of what some vendors will say, there's no magic pill. You can't take two from the list of digital transformation, blockchain, the internet of things, artificial intelligence and machine learning and wake up in the morning feeling better. If your company joins the growing list making commitments toward zero-carbon emissions, that's a great start. But those commitments must still be translated to actions on the ground and an infrastructure in place to measure results.
It is easy to feel paralyzed by the scope of the problems. And yet, as Christiana Figueres, one of the authors of the Paris climate change accords wrote in a new book, The Future We Choose, "We think that optimism is a decision. It's a choice that we make….It's basically an open attitude that is not a guarantee of success, but that actually opens the possibility towards success. We also understand that the opposite, fatalism, is a guarantee of failure." Rather than feel depressed by the scale of the problem, you can start somewhere, and a great place to begin is to improve the maturity of your supply chain.
Reducing waste and inefficiency are a critical foundation upon which to build a mature and sustainable supply chain. Maturing your supply chain will pay off financially. The same McKinsey research cited above showed that companies that aggressively digitized their supply chains increased earnings (before interest and taxes) by 3.2%, the largest percentage of any business function, and their overall revenue by 2.3%.
Stepping toward a more mature and sustainable supply chain
One of the hallmarks of an immature supply chain is keeping data in Excel sheets across a string of disconnected silos, which inevitably causes latency. When decisions must be cascaded across silos, responding quickly is nearly impossible. A fundamental goal of any supply chain is to balance supply and demand, but when functions are siloed, functional excellence in one area may be negated by another. Capacity planning is blind to its impact on inventory.
This blindness and the latency involved in seeing means leadership lacks the visibility to make the best decision across the entire supply chain. The visibility and agility in our unique concurrent planning approach at Kinaxis makes these impacts more transparent. As you mature, you can improve your forecasts by better matching demand and supply through a single view across the entire supply chain. When these impacts are tied to inventory, businesses can reduce waste.
Moving toward the sustainable supply chain
As noted above, another challenge companies face is linking the visionary promise of laudable commitments to day-to-day objectives. For any initiative to stick it must be integrated into the fabric of the company's bottom line. A core capability to help weigh complex decisions is the ability to generate scenarios quickly that show the impact of any decision in a link of the network to the entire supply chain itself, with the most relevant KPIs as a scorecard. With this kind of functionality smarter decisions can be made to assess the impacts on margin, revenue AND sustainability. This level of visibility is critical for any mature supply chain, let alone a sustainable one.
Concurrent planning means a supply chain has the visibility necessary to operate primarily in proactive mode but the agility to react quickly when necessary. Because even the best demand forecasts are made at a point in time, and things on the ground change rapidly. Consider extreme weather events like hurricanes and heat waves, which in an age of climate change research suggests are growing more intense and/or frequent.
As ARC Advisory analyst Steve Banker shares in this Forbes blog post, Procter & Gamble's supply chain is so resilient that as Hurricane Irma approached in 2017 they reviewed capacity-at-risk in the path of the storm and repositioned their inventory to have the most-needed consumer goods ready for residents of Puerto Rico as soon the storm passed. This kind of agility meant that unlike competitors, they did not have to warn Wall Street of revenue hits from the storm. A more mature supply chain, connected, and agile, is also a more sustainable one.
It takes a village
A more mature supply chain performs better financially but also environmentally, because reducing inventory can mean sending nothing to the landfill. When Unilever adopted a zero-waste supply chain model, they racked up $227 million in cost benefits. Given the scale of the environmental challenges we face, we need large commitments made at scale to reduce carbon emissions and slow down climate change. But if the tragedy of the commons has yielded the current state of the environment, its opposite will also be required to turn this state around. Steps to move up the curve of supply chain maturity build this foundation.
If it takes a village to raise a child, it will take a global village of companies, nations, cities, and individuals to raise a more sustainable world. As Jean-Pascal Tricoire, Chairman & CEO at Schneider Electric wrote, "No single company can achieve the 17 United Nations (UN) Sustainable Development Goals (SDGs) alone. Each company plays a key role, and the SDGs create a coordinated framework for progress. The latest report by the UN Global Compact and Accenture of 1,000 global CEOs underscores how much the private sector still has to do. Aligning on the SDGs is critical to progress together, with suppliers and customers. At Schneider Electric, we believe in teamwork and are fully committed to this effort."
And supply chains have a key role to play in this effort. Just this month, Jeff Bezos, founder of Amazon, made one of these large commitments in announcing that he would contribute $10 billion toward philanthropic efforts to fight climate change. This kind of funding dwarfs existing funding in this area and has an opportunity to make a significant impact. But as Aseem Prakash, a professor at the University of Washington and founding director of the school's Center for Environmental Politics, points out, "Bezos has to think beyond this $10 billion … the leverage he has is not just $10 billion, the leverage he has is Amazon. Amazon can utilize its global supply chain network [and make it] an aggressively green supply chain.…Be clear that we will not do business with fossil fuels. I think if Amazon does that, others will follow."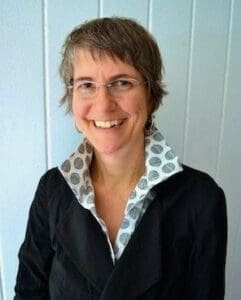 Polly Mitchell-Guthrie is the VP of Industry Outreach and Thought Leadership at Kinaxis, the leader in empowering people to make confident supply chain decisions. Previously she served in roles as director of Analytical Consulting Services at the University of North Carolina Health Care System, senior manager of the Advanced Analytics Customer Liaison Group in SAS' Research and Development Division, and Director of the SAS Global Academic Program.
Mitchell-Guthrie has an MBA from the Kenan-Flagler Business School of the University of North Carolina at Chapel Hill, where she also received her BA in political science as a Morehead Scholar. She has been active in many roles within INFORMS (the Institute for Operations Research and Management Sciences), including serving as the chair and vice chair of the Analytics Certification Board and secretary of the Analytics Society.