It's been more than a year since the U.S. Department of Transportation announced its final rule on Hours of Service (HOS) (read my comments at the time in "Hours of Service Rules Changed, But the Big Picture in Trucking Stays the Same"). The compliance date of July 1, 2013 seemed so far away back then, but with January almost over, the deadline for compliance is just a few calendar pages away.
The table below summarizes the HOS changes, and if you want more detail, I recommend the "Interstate Truck Driver's Guide to Hours of Service" published by the Federal Motor Carrier Safety Administration (FMCSA), which was updated this month.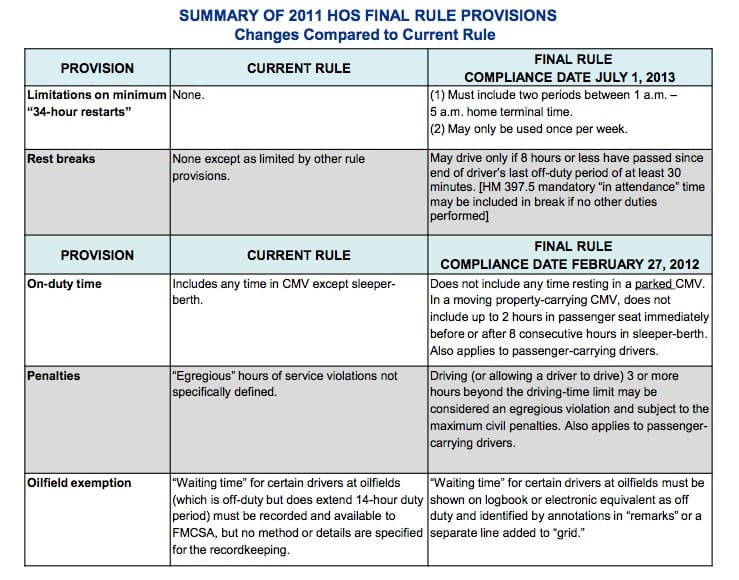 Legal challenges are underway, with oral arguments in American Trucking Associations, Inc. v. Federal Motor Carrier Safety Administration scheduled for March 15, 2013. According to a ATA filing, some of issues to be raised at the hearing include:
Whether the final rule's restart provision, which requires that the restart include two periods between 1 a.m. to 5 a.m., should be held unlawful and set aside on the grounds that it is arbitrary and capricious, and contrary to law.
Whether the final rule's limitation on the use of the restart to once every 168 hours should be held unlawful and set aside on the grounds that it is arbitrary and capricious, and contrary to law.
Whether the final rule's break requirement should be held unlawful and set aside on the grounds that it is arbitrary and capricious, and contrary to law, because it requires that a mandated 30-minute break exclude all on-duty non- driving activity (if more than 8 consecutive hours have passed since the last off- duty or sleeper-berth period of at least half an hour).
So, what impact will the changes to the 34-hour restart rule and rest breaks have on supply chains if they are upheld? An amicus brief filed with the court by the National Association of Manufacturers, National Retail Federation (NRF), National Grocers Association (NGA), the U.S. Chamber of Commerce, and ten other trade associations highlights some of the ripple effects the changes will have on businesses, especially for industries that rely on night deliveries. Here are some excerpts from the brief [emphasis are mine]:
Many commenters noted that their industries rely on night deliveries from drivers who regularly work night schedules. Because of the two-night restriction, those drivers taking advantage of the restart will have two choices – either begin a new day in the morning after the second overnight period, or begin their workweek at their normal nightshift time. In either case, the overall off-duty time for those drivers could be significantly more than 34 hours – in some cases over 60 hours.

This reduction in available workweek hours will force companies to hire additional drivers and add equipment. Some drivers will start work early in the morning – as opposed to making their deliveries at night as preferred by the shippers and receivers – adding trucks on the road at peak times, and leading to increased congestion and longer delivery lead times.

The NRF's comments showed that a number of its members routinely dispatch drivers prior to 5:00 a.m. so that deliveries can be made before traffic is congested and arrive before stores open…IFDA [International Foodservice Distributors Association] noted that many in that industry have moved to additional nighttime operations as customers accept "key drops," i.e., deliveries made at night when a restaurant is not open…NGA noted that these changes would disproportionately impact its members…Grocery stores rely on deliveries early in the morning, especially for perishable goods that have a limited shelf life and must be on the shelves when stores open. With the changes to the rule, lead times for perishable goods will increase, leading wholesalers to increase inventory levels to maintain service. All of these changes would lead to increased costs throughout the supply chain.
Will the proposed changes to the HOS rules get upheld or overturned? Your guess is as good as mine. But regardless of what happens with HOS, transportation executives have other trucking-related risks to manage too, such as tightening capacity and increasing driver turnover. According to U.S. Census data from 2007 and 2010, the number of firms in "General freight trucking" declined about 9 percent during that period. And although the rate of trucking bankruptcies has declined from its peak in 2009, carriers are not adding capacity to make up the loss, so there is less trucking capacity available today than just a few years ago.
On the driver side, the ATA reported last month that "the annualized linehaul driver turnover rate at large truckload fleets remained over 100% for the second straight quarter, and the churn at smaller truckload carriers rose to a five-year high." According to ATA Chief Economist Bob Costello:
"Increasing competition for quality drivers, coupled with gradual, albeit choppy, growth in demand for trucking services, continues to put pressure on the driver market"

"These numbers continue to reflect a tight driver market, and an actual shortage for drivers. We believe the industry is actually short between 20,000 and 25,000 drivers, but if freight volumes were to accelerate, I would expect that number to grow and grow rapidly."
Articles published last year in USA Today and The Huffington Post highlight the challenges trucking companies are having hiring drivers, even in the bad economy.
The bottom line: there is no shortage of risks and uncertainties in the trucking industry, which is why many shippers have been moving away from one-way truck freight and shifting more volume to intermodal and dedicated fleets as a way to "take freight off the truckload grid," as one shipper put it to me a couple of years ago. Shippers are also exploring ways to increase capacity utilization, such as collaborative shipping and rethinking their packaging design and materials to fit more products per case, more cases per pallet, and more pallets per trailer (resulting in fewer shipments required).
Yes, the clock is ticking on all sorts of trucking risks, so buckle up and get ready for some bumpy and windy roads ahead.