Blockchain provides one mechanism for sharing information between supply chain trading partners. Because of the IT security, unchangeable records, and decentralized governance, the technology is getting a lot of attention.  But just as clear thinking depends upon carefully defining terms, effective supply chain collaboration requires a defined vocabulary. Business is just easier when you speak the same language as your customers, suppliers and partners.
GS1 is the leading provider of these standards. GS1 is a not-for-profit organization that develops and maintains global standards for business communication—GS1 US is the domestic organization serving US-based companies, while more than 110 other branches operate around the world. The best known of these standards is the barcode. GS1 barcodes are scanned more than six billion times every day.
The numbers on a bar code stand for specific stock keeping units, companies, handling units, and other key supply chain objects and categories of master data. We've been exchanging barcodes since 1974. This was a digital technology long before digitalization became the current buzz phrase.
Blockchain proponents are proud of the immutable records created by the technology. But if what you are entering into the chain of messages is garbage, you have an immutable record of garbage. It is true that the chain helps you more easily prove that a disreputable actor has been gaming the system, but garbage can also enter these message chains based on mistakes. The use of RFID and barcodes based on GS1 standards helps to prevent these errors.
There are 12 categories of master data. Some of the more important supply chain categories can be viewed in the following table.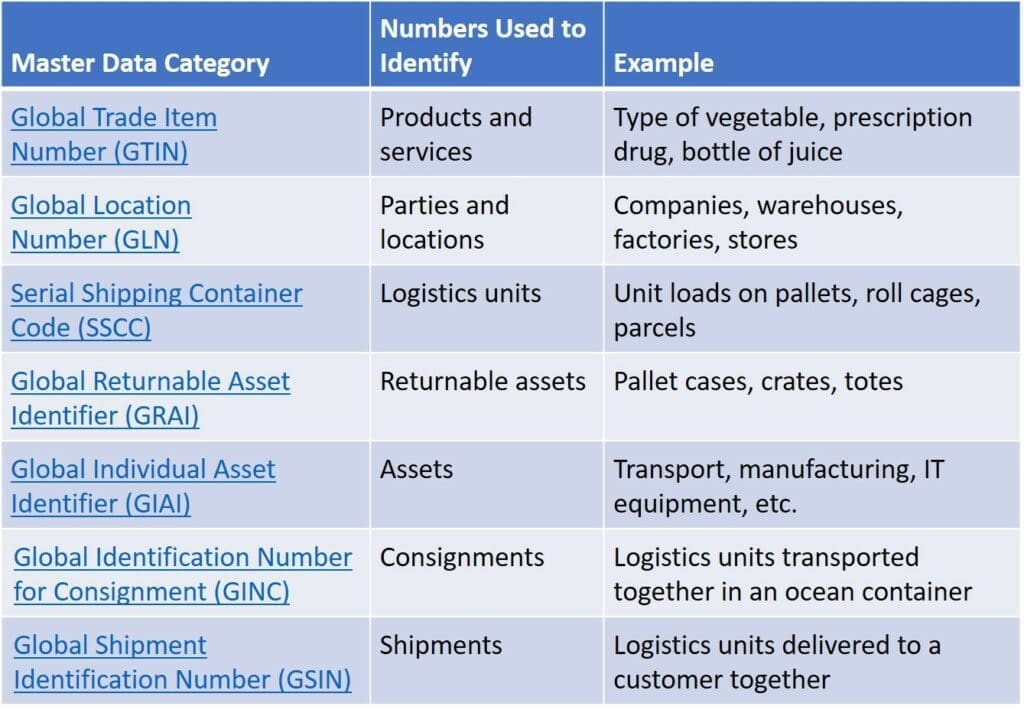 These standards help to identify items and places, while barcodes, RFID and QR codes help to capture this and other data about an item. Internet-based data pools form the Global Data Synchronization Network—a mechanism to share data about the identified products and places, and their associated attributes. These supply chain networks allow for the sharing of these critical master data elements with other trading partners.
More recently GS1 created a set standard to share data known as Electronic Product Code Information Services (EPCIS). This standard allows event data to be shared across enterprises so that users can gain a shared view of inventory (raw materials, work-in-process, and finished goods) as it transitions between process steps across an extended supply chain.
An example of EPCIS logic is "Product X with serial numbers 111, 112, and 113 were observed at 10:23am on April 2017 at Location ABC, during a "shipping" operation. Other operations, like packing and mixing operations, are supported in a similar manner. These EPCIS standards were the final leg of the stool to support traceability initiatives. Traceability is one of the blockchain initiatives with the greatest promise.
The first two supply chain initiatives that will go beyond the pilot stage, and become part of everyday business, will occur this November. Those initiatives include a traceability/recall mandate by Walmart with their suppliers of green leafy vegetables; and an initiative within the pharmaceutical industry to support new government regulations surrounding salable returns. Both initiatives will use GS1 standards. And the saleable returns initiative is supported by a new GS1 standard that was only announced on February 6th.
When you look at the GS1 standards a few conclusions are inescapable:
Supply chain initiatives like traceability generate LOTS and LOTS and LOTS of numbers! This is Big Data.
Applications need to be built to parse the Big Data across the chains of messages, extract information, put that information into a process, and then surface key metrics with analytics.
If you are not using GS1 standards, part of the cost of the blockchain project will be implementing these standards. However, for companies not using these standards, there are undoubtedly places within their own supply chains where they could profitably do so. For example, advanced shipping notices (ASNs) rely on GS1 data standards. ASNs sent to warehouses can help logistics operations more efficiently use space in the warehouse, cross dock and efficiently ship fast moving goods, and more productively use warehouse labor.
The jury is still out on blockchain. Blockchain will not be used everywhere for all business messaging. EDI and supply chain networks are not going away. While some of the proof of concepts will fail, even these failures can serve a positive purpose if they cast a spotlight on the growing number, and value, of the supply chain standards supported by GS1.