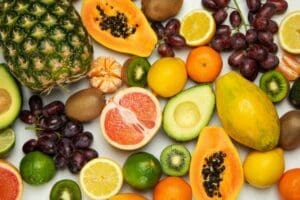 Note: Today's post is part of our "Editor's Choice" series where we highlight recent posts published by our sponsors that provide supply chain insights and advice. This article is from Michael Balint at Solvoyo and looks at the fresh produce supply chain.
Recently, I was at my local grocery store for my weekly shopping trip and found myself in the packaged salads section.  My habit is to look at the best before dates and select the one that is the furthest future date because I believe it to be the freshest and is least likely to be thrown away.  Am I alone in this habit or thinking?
While this is easy for packaged/processed items with Best by Dates, it is not as easy for bulk, loose, or field packaged products. For these items, you will find me examining clamshells of strawberries for mold or leakage, shaking a cantaloupe (not quite sure why!), or squeezing an Avocado. Identifying freshness can be an art and science for many, and it continues to be of high importance for consumers.
The current high inflationary period we are experiencing has changed what are the top shopping considerations for customers. In a Sept 2022 Deloitte article, they maintain that "perishability is still relevant but now more of a pocketbook issue. Nearly eight in 10 (78%) consumers consider food waste, likely out of a desire to minimize spending. Lower-income consumers and those using food assistance programs care the most about food waste as a purchase driver—again, suggesting it is a response to higher prices."
Fresh supply chains have been on a journey to identify and design the root causes of short shelf life and high food waste.  I was fortunate to spend several years of my career focused on this very objective, managing complex operations while at Walmart, and I saw the same complexities at SpartanNash, a leading food distributor. While working on this at Walmart, we created a hypothesis: if highly perishable produce is moved through a supply chain faster, it will improve the customer freshness perspective because the produce will be of a higher quality. A fairly simple and straightforward hypothesis but one that would require field-to-fork design and collaboration. The same "If" statement was repeated for a host of financial and operational metrics.
The final design reduced the total order cycle time (order to receipt), changed order frequencies, changed order volumes, added an upper node, and implemented a cross-dock solution. This design was implemented as a proof of concept, a pilot, and eventually cleared for full deployment. There were design principles used as the solution was built:
Any design element must enable an improvement in freshness (shelf life) that the customer would receive.
Any design element must utilize existing technology, assets, and infrastructure.
There must be an end-to-end functional agreement of the design, its impacts, and benefits.
The following will delve into some of the intricate farm-to-table challenges that supply chains face across sourcing, demand planning, procurement and inventory management, transportation, and warehousing.
Sourcing – Consumers expect more fresh products to be available year-round vs. seasonally 
Sourcing produce has become complex as consumers demand more seasonal produce year-round. The blackberries you eat today could be from Mexico, and the ones you buy next week could be from California. Sourcing is not only from traditional farms but also from controlled environment agriculture (e.g., greenhouses, vertical farming), and the ability of a supply chain to integrate into these multiple origin types in a dynamic mode is imperative.
To read the article, click HERE.