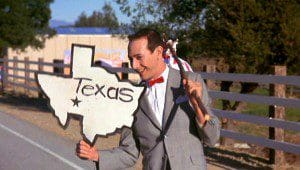 This week I experienced the Council of Supply Chain Management Professionals (CSCMP) Annual Conference for the first time. The conference brought together thought leaders and practitioners from all industries and backgrounds to San Antonio to discuss, debate, and challenge each other on a host of supply chain topics. I was there for two reasons: to present the findings (along with Clint Resier) of our omni-channel fulfillment survey, and to learn. The presentation was very well received, and the sessions helped shed some light on the current and future state of supply chain management. Over the next few weeks, Logistics Viewpoints will feature case studies and analysis of the conference and the sessions that we attended. In fact, Clint has already posted his first review from the Warehouse Management track.
My hotel in San Antonio was directly across the street from the Alamo. All I could think of when I saw the Alamo for the first time was of Pee-Wee's Big Adventure, and how many people go there every day and ask to see the basement. I know I had to talk myself out of doing it. For those of you unfamiliar with the reference, I recommend you see the movie.
And now, on to the news.
Macy's, Bloomingdale's adding same-day delivery
Higher driver pay, more expensive equipment drive up trucking costs
Deutsche Post DHL to deliver medicine via drone
Cass Truckload Linehaul Index
Postal Service seeks to extend grocery deliveries
Belgian city to build underground pipeline for beer
Macy's and Bloomingdale's plan to test same-day delivery for products purchased on their websites. The pilot program is scheduled to launch this Fall in eight Macy's markets (Chicago, Houston, Los Angeles, New Jersey, San Francisco, San Jose, Seattle, and Washington, D.C.) and four Bloomingdale's markets (Chicago, Los Angeles, San Francisco, and San Jose). The pilot includes fifty of the company's stores serving as fulfillment centers. The service will be powered by Deliv, a crowdsourced delivery model. Typically, the price for same day delivery via Deliv is the same as standard 3 – 5 day delivery. I wrote about this new method of controlling the last mile a few weeks ago. Aside from trying to keep up with the nation's leading mall operators, who just two months ago announced same day delivery services at some of their malls, this move puts Macy's and Bloomingdale's in a much better position to compete against Amazon and Google.
According to a report by the American Transportation Research Institute, the average cost per mile for fleets rose 5 cents a mile in 2013 to $1.68. This marked the fourth consecutive year-over-year increase in these costs. The findings indicated that higher driver pay, due to a shortage of qualified truck drivers, and more expensive equipment were the main cause for the increase. Andrew Boyle, Executive Vice President of Boyle Transportation and a member of ATRI's Research Advisory Committee, noted: "Carriers have experienced significant increases in equipment and labor costs, as well as second-level line items like tolls and health care benefits."
Move over Amazon and Google, DHL is launching drones. The mission of these drones is to deliver medication to an island in the North Sea. While Amazon and Google have stated that routine deployments of drones is still years away, DHL is hoping to show that there are real world applications where the drones can currently be used.
"DHL said Wednesday that as part of a month-long feasibility project, it will start using unmanned aircraft this week to carry medicine from the harbor town of Norddeich, Germany, to the small island of Juist. Each day—depending on weather—the drone will fly autonomously on a pre-programmed seven-and-a-half-mile route, the first routine missions in Europe in which a drone will operate beyond the pilot's eyesight."
Truckload linehaul rates for North America maintained their ongoing climb in August, with the Cass Truckload Linehaul Index up 7% over August 2013. According to the report, the main factors driving the increase are growing demand and declining capacity. Additionally, the Cass Intermodal Price Index is up 3.5% over last August's levels. The report states this is due to continued strength in intermodal volumes. As long-haul intermodal carriers move into shorter lengths of haul and the truckload market continues to tighten, it appears that pricing in the intermodal space will continue to be strong.
The U.S. Postal Service wants to deliver more groceries for Amazon.com and potentially for other retailers. While the USPS has been conducting a pilot program with Amazon in San Francisco to deliver pre-packaged groceries, it has now filed for approval for a two year test plan in multiple metropolitan areas. In the filing, the the Postal Service said the expanded test could bring in revenue of more than $10 million a year. That would be welcome news for the cash strapped agency. It said it is hoping to develop "a long-term, scalable solution to enable expansion of customized delivery to additional major metropolitan markets across the nation." The filing didn't identify the metropolitan areas, and agency spokeswoman Sue Brennan said she couldn't provide further details.
And finally, the Belgian city of Bruges has unveiled plans to help eliminate the disruption caused by large delivery trucks rolling through the city streets. Agence France-Presse reported an underground pipeline is set to connect the historic De Halve Maan brewery to a bottling factory two miles away, eliminating the 500 trucks that drive down the city's small streets each year. The pipeline is designed to carry more than 1,500 gallons of beer each hour, according to Belgian publication deredactie.be. It is also expected to reduce transportation time to the factory. According to the company's director Xavier Vanneste, "the idea is born of environmental and quality of life concerns, and not economic ones. The beer will take 10 to 15 minutes to reach the bottling plant. By using the pipeline we will keep hundreds of lorries out of the city center." The big question will be how many people try to directly tap into the beer pipeline…