Google was in the news today.  Google has signed a 60-year lease for part of a historic Navy air base, where it plans to renovate three massive hangars and use them for projects involving robotics as well as aviation and space exploration.
Starting in 2013, Google acquired several companies that produce robots or supporting technologies including Japan-based, Schaft Inc. which makes humanoid robots; US-based, Industrial Perception makes robot arms and robot vision; Boston Dynamics makes mobile and humanoid robots; UK-based, DeepMindTechnologies specializes in artificial intelligence; and Titan Aerospace in the US produces solar-powered drones.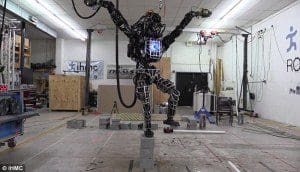 Google-owned Boston Dynamics' Atlas Robot
My colleague Stefan Miksch, who is located in ARC's offices in Dresden Germany, attended a forum at the Fraunhofer Institute. According to Prof. Dr. Bauernhanslm, Google's goal is to develop a robot with characteristics, which much like a smartphone, can serve as a platform for products and services. Both require data and intelligence to perform well, strengths that Google clearly has.  Most robots have a similar hardware base.  With industrial robots connected to a control system, companies will be able to personalize their robots by downloading "apps" to the robots that would enable them to perform specific tasks.   While Google plans to offer the hardware, intelligence, and apps to make the robots work; it's likely that other application developers will also offer software solutions for Google robot users.
In 2013, approximately 179,000 industrial robots were sold; almost 12 percent more than in 2012. Asia, with around 100,000 units, was the largest market.  Companies in other regions also are increasingly using industrial robots in manufacturing.  However, China is the largest single market for industrial robots, with approximately 37,000 units sold in 2013.  A combination of rising wages and the need for new production capacity that can manufacture products to global standards is driving this demand.  Not surprisingly, Google is targeting this booming Chinese market for industrial robots.  Chinese contract electronics manufacturer, Foxconn, announced plans to cooperate with Google for industrial robots and is interested in acquiring 10,000 units.
Google industrial robots and apps are still out on the horizon, perhaps three to five years for fully functional Google industrial robot implementations. Nevertheless, this is something industrial organizations need to be aware of and continue to track.