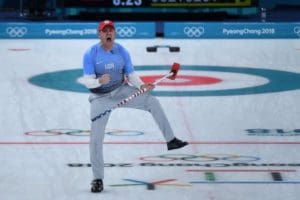 The 2018 Winter Olympics are officially in the books. Last week, I wrote about the US women's hockey team's incredible victory over Canada to claim gold. Well, they weren't the only US ice team to claim victory. The men's curling team, which had finished last and second-to-last in the last two Olympics, brought home the country's first gold medal in the event. That gold brought the US Olympic Team's gold medal count to 9, and overall medal count to 23, putting the US in fourth place overall. The top medal winner was Norway, with 14 gold and 39 overall medals, followed by Germany (14 gold, 31 overall) and Canada (11 gold, 29 overall). With the Winter Olympics over, it's time to look forward to warmer weather and the start of baseball season. Opening day is only 27 days away. And now, on to this week's logistics news.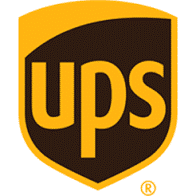 UPS is suing the EU for 1.7 billion euros ($2.1 billion) in compensation for damage it claims to have suffered when regulators wrongly vetoed its attempted takeover of parcel delivery rival TNT Express NV. Since the veto, UPS' rival FedEx stepped in and acquired TNT. In its lawsuit, UPS is seeking compensation plus interest and taxes it would pay on any windfall payment. According to the filing, the company wants to be "put in the position it would have been in had the unlawful decision not been adopted, which prevented UPS from materializing the benefits associated with that proposed transaction." The commission said it would defend itself in court. It is appealing the court ruling that overruled its decision to block the deal.
A renewed US – Canadian effort to speed cross-border trade by pre-inspecting cargo at factories and other sites within the host country looks to be moving forward. The US and Canada have the world's largest bilateral trade relationship, having exchanged $582.4 billion in goods and more than $80 billion in services in 2017. Clearing cargo in advance is meant to relieve pressure on ports of entry where limited space and staffing shortages create congestion during peak traffic periods. But establishing a "reverse inspection" system, in which one country's officials can inspect cargo in the other country, has been complicated by jurisdictional, legal, and diplomatic issues. However, both countries are pushing to make this a reality, which should speed up border crossings.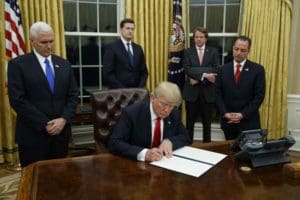 Now that the Olympics are over, and North and South Korea are completely divided again, President Trump has announced that the US is imposing new sanctions against North Korea. The new sanctions are specifically targeting the country's shipping and trading companies and vessels in an effort to further isolate the country. In the latest sanctions, Trump imposed sanctions against 27 entities and 28 vessels either registered or flagged in several countries, including North Korea, China, and Singapore.
Last year, I wrote about the rise of the subscription supply chain. In that article I wrote about the intricacies of the subscription model and where problems can arise. However, I also wrote about the volume of orders and the revenues flowing in. Not surprisingly, as the subscription model continues to grow, so do the number of household names jumping on the bandwagon. Traditional retailers are now picking up on the trend and rolling out their own subscription services for make-up, kids clothing, and athletic apparel. Recently, the following "traditional" retailers have rolled out their own subscription services: Target, Walmart, New York & Co., Ann Taylor, Gap, Old Navy, J.C. Penney, and Under Armour.

As I mentioned in last week's news round-up, Amazon is both seeking to consolidate Amazon PrimeNow and Amazon Fresh while launching a grocery business in India. This week, those two worlds have collided. Amazon India on Monday announced a specialized network of 15 warehouses for AmazonNow, an app-only online groceries service with speedy delivery of daily essentials items, in Bengaluru, Mumbai, Delhi and Hyderabad. The warehouses are equipped with temperature-controlled zones to store and deliver perishable products such as fruits and vegetables, dairy products and chilled frozen products. Besides this, the centers will store smartphones, laptops, kitchen appliances, other consumer electronic products, beauty products and household supplies.
There has been a lot of talk about how last mile delivery will change, and how the consumer can pick up those items will make things more complicated. Amazon, UPS, and a variety of other companies have invested in pick-up lockers to alleviate some of these headaches. This week, the agency that runs GO Transit is about to start letting customers pick up groceries at several of its train stations. A new partnership announced on Monday between Metrolinx and Loblaw will mean that food ordered online would be delivered for pickup at five GO stations – which collectively serve about 60,000 passengers daily – as a way of testing the market for such an offering.

And finally, earlier this year, Walmart announced plans to close 60+ Sam's Clubs locations. The main driver was According to Sam's Club CEO John Furner, the company had built some clubs in locations that impacted other locations. The closures will ensure that Sam's Club "rightsizes" its fleet. As part of the plan, the company is now launching same-day home delivery of groceries and other items in three cities. The warehouse store arm of Walmart says that it has teamed up with delivery service Instacart to get fresh vegetables, meat, and even small appliances to the doorsteps of customers in Austin, St. Louis, and Dallas-Ft. Worth starting this week.
That's all for this week. Enjoy the weekend, and the song of the week, Norwegian Wood by the Beatles.