Electronic Data Interchange (EDI) is cool again. Not all EDI, just EDI based on value added networks (VANs). Nor is this technology so cool that all the vendors are willing to admit they are EDI suppliers. For example, OpenText is a provider of Business Network solutions, Descartes provides Global Logistics Network Services, and IBM provides B2B (business to business) Integration services.
A Primer on EDI
Let's start with a quick primer on EDI and VANs. EDI has existed since the early 1970s. EDI allows companies to electronically exchange information that was traditionally communicated on paper, such as purchase orders or invoices. Or it allows the transmission of information – like advanced ship notices (ASNs) – that help companies synchronize their supply chains. EDI documents usually contain the same information that would be found in a paper document used for the same purpose.
These electronic messages are based on standards that define how the data is formatted. There are different sets of standards. For synchronizing retail or healthcare supply chains, for example, GS1 is an a commonly used standard.
EDI messages are more automated than email, phone, fax, or portals, so they require less labor. For example, an EDI 940 ship-from-warehouse order is used by a manufacturer to tell one of its warehouses to ship product to a retailer. The 940 has a 'ship-to' address, a 'bill-to' address, and a list of standardized product numbers and quantities. These products have bar codes, labeled with the standardized numbers, associated with them. So, goods can be scanned onto trucks and the numbers used in the EDI message are captured digitally. This is both far faster and far more accurate than people writing the numbers into a paper document.
EDI messages can be directly transmitted between trading partners. For example, a consumer goods supplier is communicating directly with a retail customer, they might communicate point to point. But if that supplier is doing business with several retailers, all requiring EDI messaging, it makes more sense to use a VAN.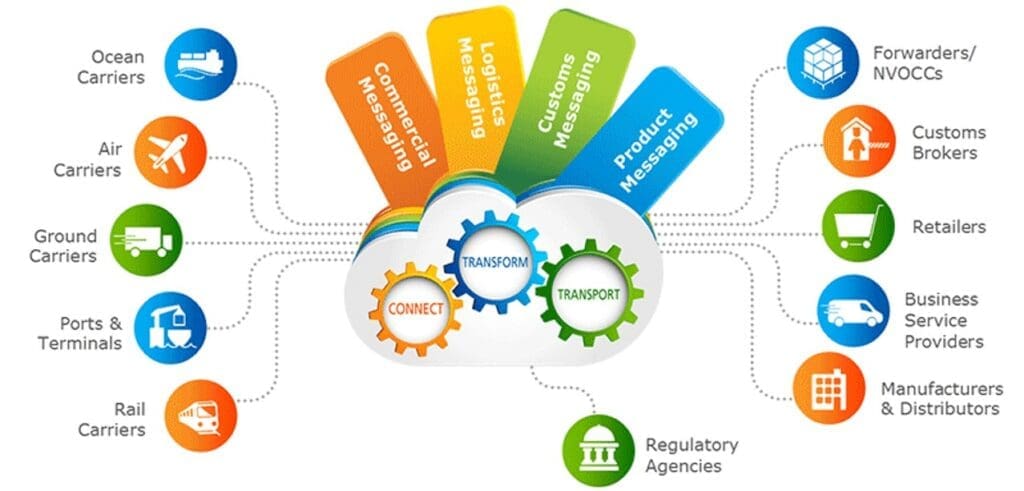 What is an EDI VAN?
The VAN is based on a many-to-many architecture. In other words, many suppliers, many retailers, even many carriers, banks and other parties to the flow of products, are all connected to a public platform hosted by the EDI supplier. This means that for the supplier, or the carrier, once they are integrated into the platform, there is a lot less work doing business with other retailers and logistics service providers also on the platform.
It is a little more complicated than this. Different retailers may be using different VANs, but the VANs can communicate with each other.  So, this is still a many-to-many form of digital communication.
When it comes to VANs, it is common to speak of hubs and spokes. The buyer, for example a retailer, may tell suppliers that if they want to do business with them, they will use a particular EDI standard. The retailer is considered the hub, and all the suppliers to that retailer are considered spokes. This brings us to another service a VAN provides, helping the retailer with the labor-intensive process of onboarding all their suppliers into the platform.
End-to-End Digital Transformations Made EDI Cool Again
So how did EDI VANs become cool? More and more companies are engaging in digital transformations. "Digital" is a term that means different things to different people. To some it just means automation, particularly when the automation is based on newer or emerging technologies. In other cases, it means getting digital data, to replace manually entered data, or even worse – no data, in the places in a supply chain where these information black holes exist. And in many companies supply chains, it is the end-to-end portion of the supply chain, knowing what upstream and downstream partners are doing and how well they are doing it, where there are the most black holes.
A solution set getting increased attention in the digital supply chain area, is what the industry analyst firm ARC Advisory Group calls Supply Chain Collaboration Networks, Gartner calls Multi-enterprise Supply Chain Business Networks, and IDC calls Multi-Enterprise Supply Chain Commerce Networks. These are collaborative solutions for supply chain processes built on a public cloud, many-to-many architecture and facilitates better decisions and collaboration. In short, these are many-to-many supply chain networks.
EDI VANS are not the only form a supply chain collaboration networks can take, but the largest EDI VANs are also the largest providers of SCCN solutions. Further, EDI is not perfect. There are different dialects of EDI. And EDI messages can be transmitted after they are needed.  Instead of an advanced ship notice, for example, ASN might stand for already shipped notice.
But for me, the key question is not why EDI VANs became cool again, but how did they ever become uncool in the first place?